New Star Wars: The Last Jedi Poster Revealed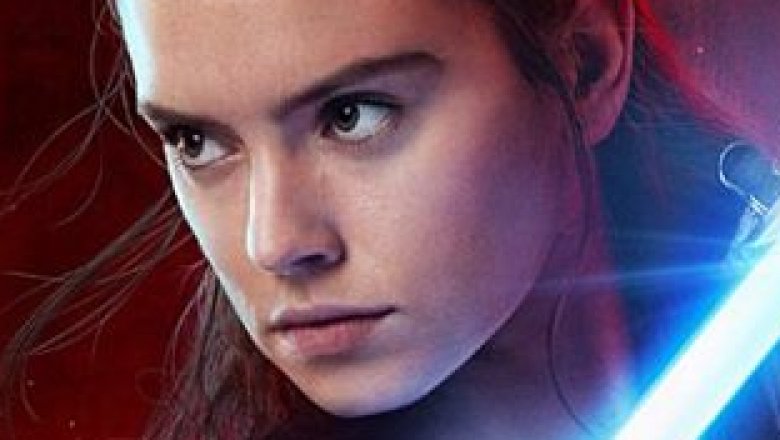 Star Wars fans were treated to a little something extra ahead of the official release of The Last Jedi trailer on Monday. 
Director Rian Johnson made an appearance on Twitter's #WhatsHappening show to unveil a stunning new poster for The Last Jedi. The image features the late Carrie Fisher's General Leia Organa standing front and center, wearing a dark gray cowl cloak and a determined look on her face. Leia is joined by the film's main stars, all of whom are dressed in blood-red costumes, with Mark Hamill's Luke Skywalker seen up at the top, staring into the eyes of the viewer. 
"The tricky thing with a poster like this is when you have to fit this many folks on it. How do you do that in a way that is elegant?" Johnson said (via The Hollywood Reporter), then adding that he especially enjoyed having Fisher at the forefront, particularly in his favorite Leia costume from the upcoming Star Wars flick. As he explained, "I wanted her to just look fabulous in this movie."
Johnson then confirmed previous reports that the new The Last Jedi trailer will air during the Minnesota Vikings and Chicago Bears game on Monday Night Football on ESPN, which begins at 5:15 p.m. PT/8:15 p.m. ET. 
Fans have been eagerly awaiting more specific details about the newest installment in the Skywalker Saga. Following a major (and literal) cliffhanger in Star Wars: The Force Awakens, which sees Rey (Daisy Ridley) meeting up with Luke Skywalker on a cliff on the isolated planet of Ahch-To, there has been much speculation about the pair's relationship, Luke's plan to close himself off from the galaxy, and what "the last Jedi" truly means. 
There's also haziness regarding the First Order learning of the location of the Resistance's base, Kylo Ren (Adam Driver) yearning to kill Rey after beating him in an intense lightsaber battle, Finn (John Boyega) recovering from injuries he sustained after being punished for betraying his Stormtrooper faction, and Poe Dameron (Oscar Isaac) plotting new moves after obilterating the Starkiller base. 
And let's not forget the whole "Kylo killed Han Solo" thing, for which Leia may very well want to seek justice. 
The only thing we know for certain is, according to the film's official synopsis, "the Skywalker saga continues as the heroes of The Force Awakens join the galactic legends in an epic adventure that unlocks age-old mysteries of the Force and shocking revelations of the past." Hopefully, the upcoming trailer will reveal a starship full of new information. 
Star Wars: The Last Jedi is due out in theaters on December 15. For now, check out the gorgeous new film poster below.