Ava DuVernay Isn't Certain You'll Like A Wrinkle In Time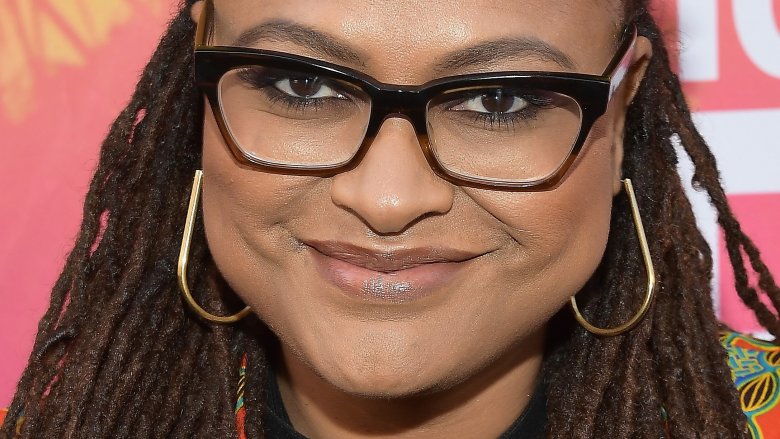 Getty Images
A Wrinkle in Time, the mind-melting upcoming movie from revered filmmaker Ava DuVernay, has already garnered a great deal of buzz since its first trailer was released at D23 Expo in Anaheim, California earlier this year. While pre-release response has been positive, DuVernay is still uncertain as to how audiences will react to the film when it's released next year. 
Speaking with The New Yorker writer Jelani Cobb at the New Yorker Festival this weekend (via The Hollywood Reporter), DuVernay previewed the impending adaptation and shed light onto her wariness. "I don't know how it's going to be received," the director admitted. 
However, she stated that the concept of the film, which is based on the beloved 1963 Madeleine L'Engle novel of the same name, important for people to see and experience. "It is about a girl saving the world, and that girl is a girl of color," said DuVernay, describing the main character Meg Murray, played by Storm Reid. She added, "In the film, darkness is defined as the darkness within us. She's saving us from ourselves."
The film focuses on Redi's Meg, a 13-year-old girl whose scientist father (Chris Pine) goes missing. Much to the surprise of Meg and everyone close to her, her father's absence reveals something shocking: he has unlocked the groundbreaking ability to warp, or "wrinkle," time and space at will. However, his power has come with major consequences, and he winds up as a prisoner on a foreign planet. In order to save him, the world, and the universe, as well as discover how he came about his newfound skill, Meg must journey through time to find him. 
DuVernay was candid in saying that A Wrinkle in Time is the first film she is genuinely hesitant to release, a feeling she didn't experience with her other works like the Academy Award-nominated documentary 13th and Golden Globe-winning historical drama pic Selma. "With 13th, I was, 'You know what? I don't care. This is what I want to put out. If people get it, they get it. If they don't, I'm onto the next,'" DuVernay said. "With Selma, I was like, 'You know what? I'm nervous. It's my first thing that kind of has a faux pas, but I know that I believe in this. I know that this is a record, and it needs to be there. Some other people are going to get this.'" But when it comes to A Wrinkle in Time, DuVernay said, "This, I don't know."
DuVernay ultimately knows that her vision for movies is going to be different in comparison to the majority of Hollywood filmmakers, and she is okay with that. "You're seeing worlds being built through the point of view of a black woman from Compton," she said of her films. "So when I'm told create a planet, my planet is going to look different from my white male counterpart's planet, who we've seen 97 percent of the time."
A Wrinkle in Time also features Oprah Winfrey as Mrs. Which, Big Little Lies star Reese Witherspoon as Mrs. Whatsit, The Hangover actor Zach Galifianakis as Happy Medium, and The Mindy Project lead Mindy Kaling as Mrs. Who. André Holland (Moonlight), Gugu Mbatha-Raw (Concussion, Beauty and the Beast), Michael Pena (Ant-Man), Levi Miller (Pan), Deric McCabe (Stephanie), and Rowan Blanchard (Girl Meets World) round out the cast. 
DuVernay's uncertainty will be cleared away when A Wrinkle in Time hits theaters on March 9, 2018.