Matt Ryan To Appear As Constantine In Legends Of Tomorrow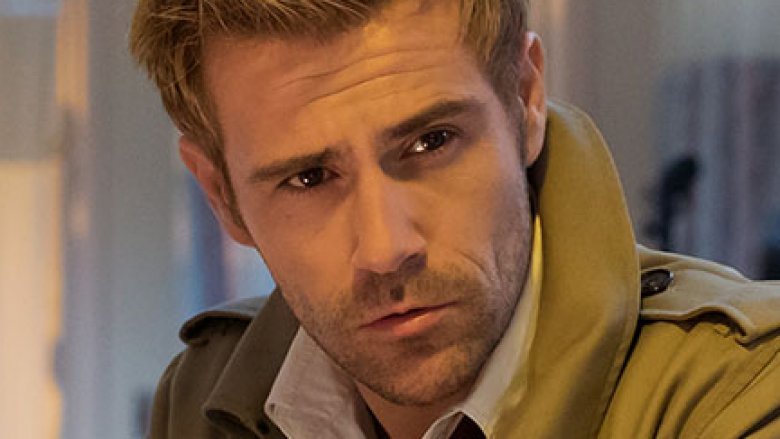 Tina Rowden/NBC
A special someone is set to appear on the next season of Legends of Tomorrow.
Per The Hollywood Reporter, Matt Ryan will reprise his role as the demon hunter John Constantine in a two-episode arc on the beloved CW series. Legends of Tomorrow executive producer Phil Klemmer confirmed the news to the outlet, calling Ryan's role "legendary" and expressing his excitement about the actor's involvement, which has, apparently, been a long time coming. 
"Having Matt Ryan reprise his iconic—dare we say legendary—role of John Constantine on Legends is something that [executive producer] Marc [Guggenheim] and I have been working toward since season one, and now the stars have finally aligned," said Klemmer. "While we are working to finish our 2017 Arrow-verse crossover, which is no joke the most ambitious bit of network TV that four shows have ever had the audacity and insanity to endeavor, we were looking for a way to make an equally exciting 2018 return. That's how we came up with Matt Ryan."
Ryan's upcoming appearance on Legends of Tomorrow as Constantine won't be the iconic DC Comics character's first time on the small screen. The actor previously played Constantine for a single season of NBC's live-action Constantine, which has since been canceled, and thereafter popped up in the fourth season of Arrow. 
His appearance on Legends of Tomorrow will take place chronologically after his work on Arrow. Fans can expect to see him in episodes nine and 10 of Legends of Tomorrow season three. And, according to Klemmer, his appearance will bring a new dynamic to the Greg Berlanti-produced series. The executive producer explained a bit about what his involvement entails and how the storylines around Constantine will unfold.
"As for the character of Constantine, we knew that an alienated, chain-smoking, bisexual, world-weary demonologist would feel right at home among our Legends," Klemmer stated. "His appearance in episode 310 will involve the following: a revisiting of Arrow season four and the events following that season's finale episode; a confrontation with this season's Big Bad on Legends—the name we've only heard whispered until now, Mallus; some hot sex—something that has been in short supply on the Waverider thus far in season three; and Damien Darhk (Neil McDonough), because how can you do an episode about dark magic and not have Damien Darhk?"
Klemmer ended on a final, thrilling note, mentioning that the "episode promises to be scary." He added, "Tonally, it's The Exorcist meets One Flew Over The Cuckoo's Nest. Demonic possession in a mental institution, what's not to love?"
Legends of Tomorrow season three will premiere Tuesday, October 10 at 9 p.m. on The CW. Ryan's two-part arc as Constantine is set to air sometime in early 2018.