Harrison Ford's Fame Has Come At A Hefty Cost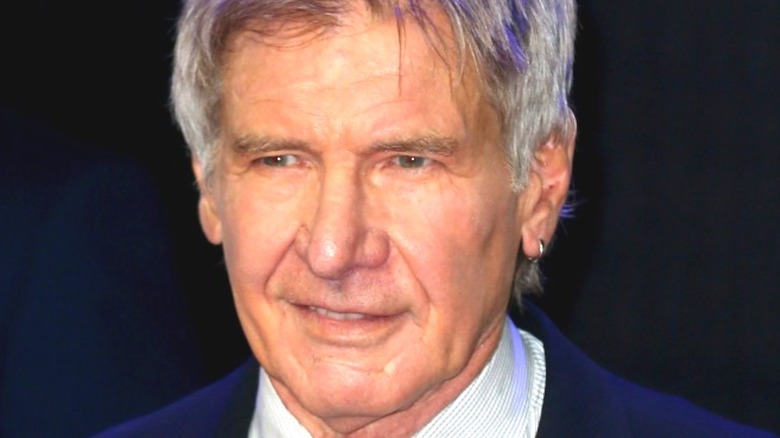 Chris Jackson/Getty Images
Harrison Ford can't easily go out in public without being recognized by a mass of "Star Wars" fans or "Indiana Jones" fans. His time with the "Star Wars" franchise left him with a lifetime of fame and fortune as it's impossible for anyone not to remember the sarcastic unlikely hero, Han Solo, who helped save the galaxy from The Empire.
Ford moved from Wisconsin to Hollywood in the mid-1960s after getting into acting (via Biography). However, the extreme success he so comfortably sits with today didn't take off right away, and as a struggling young actor, he found work as a carpenter to make ends meet. As someone who has been in the business as long as he has, it's clear there are things about acting that Ford really enjoys. However, things aren't always perfect in the life of a celebrity, and success doesn't always come easy. Ford's fame has come at a high cost of its own.
Harrison Ford wishes he had a more private life
Harrison Ford is an actor who paved his way to the top with iconic performances in long-lasting franchises. However, all the success comes at a price that Ford himself admits to being less than fond of. Ford told WENN in 2010 (via Digital Spy), "There's nothing good about being famous. You always think, 'If I'm successful, then I'll have opportunities.' You never figure the cost of fame will be a total loss of privacy. That's incalculable." Ford elaborated on his frustration with being in the public eye by saying he didn't expect it when he was first starting out in the business. "What a burden that is for anybody. It was unanticipated, and I've never enjoyed it. You can get the table you want in a restaurant. It gets you doctor's appointments. But what's that worth? Nothing."
An actor such as Ford is easily recognizable and no doubt lives a life different than most because of his high profile. Though even today, he continues acting and is still expanding the "Indiana Jones" franchise with a fifth and final movie coming out in 2023 (via IMDb). While Ford dislikes the lack of privacy that comes with a successful acting career, he holds his characters in high regard and has expressed to NBC's Today that he would rather no one takes his place in roles like that of "Indiana Jones."