Bow Down To Cate Blanchett's Hela In New Thor: Ragnarok Teaser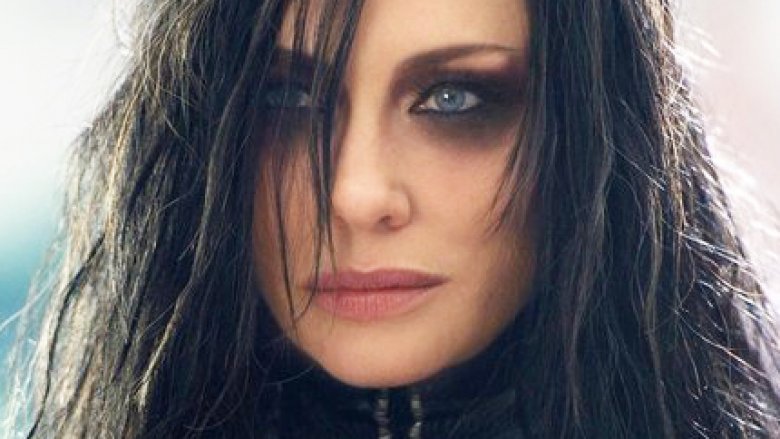 A new queen is taking her throne. Well, she's trying to, at least.
Disney and Marvel Studios have released a new clip of Cate Blanchett's black-clad and badass Hela, the villain at the center of the upcoming movie Thor: Ragnarok. The footage shows Blanchett giving off epic queen of darkness vibes, and is supplemented by commentary from director Taika Waititi, star Chris Hemsworth, and Blanchett herself.
As Hela, aptly named the Goddess of Death, the Oscar-winning actress is "the first female villain that we've had in a Marvel film," Waititi explains. And more than that, she subverts the idea of what it means to be an antagonist, offering something fresh and fierce to the forthcoming Thor flick. Hemsworth states that he "loved working with Cate Blanchett" and was "so excited to see what she was going to do with Hela," whom he describes as having an "insane, off-kilter attitude" different from the characters currently stirring up trouble in the Marvel Cinematic Universe.
The video also features Blanchett having a blast as the trailblazing villain, blocking Thor's (Hemsworth) hammer Mjölnir with the palm of her hand, making maniacal declarations, and engaging in close-quarters combat with her fellow co-stars. "Some of the happiest times have been beating people up," the actress says in the clip. "I've really enjoyed it. It's like, 'I don't have to speak today, I can just throw axes into someone's gut. It's been good."
As the clip rolls on, we see Hela taking down her enemies (the good guys) as she attempts to rebuild Asgard in her own image and convert its people to become her faithful followers. She's shown standing beside Skurge (Karl Urban), her "smart boy"; commanding Thor (Hemsworth) and Loki (Tom Hiddleston) to "kneel before their queen"; and facing off with the powerful Norse god in the throne room.
For Blanchett's part, her favorite villains (and the ones she feels are the best) are ones that "you love and hate what they do but you sort of understand it." As director Waititi explains, Hela "wants to come back home and be accepted, and she wants what's hers," riding the exact fine line that Blanchett describes. 
Thor: Ragnarok also stars Mark Ruffalo as Bruce Banner/the Hulk, Tessa Thompson as Valkyrie, Idris Elba as Heimdall, Jeff Goldblum as The Grandmaster, and Benedict Cumberbatch as Doctor Strange. Here's the full plot synopsis for the movie: "Imprisoned, the mighty Thor finds himself in a lethal gladiatorial contest against the Hulk, his former ally. Thor must fight for survival and race against time to prevent the all-powerful Hela from destroying his home and the Asgardian civilization."
Thor: Ragnarok will rock into theaters on November 3. 
Kneel for your queen. Cate Blanchett is Hela in #ThorRagnarok. See the film in theatres November 3. #Helaween pic.twitter.com/5Rzp0YzLXi

— Disney (@Disney) October 7, 2017