The American Sniper Scene Fans Wish They Had Never Filmed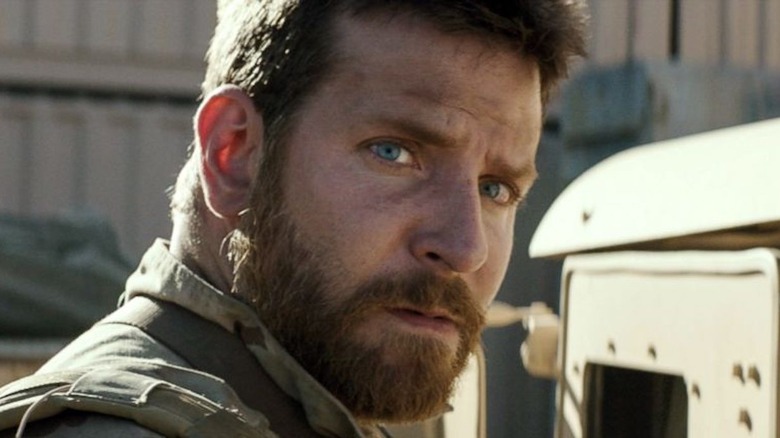 Warner Bros.
The biographical war drama film, "American Sniper," directed by Clint Eastwood, was released in 2014. Written by Jason Hall and based on Chris Kyle's memoir "American Sniper: The Autobiography of the Most Lethal Sniper in U.S. Military History," the film centers on Kyle (Bradley Cooper), a Navy sniper who became known for his high number of kills during the Iraq War (via DMagazine). "American Sniper" chronicles his time in the military, as well as home life with his wife, Tara (Sienna Miller), and their children.
Although there were some questions about the accuracy of the film, "American Sniper" was a major box office success, making over $547 million against its $58.8 million budget (via Box Office Mojo). Additionally, it was just as much of a critical success as it was a commercial one — it was nominated for six Academy Awards, including Best Picture and Best Actor for Cooper. Further, Alan Robert Murray and Bub Asman took home the award for Best Sound Editing.
Despite all of the praise — and despite being generally liked by audiences (it has an 84% audience score on Rotten Tomatoes) — many fans have one common issue with the film and they haven't been shy about expressing why this particular scene should never have been filmed.
Fans think the fake baby is distracting
In one scene in "American Sniper," Chris has a conversation with his wife while holding their infant child. Many fans have pointed out that the baby is clearly fake, as it remains stiff as a board throughout the film. Additionally, one particular camera angle provides a generous look at the baby's face, making it clear that it is a doll rather than a real infant. When u/TylerPaul posted the clip to Reddit, fans were quick to jump in and poke fun at the fake baby.
One user wrote, "Geez, that's something I probably wouldn't have noticed, now the entire movie has been ruined." Another user joked, "Oscar-nominated acting right there too. Bradley Cooper made me believe that baby was real!" Meanwhile, u/paul_5gen expressed that they liked the film overall, but that they found it strange for the fake baby to be so obvious. Similarly, u/BassettHound agreed that the fake baby made for an amusing moment in an otherwise serious film.
Another user pointed out a practical reason that a fake baby may have been used. u/CitizenPremier wrote, "You guys making fun of this don't realize how expensive a real baby is." However, another user, u/Ginder2k, brought attention to a counterpoint, writing, "They spent how many millions on this movie ... Why couldn't they have gotten a real baby?!" Overall, the rest of the comments are flooded with fans expressing how distracting the fake baby is and noting how unintentionally funny the scene becomes because of the obvious use of a doll instead of a real infant.
Cooper also finds it a bit ridiculous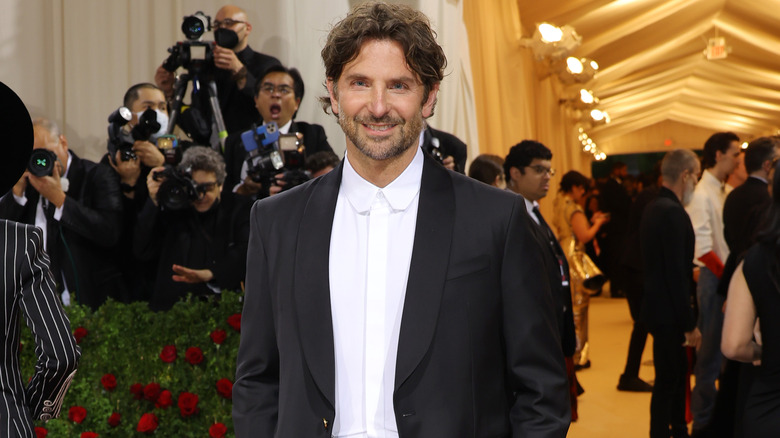 Mike Coppola/Getty Images
Viewers of the film are not the only ones who find the use of the fake baby to be a bit distracting — star Bradley Cooper thinks so too. During an appearance on The Ellen Show, host Ellen DeGeneres showed Cooper a clip of his co-star Sienna Miller, who had recently visited the show, reacting to the fake baby scene. In the clip, Miller laughs at the situation and points out that, in the scene, you can even see Cooper move the baby's arm with his thumb in order to make it look like the baby is moving.
Cooper immediately cracked up at the clip of Miller's reaction and said, "I couldn't believe that we were working with a plastic baby, I was just like, 'This is nuts.'" Cooper then explained that he made a joke on set about saving the production money that could be spent on special effects by moving the baby's arm with his thumb. He concluded, "I was like 'Watch this, eat your heart out Muppets.'"
After laughing about how they don't know how Cooper was able to get through with a straight face, Cooper jokingly admitted that he developed a fondness for the plastic baby. The actor said, "I have to say I grew to be very fond of that, really I fell in love with that plastic thing."