Fans Weren't Prepared For This Obi-Wan Kenobi Part V Scene To Make Them Teary-Eyed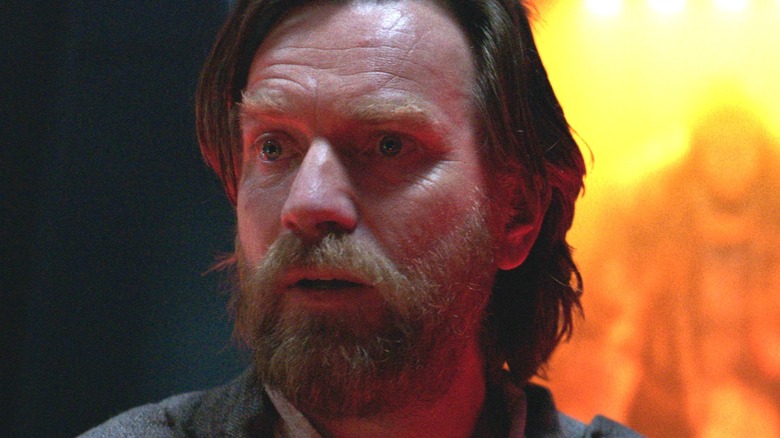 Lucasfilm/Disney+
Contains spoilers for "Obi-Wan Kenobi" Part V
"Obi-Wan Kenobi" has given "Star Wars" fans plenty of moments to talk about. From the messy, unsettling rematch between Darth Vader (Hayden Christensen) and Obi-Wan (Ewan McGregor) in the show's third episode to the latter's eventual infiltration of the Fortress Inquisitorius, the first five episodes of "Obi-Wan Kenobi" certainly aren't lacking when it comes to dramatic moments. However, none of the show's opening episodes pack in quite as many jaw-dropping moments as "Obi-Wan Kenobi" Part V does.
Not only is there a stunning Darth Vader scene in "Obi-Wan Kenobi" Part V that's impossible to forget, but the episode also features a flashback to a prequel-era lightsaber battle between Anakin Skywalker and Obi-Wan. Of course, it's easy to see why those moments, in particular, landed with as much impact as they did. Obi-Wan and Darth Vader are, after all, two of the biggest "Star Wars" characters, so any scenes involving them are always going to receive extra levels of attention.
That said, there is one scene in "Obi-Wan Kenobi" Part V that's far more emotionally affecting than "Star Wars" fans likely expected it to be.
Star Wars fans are heartbroken over NED-B's death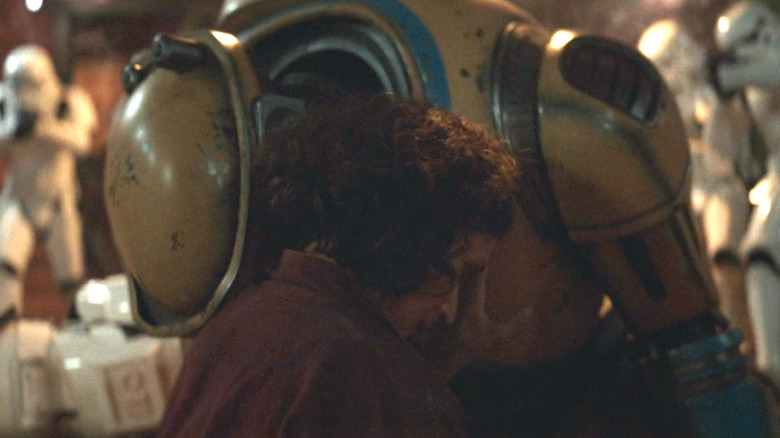 Lucasfilm/Disney+
"Obi-Wan Kenobi" Part V is a fairly contained episode of television, one that revolves around the conflict that breaks out between the Empire and a small assortment of Rebels after the latter group's secret base is discovered.
The conflict leads to more than a few tense, nerve-racking moments, including several stand-offs between Obi-Wan and the Imperial Inquisitor known as Reva (Moses Ingram). The episode also, unfortunately, sees both Tala (Indira Varma) and her trusty droid sidekick, NED-B, die while trying to fend off the Empire. According to the discussions happening online, "Star Wars" fans were surprised by just how emotional they felt about NED-B's death in particular.
On Reddit, u/IniMiney touched briefly on NED-B's sacrificial death in "Obi-Wan Kenobi" Part V, writing, "That legit made me tear up tho [sic]." In the same Reddit thread, u/Orr-bit noted, "The second I saw NED-B on the front lines with even Obi-Wan behind it, I knew it was over. But NED-B went out strong." Elsewhere, on Twitter, @wizardjarin tweeted, "I'll never forget Tala and NED-B," while @wizardsjedi drew a comparison between Tala and NED-B and a similar duo in "Rogue One: A Star Wars Story," writing, "Tala and NED-B's relationship reminds me so much of Cassian and K-2SO... I am not okay."
Taking all of these reactions into account, it seems safe to say that NED-B managed to capture the hearts of a lot of "Star Wars" fans despite having a fairly small role in "Obi-Wan Kenobi." As a matter of fact, NED-B and Tala's deaths likely rank as two of the saddest moments featured in the first five episodes of "Obi-Wan Kenobi."