The R-Rated Revenge Movie You Likely Forgot Starred Elizabeth Olsen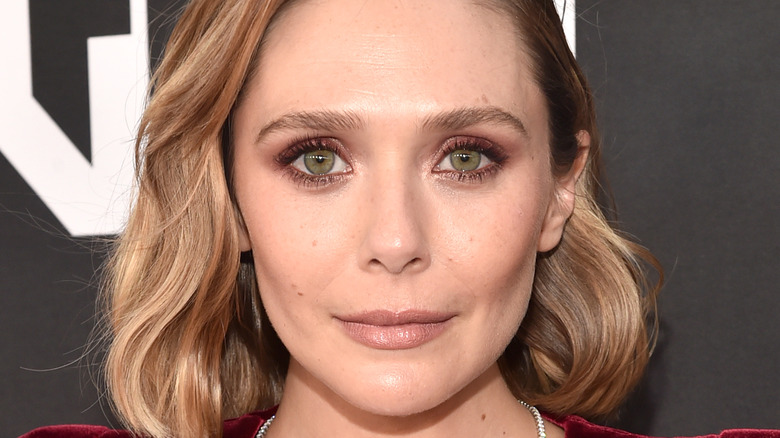 Alberto E. Rodriguez/Getty Images
Elizabeth Olsen is, by and large, known for portraying Wanda Maximoff, aka Scarlet Witch, in various MCU films. Olsen's introduction into that superpowered world came via a cameo appearance in 2014's "Captain America: The Winter Soldier," which was highlighted in the Wanda-focused Disney+ series "WandaVision" and even extended into "Doctor Strange in the Multiverse of Madness." All of these projects have been seen by a huge audience, adults and kids alike, seeing as how Marvel tends to stick to either a PG or a PG-13 rating to stay suitable for family viewings.
However, despite Olsen being known for her work in the MCU (with their family-friendly ratings), she is no stranger to more mature — i.e. R-rated — projects. A few of her R-rated films include 2013's "In Secret," 2017's "Wind River," and "Ingrid Goes West." She also stars in the HBO Max series "Love and Death," portraying a real-life woman who was found to have brutally murdered her friend.
There's another R-rated film starring Olsen that you may have forgotten about that came out in 2013, the same year as "In Secret." If you want a hint, the film in question is a revenge-filled remake of a very famous R-rated South Korean film of the same name.
Olsen starred in the remake of Oldboy
Directed by Spike Lee, "Oldboy" follows Joe Doucett (Josh Brolin), who is kidnapped one night and taken away from his wife (who he soon learns has died) and daughter. After being held hostage for 20 years, Joe is inexplicably released. From there, he sets out to uncover who his captor was and why he was held hostage. Elizabeth Olsen plays Marie, a nurse who helps Joe after he is released from his confinement. The film is a remake of the 2003 South Korean film of the same name by director Park Chan-wook, which is not only a widely praised film but is also notable for having one of the most shocking movie endings of all time.
However, the remake was not nearly as well-received as its predecessor. To start with, 2013's "Oldboy" holds just a 39% Tomatometer score on Rotten Tomatoes, compared to 2003's "Oldboy," which has an 81% Tomatometer score. Further, the remake was a box office bomb, making just over $5 million against its $30 million budget (via Box Office Mojo).
Overall, many critics found the remake unnecessary and not nearly as well done as the original. Mark Kermode of The Guardian wrote, "Other than catering to an audience unwilling to read subtitles, it's hard to see what Spike Lee has brought to the table." Meanwhile, Tara Brady of The Irish Times noted that Lee's version is an exact copy of the original — except where details or moments are exaggerated to a ridiculous point.
Olsen had no reservations about acting in a remake
Around the time of the release of "Oldboy," Elizabeth Olsen spoke with IndieWire about why she had no reservations about remaking an acclaimed film. To begin with, Olsen revealed that she hadn't seen the South Korean film when she read the script of the remake, so she didn't see the twist ending coming. After reading the script, she sought out the original. Olsen said, "Then I saw the movie and was like, 'Oh my God, this is the most perfect film ever made.' To me it's just a story that should be told and told again in 10 years because it's cool, it's shocking. If people don't know it, they should know it. It's such a fun ride as an audience member to be surprised like that and have such a great twist at the end."
Interviewer Nigel M. Smith then asked Olsen why she thinks it needs to be remade at all if she finds the original to be perfect. Olsen responded that she likely never would have seen the 2003 version had she not read the script for the remake — essentially, remakes can help viewers find the original.
Olsen also discussed why she has no qualms about remaking films in general. The actor said, "Maybe it's because I just did 'Romeo and Juliet' and there are like eight film versions out there. Maybe because good stories deserve to be retold."