Superman & Lois Is Bringing A Major Arrowverse Player Back Into The Game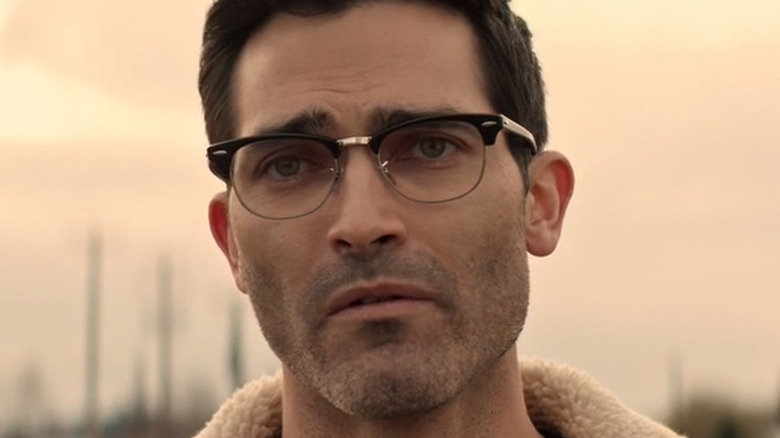 The CW/HBO Max
In many ways, "Superman & Lois" pulls out all the stops throughout its sophomore season. Between the debut of the uncanny Bizarro world, the rise of Ally Allston (Rya Kihlstedt) as the classic DC villain Parasite, and the reintroduction of other iconic characters like Lucy Lane (Jenna Dewan), the series has been leaning further than ever into the Superman mythos. All of these elements have allowed the show to constantly one-up itself in terms of sheer comic book-style thrills. Indeed, according to IMDb, the series currently holds an average rating of 7.8 stars out of 10, indicating that most fans are generally enjoying the series.
So, how could one possibly make this season of "Superman & Lois" even wilder? Adding in a mini-crossover, of course. Ahead of the show's Season 2 finale, which is set to air on June 28, showrunner Todd Helbing teased that the episode will feature the return of one of the most legendary Arrowverse characters for a very important reason.
Arrow's John Diggle is back in action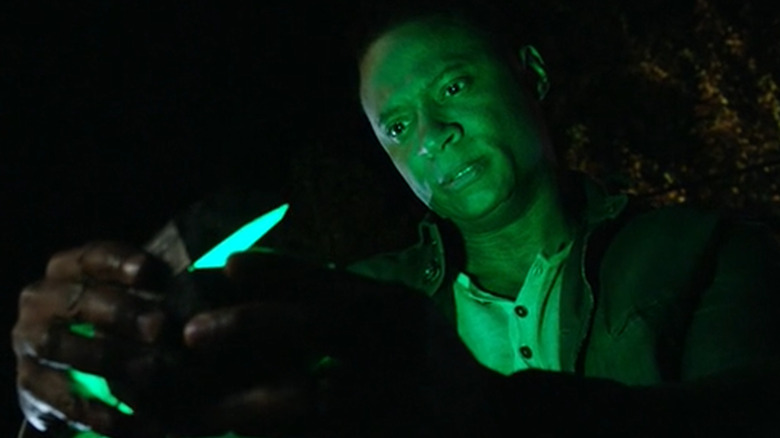 The CW
"Arrow," the original entry in The CW's multi-show DC universe and the series that inspired its Arrowverse moniker, may have reached the end of its run in 2020, but that doesn't mean all of the heroes it featured are out of action. Several major characters from the series have since reappeared on other shows like "The Flash." Most notable is John Diggle (David Ramsey), Green Arrow's partner and trusted friend, who has been popping up all over the Arrowverse as he contends with his discovery of a mysterious glowing green box in the "Arrow" series finale (yes, it's almost definitely a Green Lantern power ring).
"Some of this mystery, some of it we know, and some of it we don't even know," Ramsey said of Diggle's multi-show storyline in an interview with The Nerds of Color. "Here's what I would say: that we are at the very beginning of John Diggle's, kind of, 'galactic destiny.'"
Now, Helbing has revealed in an interview with TV Guide Magazine (via @_chickymonkey on Twitter) that Diggle's next appearance will come as part of the "Superman & Lois" Season 2 finale. Ramsey himself is no stranger to the show, as he's directed three episodes thus far (via IMDb). The actor also previously appeared as Diggle for an episode of the first season as part of his aforementioned trek across the Arrowverse. Based on Diggle's previous appearances, his return to "Superman & Lois" means something serious is going on.
The significance of Diggle's return
Though the full ramifications of Diggle's appearance during the upcoming finale have yet to be revealed, some details regarding what his return signals are available. In his interview with TV Guide Magazine (via @_chickymonkey on Twitter), Helbing teased that the character's role in the finale would center upon a particular scene that will have major ramifications for the story of "Superman & Lois" going forward. "That [scene] is to tee up our big bad for Season 3," Helbing said.
Indeed, "Superman & Lois" was renewed for a third season in March (via Variety) and now stands as one of the last remaining pillars of the Arrowverse following The CW's string of cancellations for several of their other superhero shows (via The Hollywood Reporter). While details on Season 3 remain sparse at the moment, another cast member for the show has commented on the upcoming main antagonist that Diggle's story will tie into. "I will say, I do know that we're getting a very cool villain," Elizabeth Tulloch, the actress who portrays Lois Lane in the series, said in an interview with Entertainment Tonight.
While it seems like Diggle's return to "Superman & Lois" will primarily be for the purpose of setting up this new antagonist, it remains to be seen whether the finale will offer any new details on Diggle's relationship with his supposed cosmic destiny. At the very least, it'll be a treat for Arrowverse devotees to see one of the franchise's veterans back on screen once again.