First-Look Images Of Guillermo Del Toro's Pinocchio Are A Sight To Behold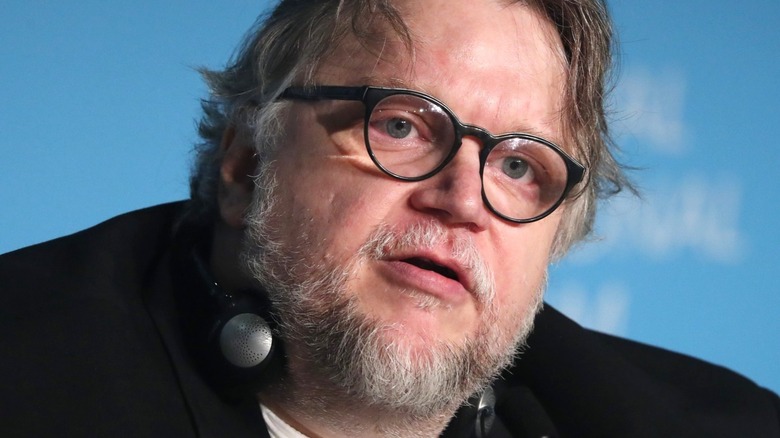 Pool/Getty
Most of us became acquainted with the story of "Pinocchio" through Disney's heartwarming animated movie from 1940. However, like many fairytales that we grew up believing were envisioned as wholesome entertainment for the whole family, "Pinocchio" is based on a horrific story that became more sanitized as the years progressed. According to Ranker, the original 1883 iteration of the tale about a marionette's quest to become a real boy is pure nightmare fuel. It was only a matter of time until a filmmaker came along and reminded everyone of the puppet's inner darkness.
Guillermo del Toro's upcoming "Pinocchio" adaptation might not be a full-scale horror story in the vein of some of his other works. That said, the director confirmed that the stopmotion adaptation of the age-old fairytale will deal with some weighty subject matter such as fascism and what it means to be human. "It's set during the rise of Mussolini in fascist Italy, so it's a really interesting thematic exercise, that one," he explained. The teaser trailer has a whimsical tone, but it does warn fans to prepare for a "Pinocchio" story they haven't seen before.
The trailer wasn't lying, either. Del Toro's "Pinocchio" is shaping up to be an original take on the story, as evidenced by the latest images from the upcoming Netflix film.
Guillermo del Toro's Pinocchio looks set to bring a new vision to the beloved fairytale
Vanity Fair recently sat down with Guillermo del Toro to discuss "Pinocchio," and the outlet managed to capture some images from the movie. Indeed, it's evident that the upcoming Netflix animated feature will be appropriate viewing for children. At the same time, some of the imagery is rather haunting. For example, one of the pictures depicts a life-sized version of Jesus Christ's crucifixion, which isn't a common sight in your average kids' movie. Other images exude melancholy, especially those of Geppetto, who is still grieving the loss of his son.
Interestingly, del Toro has also reimagined some of the characters. Count Volpe (voiced by Christoph Waltz), for instance, is now a human being with animal-like features as opposed to the anthropomorphic fox that we know and love thanks to the Disney movies. According to the director, this version of the character is "a grand aristocrat that has fallen into misfortune."
All in all, the latest images from "Pinocchio" will undoubtedly make people more excited to see the movie. The stop-motion animation is exquisite, and the images suggest that the movie will be otherworldly, enchanting, complex, and emotionally rich. Look out for the film dropping on Netflix sometime in December of this year.