Why Tom Hanks Doesn't Think Colonel Tom Parker Is A Villain In Elvis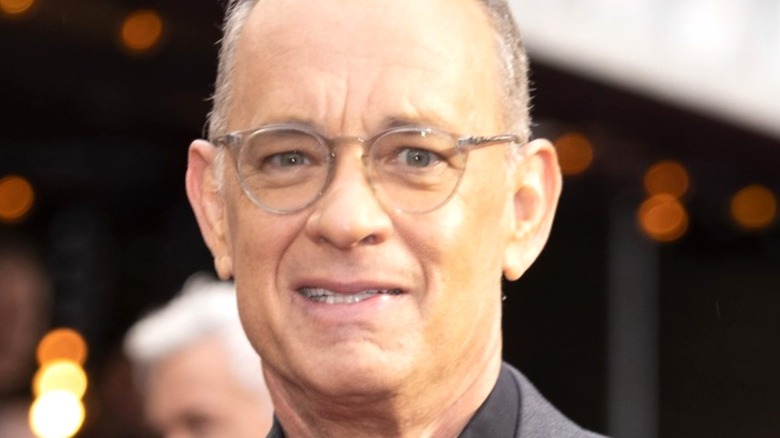 Dave J Hogan/Getty
Tom Hanks has a long, storied history of playing heroes. From lovable goofballs like Josh Baskin in "Big" to rumbling, tumbling cowboys like Woody in the "Toy Story" franchise, Hanks has a demeanor that screams protagonist. It helped him ascend the Hollywood rankings to become one of the most lovable actors working today, with everyone pretty much in agreement he's a stand-up guy. 
It's what makes it all the more interesting that Hanks will soon star as the polar opposite of some of his most recognizable work when he shows up as Colonel Tom Parker in the upcoming "Elvis." Tom Parker was Elvis' manager, and the two shared a unique but not always amicable working relationship. 
As one of the best actors working today, Hanks has a distinct take on the character that doesn't merely view him as black and white. Instead, Hanks colors Colonel Tom Parker in shades of gray and offers his viewpoint on why the character is more than just a standard villain.
Tom Hanks believes Tom Parker's motivations to be understandable
As is the case with embodying any character, it's all about finding the humanity underneath the sometimes exaggerated surface. And to prepare for the role of Colonel Tom Parker, Tom Hanks did the same by making him more than merely a straightforward antagonist to Austin Butler's Elvis. Hanks even discussed as much during an interview with The New York Times, where he mentioned, "I would say that with the Colonel, whatever motivation it is, the Colonel is often right, and the dynamic that I respond to best is not the antagonist-protagonist dynamic, it's when everyone is coming from a position where they think, This is the best thing to do."
Hanks goes on to describe the Colonel's motivations when Elvis was dealing with a drug problem. While some may view his actions as turning a blind eye to the scenario, the Colonel would view it as protecting the singer's reputation while still giving the fans what they want. He concluded by saying, "The Colonel was not going to allow that man to be letting down his fans. So Col. Tom Parker's motivations were oftentimes self-serving, but they were also motivations that anybody can understand, whether you agree with them or not."
The best movie villains of all time often have motivations that make sense to them, even if they may venture into a bleak or morally gray territory. It sounds like Colonel Tom Parker remains in that field, and audiences can decide for themselves how much of a villain the character truly is when "Elvis" comes to theaters on June 24.