Margot Robbie's Fame From Her Suicide Squad Role Came At A Hefty Cost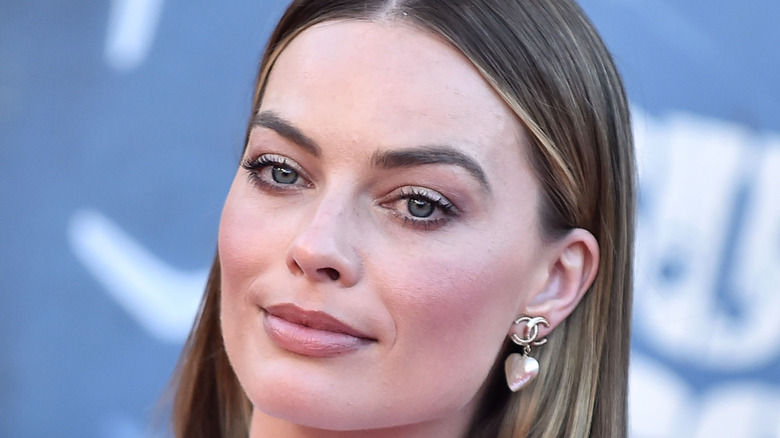 DFree/Shutterstock
In 2013, Australian actress Margot Robbie rose to global fame by starring in "The Wolf Of Wall Street" as Naomi, the second wife of Leonardo DiCaprio's Jordan Belfort. Since she quite literally bared it all for the camera in that film, she's cemented her stardom and staying power through a mixture of blockbuster movies and arthouse films by choosing projects that better exemplify a different set of assets. When speaking to The Hollywood Reporter about her decision to refuse any further trophy wife roles, she said, "You could read a script and almost pull them out and nothing else would be affected. like if you pulled out that card, the card castle wouldn't come tumbling down, and that's not that exciting to me."
Through that lens, Robbie's credits begin to make more sense, especially her many turns as Harley Quinn, the demented psychiatrist with a worrying fondness for hammers and hyenas. In earlier character arcs, the DC villain appeared alongside the Joker, to whom she was equal parts underappreciated sidekick and abused girlfriend, but in the DC Extended Universe, and in most of the recent media surrounding her, Harley Quinn breaks free from her abuser and stands firm as her own unique entity. She's still a villain, mind you; she's just no longer imprisoned in the Joker's shadow. And yet, a similarly haunting struggle has seemingly seeped into Robbie's real life as a result of her playing the character.
Margot Robbie has been forced to hire security in the wake of stalkers and death threats
Fame, or at least notoriety, is a given when starring in projects based on other popular media. Unfortunately for Margot Robbie, the acclaim she received for portraying Harley Quinn in the DCEU has come with some real-life danger, including apparent stalkers and death threats. In the previously mentioned interview with The Hollywood Reporter, the actress discussed the lengths to which she has been forced to go just to guarantee a modicum of safety.
"You're about to be in a comic book film; now here's the worst-case scenario of how big and scary it can get," she said. "There's just all this stuff you learn along the way, like, when you get those death threats, it's [smart] to have a security team do a background check on whoever sent them to see if there is any past history of violence because you'll need to know whether you need security to go to certain events."
Robbie went on to explain that given her situation, she cannot simply return to starring in smaller projects because of how much her profile increased after she joined the DCEU. "I just wish someone had explained a lot of those things to me early on," she continued. "I wouldn't have resented the position I found myself in because I would've known what I was getting myself into."
Robbie's struggle is one often echoed by performers attached to high-profile stories. For whatever dark reason, death threats are terrifyingly commonplace nowadays and, even if they were sent in jest (a horrible thing to joke about, by the way), they have to be treated as if they're serious. For her part, at least Margot Robbie can afford to protect herself.