The Boys Season 3 Episode 4 Moment That Signals A Major Change For Hughie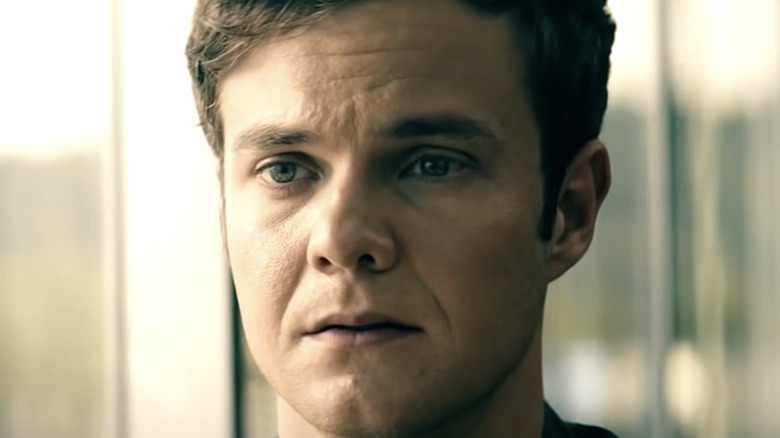 Amazon Prime Video/YouTube
After last week's Season 3 premiere of "The Boys," which included an unerasable scene involving the incredible shrinking (and expanding) supe Termite (Brett Geddes), Amazon Prime Video's super-twisted series about heroes, villains, and sea life obsessions continued this week with the power dynamic shifting even further into the favor of Homelander (Antony Starr). This has forced some members of The Boys to change tactics and embrace the concept of fighting dirty to bring Vought and its manufactured do-gooders down. 
It's no secret that Butcher (Karl Urban) and the rest of The Boys have had to bend the rules to fight back against individuals that could break them with a single thought. Hughie (Jack Quaid), however, has always been cut from a different cloth. Since being enlisted in Butcher's cause, Hughie has served as the team's moral compass, the one that has always been reluctant to draw blood to accomplish the mission (even if most of it has ended up on him). This week, however, there was a standout moment that fans picked up on that showed a different side to Hughie, one that has some fans wondering if we're going to see a shift in his character.
Fans think Hughie vs. Homelander hinted at a dark future for our favorite Boy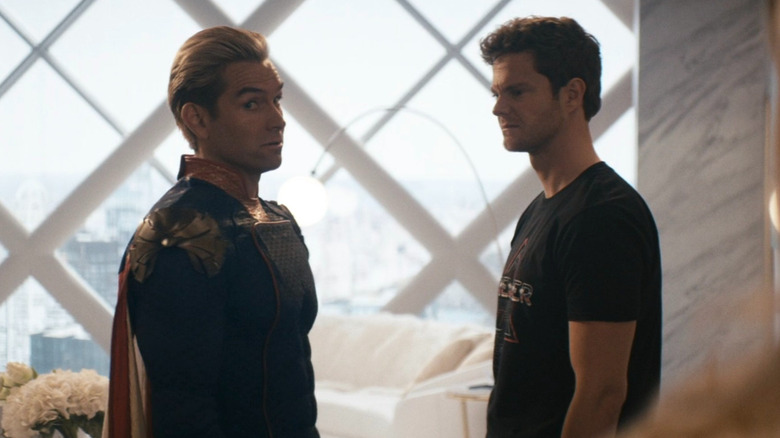 Amazon Prime Video
After Homelander and Starlight's (Erin Moriarty) faux-relationship becomes a hot topic, Vought's top supe is met with a seething Hughie who does the unthinkable and steps up to the leader of The Seven. It's a moment that even Homelander is taken aback by — but just for a millisecond. It also stood out as a moment that fans of the show picked up on instantly, as they saw it as a possible hint of Hughie being more like his own fearless leader, Billy Butcher.
Over at r/TheBoys on Reddit, talk stirred about the standoff between Homelander and wee Hughie, which was deemed a highlight. Commenter u/WyngZero said, "I loved that one scene where Hughie tries to square up to the Big H," while u/JacP123 praised Starlight's boyfriend, adding, "you've gotta admire the kids bravery." While the powerless partner of America's superhero sweetheart did show guts, u/hisp assessed the situation by saying, "I thought it showed him becoming a little bit more like Butcher. He's so angry that for a second, he's no longer afraid of Homelander." 
Thankfully, our hero didn't puff his chest out too long, which in itself is a sign he might not go completely to the Butcher side (which is like the Dark Side, with cups of tea). That was noticed by u/hisp, who added, "also, after a second, Hughie kind of does a double-take and realizes what he got himself into, showing that while he's becoming more like Butcher, he's not there yet." Fingers crossed, right?