10 Great Movies Like The Social Dilemma Everyone Needs To See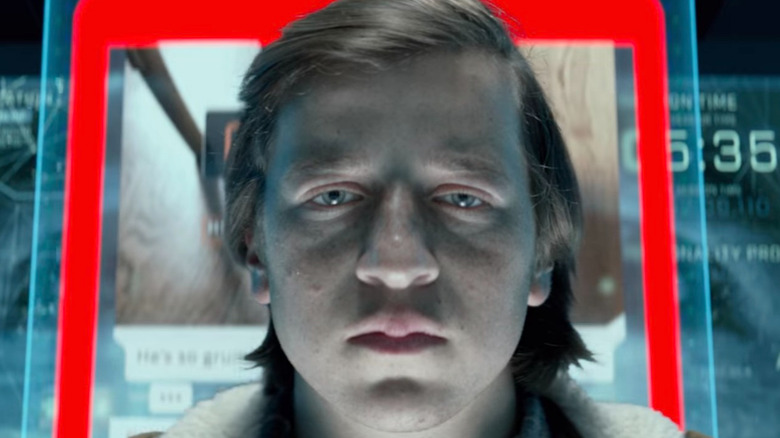 Netflix
Undoubtedly one of the biggest developments of the 21st century has been the creation of social media. Social media now forms an intrinsic part of our everyday lives — often without us realizing or thinking about the extent of it — as online platforms such as Twitter, Facebook, and Instagram dictate how we interact, who we interact with, and what content we see, all through the use of complex algorithms. While these platforms can seem harmless, there is also a darker undercurrent to social media that "The Social Dilemma" seeks to explore.
Released in 2020, the critically acclaimed Netflix docudrama combines interviews with former employees of major tech companies with a dramatized story of how social media obsession affects a family, particularly the eldest son, Ben (Skyler Gisondo). While social media can be perceived as just a tool for interacting with and keeping up with your friends' news and updates, this blended documentary and drama presents the harrowing truth in an engaging and unique way.
The major platforms all vie for our attention by selling us off to the highest bidder through targeted advertisements and monitoring our every move, which adds an element of real-life horror to "The Social Dilemma," as things escalate from manipulating the content one individual sees to destabilizing an entire country through rigged elections. Social media and its effects has become a subject of increased fascination, which filmmakers have been exploring in various ways. From documentary exposés to fictional films with real-world correlations, here are ten great movies to check out if you're a fan of "The Social Dilemma."
The Great Hack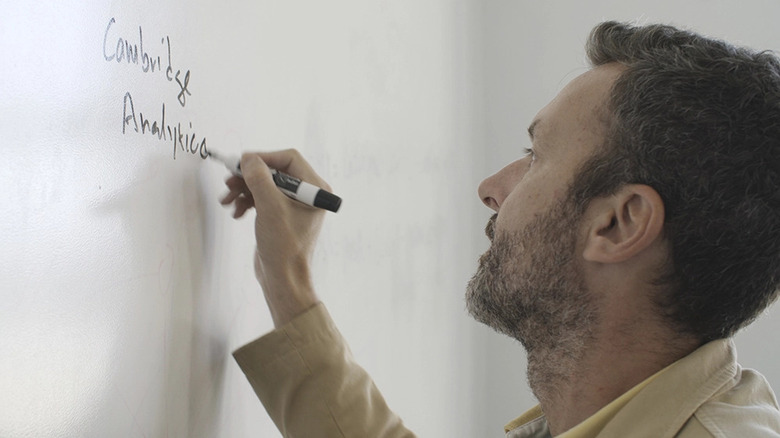 Netflix
While "The Social Dilemma" explores the ways that technology companies use social data for political advantage, 2019's "The Great Hack" takes a much more in-depth look at this in its focus on the modern scandal surrounding Cambridge Analytica. Featuring prominent journalists, educators, and former employees, "The Great Hack" is an extensive and stark exploration of the power of data.
Framed by the 2016 U.S. election and the U.K.'s Brexit referendum, the documentary delves into Cambridge Analytica and how this company mined valuable data — predominantly via Facebook — to target undecided voters. Cambridge Analytica built detailed profiles of users based on information that was readily available or willingly given online (under the auspices of filling out a "personality test"). In this way, the company was able to create targeted campaigns peddling more extreme political views onto people's newsfeeds to persuade them to vote in a particular way.
"The Social Dilemma" somewhat parodies this idea, with the character of Ben targeted with content by the fictional political group, Extreme Center. They may have been fictional, but "The Great Hack" proves that complex algorithms do exist to try and sway someone's political beliefs. The more you consume, the more content you see, and the greater the divides in society become. Both films also explore the idea of social media users and their data being a commodity, with former development director for Cambridge Analytica, Brittany Kaiser, going as far as saying that data has become more valuable than oil. With the feeling that we are powerless to control how our data is used and abused, "The Great Hack" serves as an effective cautionary tale about the danger of autonomous, powerful big tech companies.
The Social Network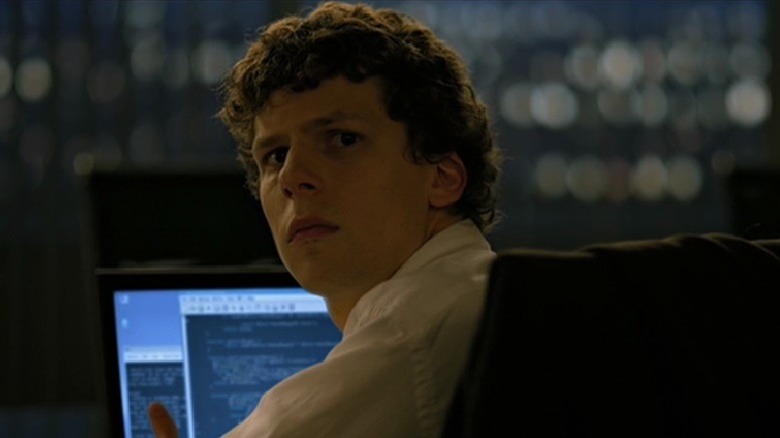 Sony Pictures Releasing
Charting the origins of Facebook, "The Social Network" tells the dramatized story of college student Mark Zuckerberg (Jesse Eisenberg) and how he created the phenomenon that became Facebook from his dorm room. The film is framed around two lawsuits — one from the Winklevoss brothers (both played by Armie Hammer), who claimed to have come up with the idea, and the other from Eduardo Saverin (Andrew Garfield), the Facebook co-founder whom Zuckerberg tried to force out of the business.
Before being taken over by greed and the promise of becoming one of the biggest social media giants (and most powerful companies in the world), Facebook was created with the best intentions. In its first iteration, the prodigious Zuckerberg made something that was designed to encourage connections between fellow students at Harvard. 
However, many believe that the original good intentions for social media have been lost, as this technology has evolved into an unstoppable force with a dark side that outweighs the good. This is one of the core theories explored in "The Social Dilemma," which looks at Facebook as one of the platforms that has been transformed and manipulated to cause more harm than good. Facebook has changed how we interact with each other and the intense hold it has on our lives is evident in the documentary. It's an even more extraordinary thing to consider when you see how it all began, which is what "The Social Network" focuses on.
"The Social Network" mainly focuses on Zuckerberg as a person and the tumultuous genesis of the technological revolution he spearheaded, rather than exploring the later effects of the platform that movies like "The Social Dilemma" explore. Regardless, "The Social Network" is a fascinating biopic, and gives insight into one of the most powerful and divisive figures of the 21st century. "The Social Network" was incredibly well-received by critics, and after being nominated for 8 Oscars in 2011, took home 3 (via IMDb).
Catfish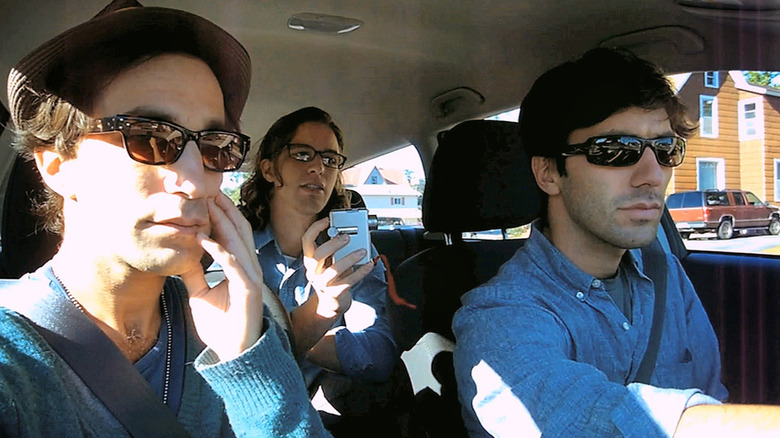 Universal Pictures
While most internet-savvy people will be familiar with the term "catfishing" — a means of deception, where someone uses a fake identity or impersonates another person — not everyone may know that it was this 2010 documentary that coined the term (via Slate). Two years before it became a popular MTV series, the film "Catfish" introduced us to Nev Schulman and the internet relationship he formed with "Megan."
Photographer Nev first meets 8-year-old Abby when she messages him online to send him a painting she made of one of his photos. They connect innocently enough, and Nev finds out more about Abby's family, which includes her mother Angela and half-sister, Megan, whom Nev starts speaking to online. He and Megan enter into an online relationship, and when he starts to suspect that Megan has been lying about things, Nev's brother Ariel and friend Henry Joost document their quest for the truth.
"Catfish" is a thoroughly intriguing documentary that explores how the digital landscape has changed the way we relate to people. While it demonstrates just how easy it is for someone to present a false version of themselves, it approaches this behavior with an open-mindedness, and explores the reasons someone might choose to do this, rather than automatically villainizing them. Similarly, "The Social Dilemma" looks at how social media impacts people's real-world relationships, and both films are incredibly effective in portraying this new world we find ourselves in by offering a cautionary message about social media use and being aware of those who may not be telling the truth.
Ingrid Goes West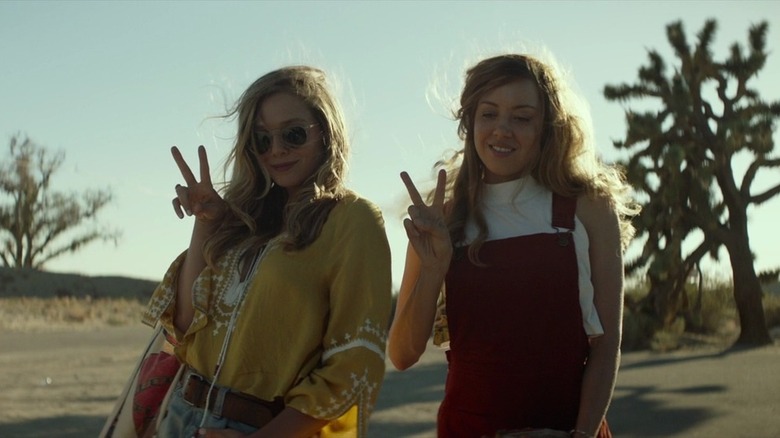 Neon
Starring Aubrey Plaza and Elizabeth Olsen, this delicious black comedy explores what happens when an Instagram obsession is taken too far — showing the fine line between harmless fandom and stalking — with sharp wit and wry observations on our celebrity-obsessed culture. Ingrid (Plaza) is a young woman, who lands herself in trouble when she crashes the wedding of Instagram influencer, Charlotte (Meredith Hagner). Ingrid checks herself into a recovery facility and following her release, she develops a new obsession with Taylor Sloane (Olsen). So, Ingrid decides to move to Los Angeles to ingratiate herself into Taylor's life and become her IRL bestie.
Whether we'd like to admit to it or not, we all have our social media favorites — the ones that will stop us in our tracks when we're scrolling and prompt us to double tap. "Ingrid Goes West" takes this idea and dials it up to the extreme. Like "The Social Dilemma," it is a particularly timely film that demonstrate the darker side of spending too much time on social media.
The dramatized portion of "The Social Dilemma" touches on the family's youngest daughter, Isla (Sophia Hammons), and how easy it is for young girls in particular to spiral into depression and develop a warped sense of reality through social media. While mostly comedic in tone, "Ingrid Goes West" also doesn't ignore the fact that Ingrid is mentally unstable and especially influenced by the "perfect" façade of Instagram influencers. The final kicker of the film delivers a bleakly funny twist on how even tragedy can make someone famous, and while it's funny and satirical, it also hits a bit too close to home regarding the relationship many of us have to "light stalking" on social media.
The American Meme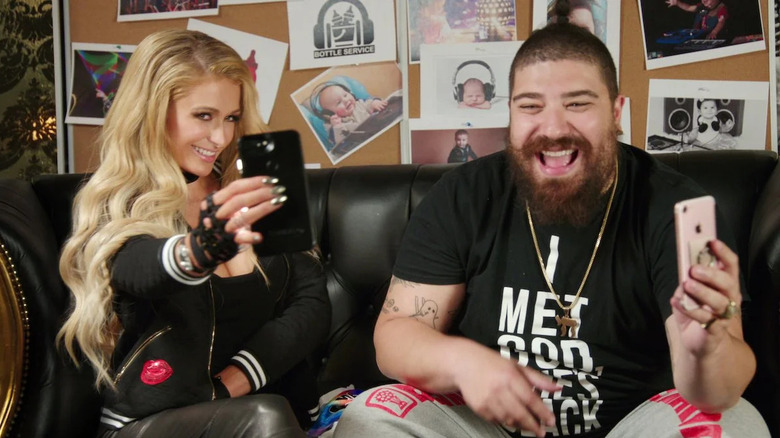 Netflix
As the pun title of this documentary would suggest, the idea of the "American dream" has drastically changed over the years, which is partially due to the way social media has impacted our lives. As well as changing how we interact with people, social media has also introduced this idea of people being able to present themselves as a "brand," with a vast pool of willing consumers available at the tap of a screen.
Focusing on celebrity influencers including Paris Hilton, DJ Khaled, and Brittany Furlan, "The American Meme" offers a glimpse into their lives and the power and pitfalls that come with being an internet sensation. It is an environment that moves on and changes incredibly quickly, and what is trending one day might not be the next. While this brave new world means that anybody can become a celebrity overnight, it also means the marketplace is crowded, and the content has to be carefully curated in order to hold people's attention.
"The Social Dilemma" shows the flip side of engagement and explores how algorithms can be used to manipulate what we see and interact with. "The American Meme" looks at how algorithms are another tool for content creators and those with large followings to navigate. Neither film shies away from the negative impacts of social media, and "The American Meme" peels back the curtain for us to see the real people behind the millions of followers, and why it might not be the "dream" that some perceive.
Lo and Behold, Reveries of the Connected World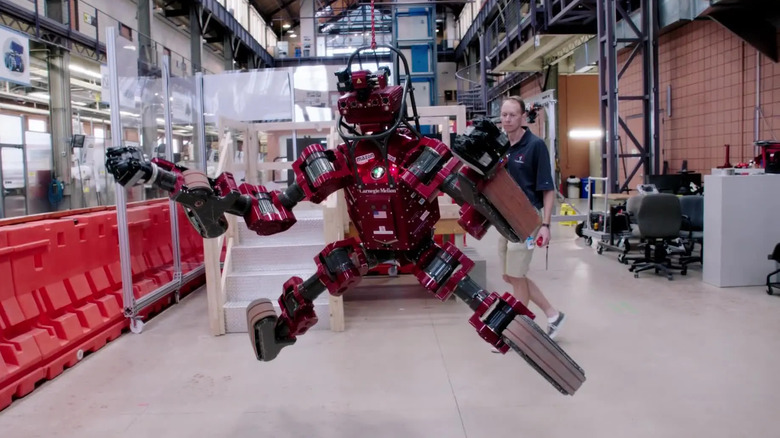 Magnolia Pictures
Engaging with the subject of technology in his typical fashion, the legendary filmmaker and documentarian Werner Herzog leaves no stone unturned in this fascinating probe into the impact of the internet on modern society. "Lo and Behold, Reveries of the Connected World" covers immense ground, going back to the internet's humble beginnings, celebrating its huge technological advancements, exploring its darker side, and looking to the future and where we might end up.
There is a sense of balance to Herzog's documentary, as it covers some of the positive things that have come out of the internet, and often does so with a giddy excitement. However, similarly to "The Social Dilemma," it does also dedicate time to its pitfalls — particularly around how government surveillance and corporate greed has made the internet a frequently dangerous place to be — with "Lo and Behold's" segment about how internet trolls sought to ruin a family's life following the death of their daughter being particularly harrowing.
Meditative and thorough, "Lo and Behold" approaches the subject of technology with openness and curiosity, allowing us to make up our own minds on the issues. The purpose of a documentary — whether it has an agenda or not — is usually to educate, and while it is incredibly informative, "Lo and Behold" is also a film that facilitates more questions than answers. With Herzog's trademark existentialism, the movie encourages us to consider something we now take for granted in a completely new way.
The Circle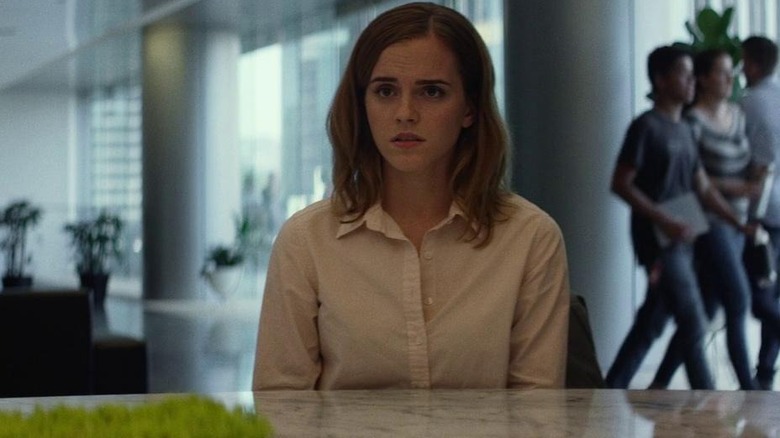 STX Entertainment
Based on Dave Eggers' novel of the same name, "The Circle" focuses on Mae Holland (Emma Watson), who lands her dream job at the titular technology company. Led by affable founder, Eamon Bailey (Tom Hanks), Mae quickly climbs the corporate ladder. When her life is saved by The Circle's controversial "SeeChange" cameras — barely perceptible micro-cameras that broadcast footage in real time — she agrees to become the first person to wear the tech and share her every move 24/7.
The idea of big tech and social media companies initially having good intentions — encouraging connection, networking, and tools to make our lives easier — while also having the potential for this to be abused for more questionable means is something explored in both "The Circle" and "The Social Dilemma." While "The Circle" inevitably exaggerates the reality, Eamon's framing of total transparency as a human rights issue is a thought-provoking angle to consider. The way he and other high profile Circle executives see it, the cameras mean that every one will have the ability to access anything they like and present this as an ideal utopia, rather than the Orwellian concept of constantly being watched.
The themes and ideas of "The Circle" are frequently more interesting than the execution, but it is particularly intriguing when it touches upon the political ramifications, as social media and tech companies interfering in elections has been a very real-world, hot-button issue. "The Circle" was critically panned but still profitable at the box office, grossing $40.6 million worldwide off a budget of $18 million (via Box Office Mojo).
Searching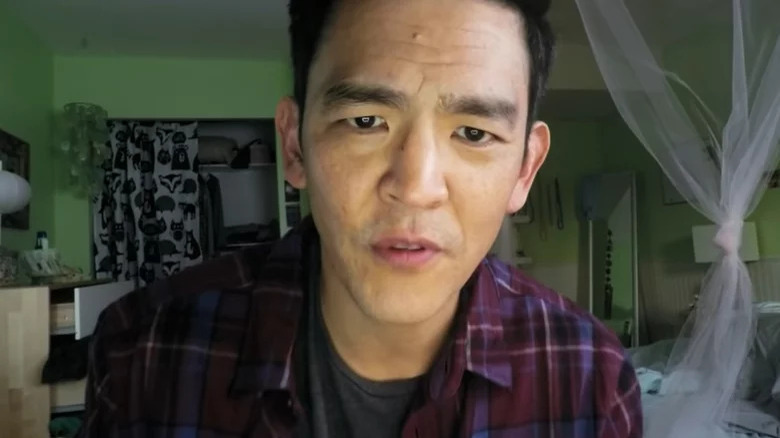 Sony Pictures Releasing
In this thoroughly modern 2018 thriller, David Kim (John Cho) devotes himself to his sometimes distant daughter, Margot (Michelle La), following the death of his wife. When he's unable to get hold of Margot one day, Daniel fears the worst and begins a desperate search, trawling through her social media accounts for clues to get to the bottom of her disappearance.
A highly innovative film, "Searching" unfolds entirely through screens, emails, and messages, demonstrating both the positive and negative facets of modern technology. In contrast to "The Social Dilemma," which looks at how our data can be used against us, "Searching" sees David utilizing the wealth of information available to find his daughter, connecting with her classmates to piece together the clues needed to track her down.
While the opening montage is heartbreaking — showing David's idyllic life before his wife died — it is also highly effective at demonstrating how technology has developed in a short space of time, and establishing the film's unique method of storytelling. What could feel like a gimmick becomes an ingenious narrative device, exploring the help and hindrance that technology can play in our lives. Rather than feeling restrictive, this use of screens to tell the story in "Searching" helps ratchet up the tension, giving the feeling that we're watching the events unfold in real-time. Made on a shoestring budget of just $880,000, "Searching" was a huge box office success, making more than $75 million worldwide (via Box Office Mojo).
The Hater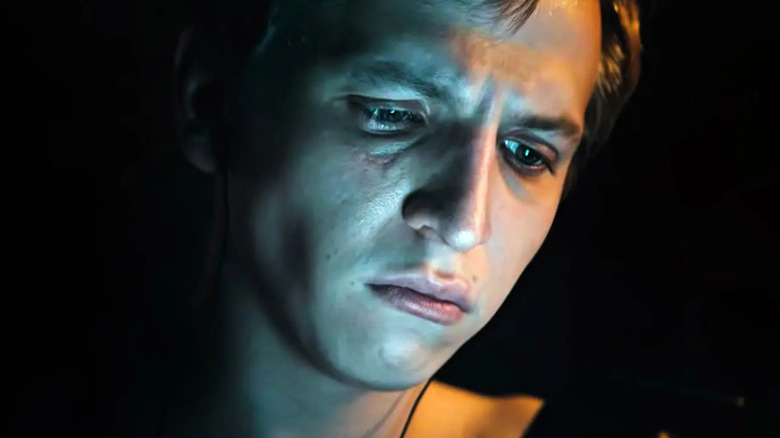 Kino Świat
A timely and underseen Polish thriller, "The Hater" focuses on expelled law student Tomasz Giemza (Maciej Musiałowski) and his obsession with a wealthy family. After taking a seemingly innocent job at a public relations company, Tomasz soon discovers it is a front for professional internet trollers, who make their living targeting celebrities and politicians and spreading deceit online.
With "fake news" now a term most people are familiar with, the ideas presented in "The Hater" are particularly potent, as Tomasz becomes further embroiled in the darker corners of the internet, where being adept at creating falsities is the means to achieving success. Once Tomasz's actions start to have political implications, the film's similarities to "The Social Dilemma" become even more evident. While "The Social Dilemma" explores how social networks are used to target voters on more extreme ends of political lines, "The Hater" sees Tomasz actively creating divisive campaigns, working for both sides and playing them off against each other.
One of the things that makes "The Hater" such an interesting watch is that the protagonist is distinctly unlikable in many ways. He isn't an innocent party, who entered something with good intentions only to be corrupted. Instead, he is a willing participant, who feels hurt by the way the world has treated him, so has no qualms in sitting back and watching the world burn. The representation of this type of complex and nuanced lead character in "The Hater" prompts an interesting moral question that adds depth to the film's exploration of the theme of the power of social media.
Fyre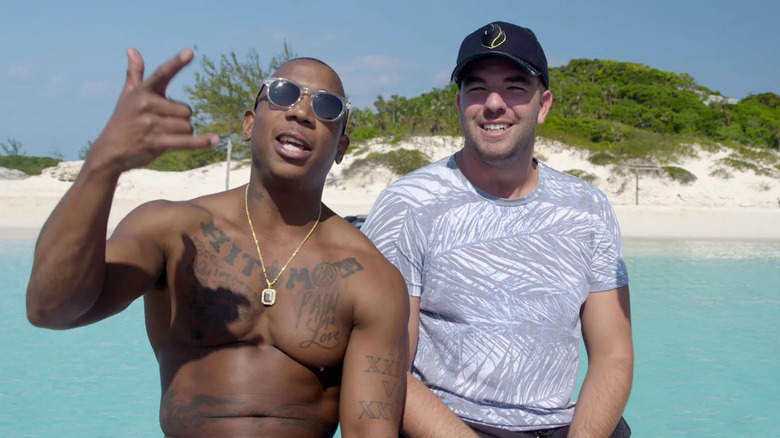 Netflix
Like "The Social Dilemma," 2019's "Fyre" was a buzzy Netflix documentary that got everyone talking. The film explores how master manipulator, Billy McFarland, conned investors and partygoers out of millions of dollars by promising a lavish festival that turned out to be a disaster. Using social media to generate buzz — and with high-profile influencers paid to promote it — McFarland launched the Fyre Festival, which took place on a Bahamian island paradise. Behind the sun-soaked marketing campaign, however, things turned out to be more "no-chella" than Coachella.
Watching "Fyre" is like watching a car wreck in slow motion: You don't want to stare at the unfolding horror, but it's also impossible to look away from it. Whether it was the gourmet food that turned out to be nasty cheese sandwiches, or the hard-working Bahamians who were left without payment for their hard labor, Fyre festival was a disastrous failure and McFarland was the thoroughly detestable puppet master behind it all.
Subtly speaking to the power of social media to hoodwink people, "Fyre" is at times hilarious and at others unbelievable and infuriating. It also manages to get across just how easy it is to sell an idea through a particularly striking social media campaign — plus just how influential influencers can be — as the organizers managed to convince hundreds of people to part with a big chunk of their cash on the basis of a vague concept. If there ever was a film to serve as a reminder not to believe everything you see online and to be a little more discerning if something seems too good to be true, then it is "Fyre."