The Ending Of Sons Of Anarchy Season 1 Explained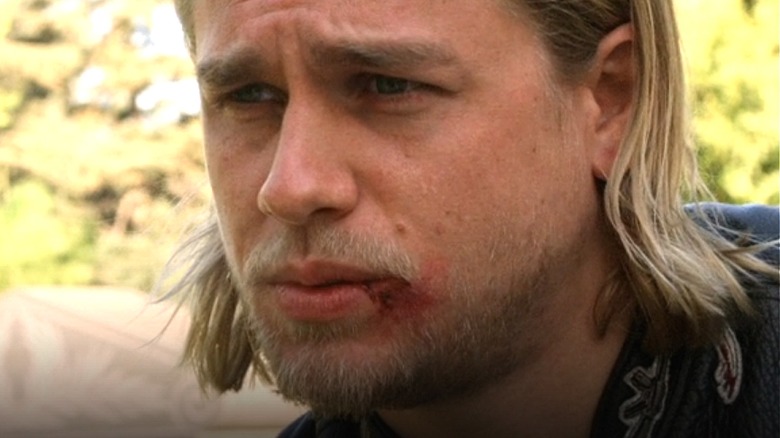 FX
FX's drama "Sons of Anarchy" made a name for itself by exploring the fascinating subculture of biker life all while infusing it with themes found in "Hamlet." For seven seasons, the series makes a good case for Jackson "Jax" Teller (Charlie Hunnam) being a stand-in for the titular Danish prince. In fact, series creator Kurt Sutter acknowledged the connection in 2009, telling Metro, "It's not a version of 'Hamlet' but it's definitely influenced by it."
Though Jax is the heir to a motorcycle club instead of a kingdom in Denmark, Jax still encounters the deaths of friends as well as a crisis of conscience. After finding a manifesto penned by his late father JT (voiced by Nicholas Guest), Jax starts to realize that the Sons of Anarchy Motorcycle Club did not turn out the way it was supposed to. Instead of a post-Vietnam hippie commune, the biker club is now a gun-running gang.
With the added pressure of new fatherhood, his mother Gemma (Katey Sagal), and the reappearance of the love of his life Tara (Maggie Siff), Jax starts to question everything he once believed in. Season 1 fully explores Jax's desire to change the club for the better, but it isn't without its consequences. After a murder by the club goes bad, ATF agent June Stahl (Ally Walker) tries to set Opie (Ryan Hurst) up as a rat. This action causes a tragic event that affects the entire trajectory of "Sons of Anarchy" until the series end.
Donna's death has vast repercussions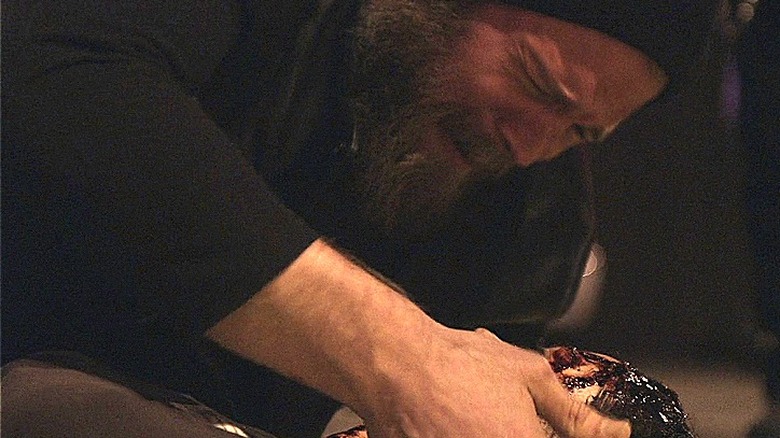 FX
Jax hasn't been the only one struggling with the club. Fresh out of a stint in Chino, Jax's best friend Opie questions his role in the club along with his responsibilities as a family man. His prison time forced his wife Donna (Sprague Grayden) to raise their two children on her own. After his time is served, Opie wonders if he can commit to the club again after everything his family has gone through. But this is unfortunately decided for him after Agent Stahl becomes involved in his affairs.
Stahl railroads Opie, making it look like he has betrayed the club for the murder of port commissioner Brenan Hefner (Lyle Kanouse). Thinking that Opie has become a rat, Clay (Ron Perlman) acts impulsively and instructs Tig (Kim Coates) to assassinate him and make it look gang-related. But after Opie gives Donna his truck for the night, Tig mistakenly kills her. This one act tears Opie apart and threatens to destroy the club as well. Though wracked with guilt, Clay can never make amends for his actions. Deputy Chief Hale (Taylor Sheridan) relays his suspicions about Clay to Jax, counting on the fact that he could never be complicit in the death of his best friend's wife. Jax keeps it to himself for now, mulling over what to do with this information. But it is the first nail in the coffin of Clay's presidency.
Jax and Tara officially come together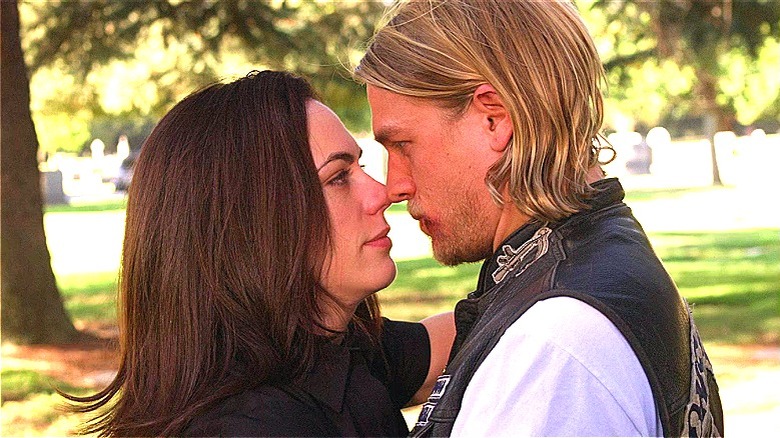 FX
Tara and Jax's relationship seemed to be predestined from the start. Growing up in Charming, California together, they were high school sweethearts before the biker lifestyle became too much for Tara. But after ten years of being apart, she returns home and back into Jax's life. She also happens to be a neonatal surgeon — the exact type of doctor needed to help Jax's son Abel when he's born prematurely. This rekindles feelings between the two which only gets more intense after the return of Tara's old flame, ATF Agent Kohn (Jay Karnes).
Kohn had followed Tara from Chicago and soon his attention towards her becomes aggressive. He obsessively pursues her until one night when he attacks Tara in her home. After a struggle, Jax kills him, knowing that he will keep coming after Tara even if he is arrested. This violent act shakes Tara's confidence in her relationship with Jax, disturbed by feeling that she doesn't fit in his world.
But even when Tara tries to run back to Chicago, Jax challenges Tara's fear about them being together. Though Tara must confront many obstacles — especially Gemma's vitriol towards her — the love she and Jax share eclipses all of that. She is the only woman that Jax ever cared about and that is strong enough to overcome anything in their path. In the final scene of the episode, the two come together and agree to give the relationship a shot.
Gemma and Clay are losing control of their dynasty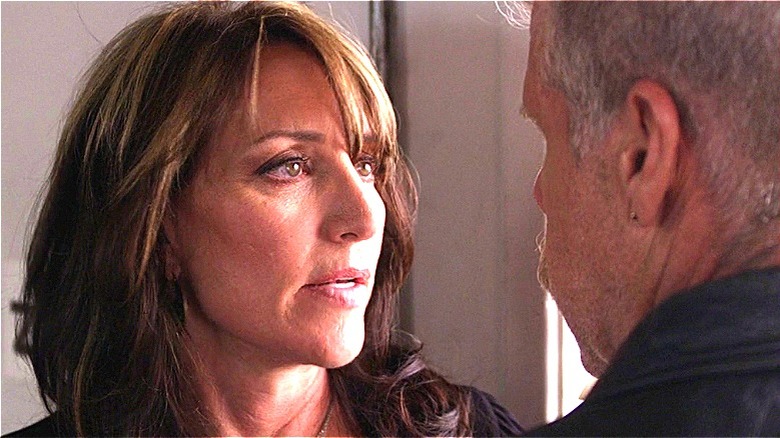 FX
Jax's biggest threat to his happiness is not law enforcement or rival gangs, but rather, someone unexpected: his mother. A force to be reckoned with, Gemma utilizes her power to make moves behind the scenes. Jax is a Sons of Anarchy legacy and Gemma believes that his rightful place is as President of the club. However, she knows that there are certain truths that would complicate that.
Jax has already voiced his doubts about the direction of the club. She knows that the ghost of Jax's father will only pull him further away from the club and — as a result — from her as well. After discovering that he has JT's manuscript, Gemma demands that Clay bring Jax closer. But Clay is guilty over his part in Donna's death and starts to lose control over Jax, who is farther away than ever. Not only does he dispute Clay's direction of the club, but his relationship with Tara also causes doubt. Gemma can see that Tara appeals to Jax's conscience, making it less likely that Jax will follow in Clay's footsteps. But even though Gemma is clear-headed about what is happening to her son, she is powerless to stop Jax from discovering dark family secrets. It is only a matter of time before he learns how bloody Gemma and Clay's hands really are.
It's time for a change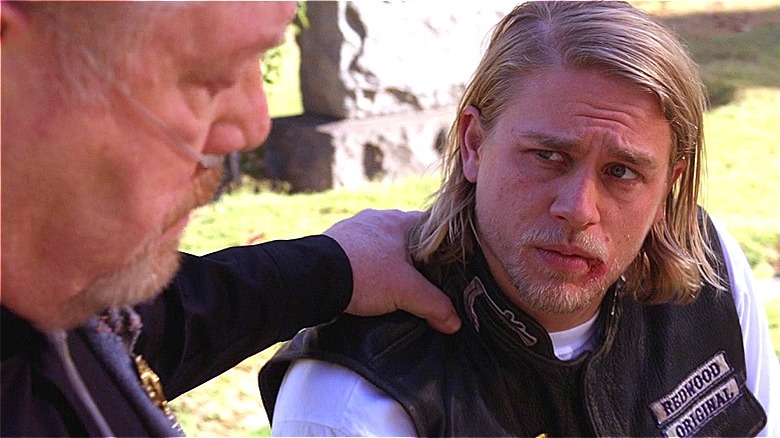 FX
Clay accuses Gemma of being paranoid, but it turns out her concerns about the manuscript landing in Jax's hands are not unwarranted. JT's words haunt her son and send him into a tailspin throughout the season. Jax wants to remain loyal to the club, but Hale's suggestion that Clay was actually behind Donna's murder makes Jax question the club's future.
To make things even more complex, JT's manuscript is not gone for good. Though Gemma found Jax's copy, Piney (William Lucking) has another version. This one could be especially detrimental to Clay and Gemma as it comes with an attached note, suggesting that JT's ultimate death may not have been accidental. Had Gemma been more effective in stamping out Jax's concerns about his father, perhaps it would have been easier to bring him back into the fold. Instead, Piney is successful in fanning the flames of Jax's disillusionment. Piney gives Jax his copy of JT's manuscript, encouraging him to change the club for the better. As one of the First 9, Piney knows this isn't what JT would have wanted and Jax is in the perfect position to supplant Clay. This plants the seeds of Jax's conflict with Clay that can naturally only get worse.