Ms. Marvel Clarifies A Hilarious Groot Detail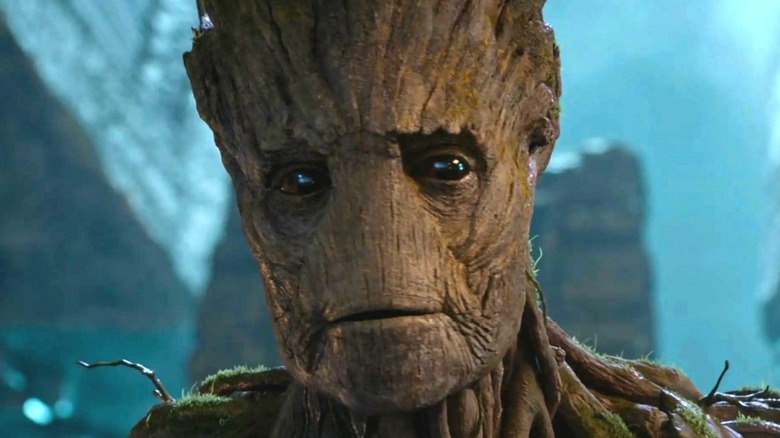 "Ms. Marvel" Episode 1 ("Generation Why") has so many nods to the MCU in it that it's almost hard to keep up. Just as Kate Bishop (Hailee Steinfeld) is obsessed with Clint Barton (Jeremy Renner) in "Hawkeye," Kamala Khan (Iman Vellani) is with Captain Marvel (Brie Larson) in the new Phase 4 series. Kamala has posters of the cosmic hero all over her bedroom wall and sneaks out to AvengerCon to participate in a cosplay contest inspired by Carol Danvers.
While Kamala and Bruno (Matt Lintz) run around AvengerCon, we get a glimpse at all the fun superhero merchandise available for fans. From Captain America greeting cards to Asgard Pride T-shirts, the convention has everything for Avenger fanatics. One particular shirt appears for a second before disappearing off-screen that's a nice homage to one of the Guardians of the Galaxy — Groot (Vin Diesel). This one second in Episode 1 of "Ms. Marvel" clarifies something about the beloved character, and it turns out the world doesn't necessarily know him as Groot.
The world knows Groot as Mr. Tree
Disney+/Marvel Studios
The T-shirt of Groot, which we see at AvengersCon, depicts him as an adult — the way we see him in the original "Guardians of the Galaxy." He's smiling with a bluebird perched on his hand, where he's also grown a flower. Above the picture reads "New Jersey AvengerCon," and under it says "Mr. Tree." This suggests that most of the world knows Groot as just Mr. Tree, and they probably don't know his real name at all.
It's also very interesting that he would be in his adult form since the only Groot to ever set foot on Earth is the teenage version, via "Avengers: Infinity War" and "Avengers: Endgame." Having the shirt refer to him as Mr. Tree is also a fun callback to "Avengers: Infinity War" when Thor (Chris Hemsworth) introduces Groot to Captain America (Chris Evans) as Tree. There has been a long-running and popular fan theory that Groot's real name is actually Tree, with fans on Reddit backing it up by referring to the Thor and Cap moment during the Battle of Wakanda. Since we know Thor speaks Groot thanks to an elective he took on Asgard, it suggests he knows the wooden creature's real name.