Todd Phillips Gives Fans The Joker 2 Update They've Been Craving
Ever since the Oscar-winning thriller "Joker" hit theaters in 2019, fresh off winning the Golden Lion at the Venice Film Festival, fans of both the notorious Batman foe and Todd Phillips' take on the DC Comics character have been waiting for news of a sequel. Updates on that front have been minimal over the years. Before now, the most substantive update occurred in October 2021, when Joker actor Joaquin Phoenix said he was uncertain if a sequel would come to fruition.
"Joker" twists the mythos of the Clown Prince of Crime, bringing to life Arthur Fleck (Phoenix), a failed stand-up comic and clown-for-hire whose disappointing life is forever changed when he accidentally shoots and kills two men. Now in the crosshairs of mayoral candidate Thomas Wayne (Brett Cullen), Arthur finds his connection to the Wayne family runs much deeper than he thought. Confronted by terrible truths about his childhood and forced to deal with widespread humiliation resulting from clips of his stand-up routine going viral, he finds himself transformed into a folk hero. Arthur is put on a collision course with his idol, comic and talk show host Murray Franklin (Robert De Niro).
Phoenix's performance earned him the best actor in a motion picture Oscar, decorating a film that still holds a 68% critical score on Rotten Tomatoes. Now, per recent info shared by Phillips, it looks like fans of the film are about to get the sequel they've been waiting for.
The Joker sequel is happening — and it has an intriguing title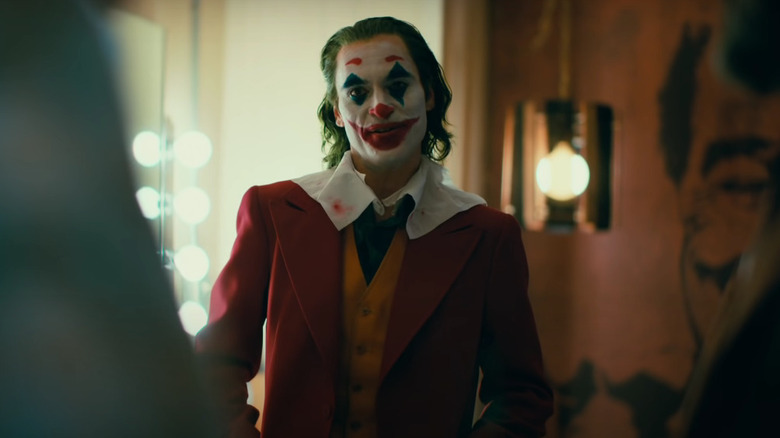 Warner Bros. Pictures
In an Instagram post shared by Todd Phillips on June 7, the film's sequel will be entitled "Joker: Folie à Deux." It seems that the possible final version of the script was finished on May 18, and it was co-written by Phillips and Scott Silver — the same writing duo on 2019's "Joker." The "Old School" helmer also shared a picture of Joaquin Phoenix reading the script in what appears to be an apartment or office setting. The picture not only confirms that Phoenix is aboard for the sequel, which is officially moving forward.
The title is an intriguing one. Per The National Library of Medicine, "folie à deux" literally translates from French as "madness for two" and is generally defined as "an identical or similar mental disorder affecting two or more individuals, usually the members of a close family." To say this title is on the clown nose is putting it mildly. Since Arthur comes to believe he's the biological son of Thomas Wayne — something Wayne himself rejects before his death — during the events of "Joker," this could ultimately mean two different things. Will the movie be about the making of Bruce Wayne and how his drive to bring the killer of his parents to justice obsesses him as deeply as Fleck's desire to make others laugh? Or, might Harley Quinn, who starts life as a straight arrow psychiatrist until she falls in love with Joker and becomes his right hand, be introduced to the film's universe?
It should be noted that, at the time of reporting, no other information has been shared, including further confirmation of any new cast members, a release date, or a filming starting date.