The Kim Possible Reunion Just Happened In The Best Way Possible
While most Disney Channel viewers were enamored by live-action hits like "Hannah Montana" and "That's So Raven" in the early 2000s, that didn't mean the station gave up on animation entirely. The first decade of the 21st century saw some still-beloved cartoons hit the airwaves, not the least of which being "Kim Possible." Debuting in 2002, the series saw the titular crime-fighter (Christy Carlson Romano) — accompanied by her partner Ron Stoppable (Will Friedle) and his naked mole rate Rufus (Nancy Cartwright) — live as normal a life as she could while consistently saving the world from evil.
That premise, coupled with a host of memorable characters, kept "Kim Possible" on television for five years, scoring it four seasons and 87 episodes in the process. Those numbers made it one of the longest-running Disney Channel original shows in history — something its fans willed into existence (via Collider). Nevertheless, even years after it disappeared from the small screen, "Kim Possible" still has its supporters, hence why a live-action film adaptation arrived in 2019. However, aside from this one-and-done return for the property, the "Kim Possible" brand has largely disappeared from the mainstream spotlight.
Thankfully, fans of the longtime Disney Channel staple haven't totally wound up pushed to the side. A "Kim Possible" reunion has finally happened in quite an exciting way.
The Kim Possible cast reunited for the show's 20th anniversary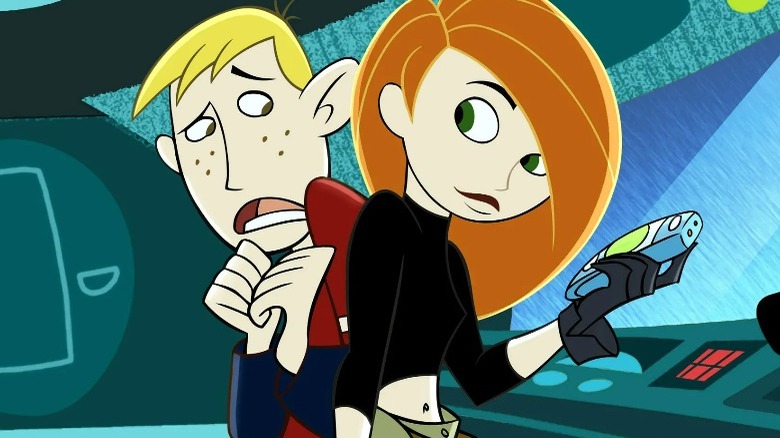 Buena Vista Television
June 7, 2022, marked the 20th anniversary of the premiere of "Kim Possible," so what better way to celebrate the landmark occasion than with a voice cast reunion? The I Hear Voices Podcast (via YouTube) did just that, bringing in Christy Carlson Romano and Will Friedle, as well as Drakken and Shego themselves, John DiMaggio and Nicole Sullivan. They, along with creator Bob Schooley and voice director Lisa Schaffer reminisced about their time working on the show, and to top it all off, the actors even went through a brand new scene together for listeners to enjoy.
When listening through the segment, one can't help but notice the entire cast still sounds just as great as they did two decades ago. In fact, they sound so great that a fifth season of "Kim Possible" doesn't seem like such a bad idea. After all, it's not like the series doesn't have legions of devoted fans behind it waiting for the chance to watch new episodes. A Change.org petition has even brought thousands of these folks together in hopes of putting "Kim Possible" Season 5 on Disney's radar. Still, at the end of the day, it all comes down to whatever the House of Mouse has in mind.
For now, all we can do is cross our fingers for a "Kim Possible" revival, but until that day comes — if it ever does — at least we have this incredible cast reunion and four solid seasons of television at our fingertips.