Jeff Goldblum Opens Up About Reuniting With His Jurassic Park Co-Stars In Jurassic World Dominion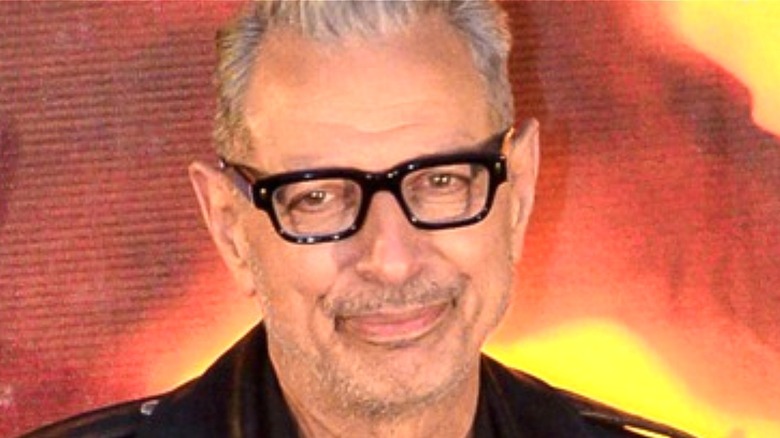 Medios Y Media/Getty
When Steven Spielberg made "Jurassic Park" in 1993, he was no stranger to blockbusters. His 1975 film "Jaws" is considered the blueprint for the summer blockbuster, and the 1982 movie "E.T." surpassed "Star Wars" as the highest-grossing film of all time (via Filmsite). With its promise of magnetic stars and groundbreaking visual effects, "Jurassic Park" was certain to be Spielberg's next big hit. After raking in more than $900 million worldwide and breaking the record Spielberg set with "E.T.," "Jurassic Park" helped kick off a massive new franchise (via Box Office Mojo).
Now, three decades and four sequels later, the "Jurassic Park" franchise is coming full circle with its sixth installment, "Jurassic World Dominion," which is set to conclude the story that started in 1993. The latest prehistoric film marks the return of Sam Neill, Laura Dern, and Jeff Goldblum, making it the most brazenly nostalgia-baiting outing yet. The reunion, it turns out, was just as nostalgic for the cast as it is for fans. Here's what it was like for the three co-stars to reunite against their scaly foes once again.
Shooting Jurassic World Dominion during COVID made the returning stars closer than ever
All three stars have returned to the franchise at one point or another, with Sam Neill and Laura Dern reprising their roles for "Jurassic Park III" in 2001, while Jeff Goldblum appeared in "The Lost World: Jurassic Park" and "Jurassic World: Fallen Kingdom." The latest film will be the first time all three have shared a screen since 1993.
The reunion, however, was even more delayed than anticipated. While principal photography began in February 2020, the set was soon shut down at the onset of the pandemic. Filming looked very different when the cast returned in July. The entire team lived in a bubble for four months, during which time they went through approximately 40,000 COVID tests (via Deadline).
At the very least, Goldblum said that shooting during COVID made the reunion all the more intimate. "We were all huddled up," the actor told Fandango All Access. "I felt we all got closer than ever we had been." The three stars also reminisced about their many hours spent talking and playing music together. "Look us up ... you'll see some snippets of us playing some old tunes," Goldblum added. "[Neill's] got a wonderful voice." "Jurassic World Dominion" hits theaters on June 10, 2022 — though we can't promise there will be any singing.