Kathy Bates Had A Hilarious First Reaction To Adam Sandler's Waterboy Script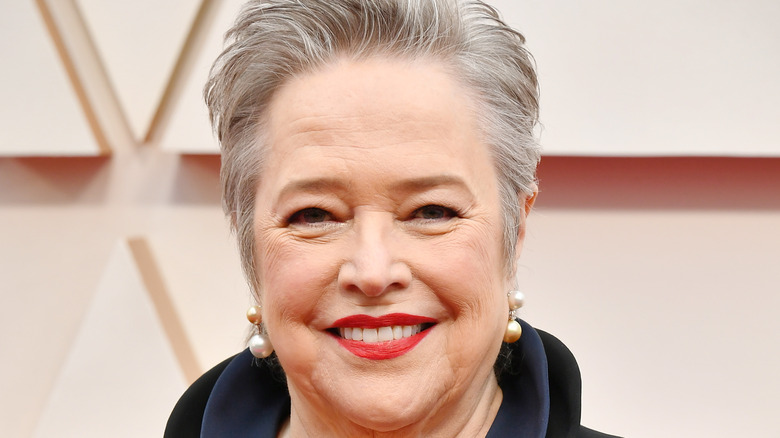 Amy Sussman/Getty Images
If you know that the reason why alligators are so ornery is because they have all of those teeth and no toothbrush, then you are probably a fan of Adam Sandler's movie "The Waterboy." Originally released in 1998, "The Waterboy" stars Sandler, Kathy Bates, Henry Winkler, Fairuza Balk, Jerry Reed, and Lawrence Gilliard Jr. (via IMDb). Following Bobby Boucher (Sandler), "The Waterboy" is about a back-woods adult water boy who discovers that years of psychological repression has created a wellspring of anger, which actually turns him into an unstoppable force on the football field -– as long as he visualizes his tormentors as the opposing players.
Of course, one of the driving forces in Bobby's life is his mother, played by Bates. Bates is overprotective and absolutely dominates Bobby through threats of the devil, which she contrasts with a self-professed omniscience by making claims like she is the one who invented electricity. Due to the nature of this upbringing, Bobby both fears and respects his mother, though it has left him somewhat naive and uncritical of others. Bates' performance in "The Waterboy" is both memorable and quotable, but it seems like the famous actor had an entirely surprising first reaction after initially reading the script.
Bates originally threw the script of The Waterboy in the trash
In an unlikely interview with Snoop Dogg for GGN News (posted on YouTube), Bates' famous role was brought up by the rapper, to which Bates responded with a quote from the movie regarding foosball's connection with the devil. At this point in the interview, Snoop says that "The Waterboy" is a great movie, and Bates made a startling confession about when she had received the script. She stated, "I have to admit this, I didn't know who Adam Sandler was."
She continued, "I wasn't watching 'SNL.' So I get this script, and I don't know who Adam Sandler is, and I'm reading it, and after the first 12 pages I threw it in the trash. So I threw it in the trash and I'm sitting there on my bed and my niece, who works for me, came in and she said, 'What is this?' and she pulled it out and said, 'Adam Sandler ... you don't know the Hanukkah song?'" Bates then elaborated that her niece told her that she absolutely had to take the role in "The Waterboy," and Bates added that she was glad she listened to her niece because she had a great time while filming the movie.
Bates and Sandler have continued to make references to The Waterboy
Due to hilarious performances by Bates, Sandler, and the rest of the cast, "The Waterboy" went on to make $190 million against a $23 million budget (via The Numbers), and solidified itself in the pop culture lexicon. In a red carpet interview with Entertainment Tonight, Bates was asked about a potential reunion of Sandler and herself, and she said that she would love to see him again, and that she hasn't seen him in real life in quite some time. Later, the same interviewer asked Sandler about Bates, and Sandler joked that nobody should mention foosball to Bates, and that he was going to track her down and say hello.
Although the mother/son dynamic in "The Waterboy" can be tenuous at times, it seems as if the two actors totally support each and enjoy making references to the popular comedy. After being snubbed for an Academy Award, Sandler made reference to "The Waterboy," and tweeted alongside an image of Bates from the movie, "Bad news: Sandman gets no love from the Academy. Good news: Sandman can stop wearing suits. Congrats to all my friends who got nominated, especially Mama." 
This caused a funny reply from Bates, who tweeted, "I love you my Bobby Boucher!!! You was robbed!! But Mama loves you!!! I learned a new urban slang word for you! You da GOAT!! Not the one we eat at home, Son." It seems then one decision almost saw Bates turn down her role in "The Waterboy," but luckily her niece got her to change her mind.