Why You Never Heard Of This Samurai Project From Naruto's Creator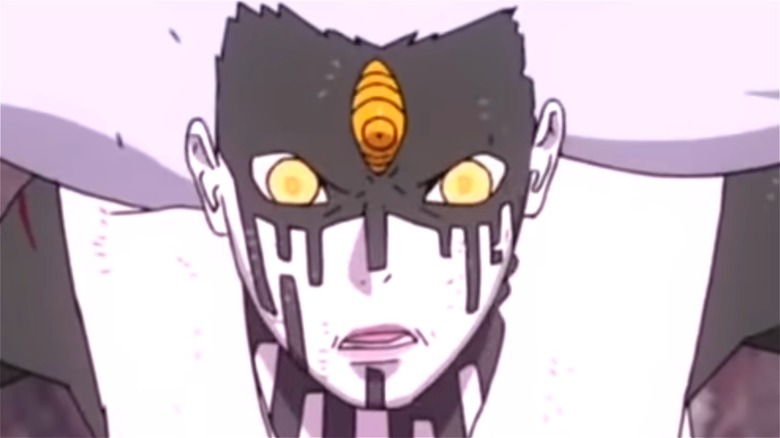 TXN (TV Tokyo)/YouTube
In anime circles, the name Masashi Kishimoto is practically synonymous with "Naruto." As the author of the aforementioned shonen series, Kishimoto has risen to the highest ranks that a manga author possibly can. After all, "Naruto" is one of the primary faces of "Shonen Jump." Forget being one of the biggest shonen around, it's one of the biggest anime and manga franchises ever. It's also only one of Kishimoto's manga creations — you just seldom ever hear about the other one.
There's not much to do about the fact that Kishimoto lives under the shadow of his own creation. Much like George Lucas with "Star Wars," there is almost no chance that Kishimoto will ever live it down (not that he really wants to). Still, it's disappointing to know that Kishimoto's other major work, which he made in the brief period of time between the end of "Naruto" and his involvement in "Boruto: Naruto Next Generations," never really took off. It had a good premise, and critics felt that it had real potential. However, a lack of commercial success is only one of the reasons why you never heard of this samurai-themed project from the creator of "Naruto."
Samurai 8 was a short-lived sci-fi series that sank in the water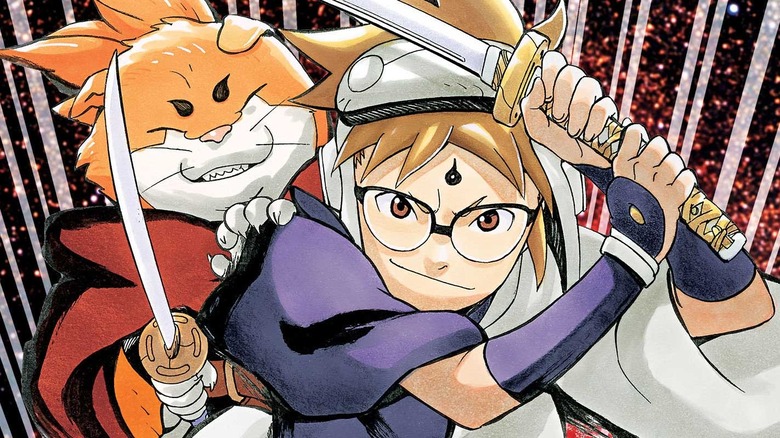 Shueisha
The "Naruto" manga may have ended in 2014, but it wasn't until May 2019 that Masashi Kishimoto released his new project, "Samurai 8: The Tale of Hachimaru." Set in a futuristic universe, the manga told the story of its titular character, a young boy born with a rare condition that requires him to be hooked up to a complex machine to survive. Hachimaru spent most of his life indoors, dreaming of becoming a samurai, which here are cyborg warriors who wander the galaxy saving people. When his new robot dog turns out to be one of these samurai, Hachimaru finally gets his chance to overcome his condition and live his dream.
At the time, this concept was enough to get many people hooked. Anime News Network reviewed its first chapter, giving it a B- and observing that it had potential despite several having weak worldbuilding and gaps in its story. In the end, however, "Samurai 8" would not live up to that potential. The series sold abysmally despite Kishimoto's popularity, with its first two volumes selling less than 20,000 units in its first few months (via OtaQuest). It wasn't long before Kishimoto began wrapping up the project earlier than initially planned. In the end, "Samurai 8" was in publication for less than a year, releasing its fifth and final volume in March 2020.
Why did Samurai 8 flop so hard?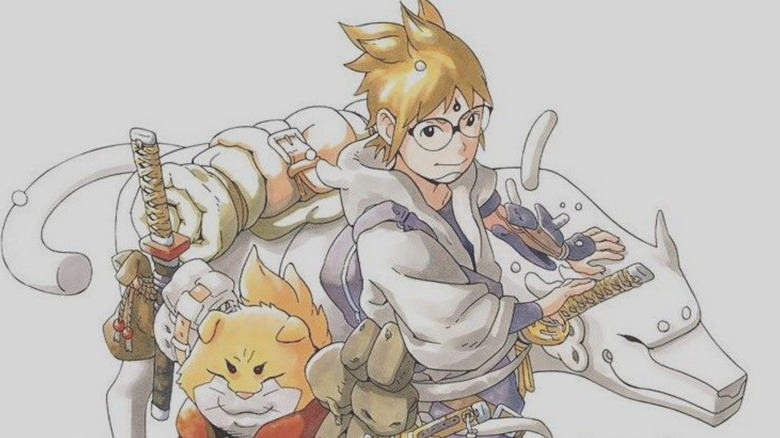 Shueisha
So, "Samurai 8" wasn't the "Naruto" successor that manga fans were counting on, but what exactly caused it to flop like it did? Well, it seems there could be a number of reasons. In the site's retrospective on the series, OtaQuest observed that both the manga's art and story were lacking in some way. The art of Kishimoto's long-time assistant Akira Okuba, who took over as the primary illustrator for "Samurai 8," often felt cluttered and failed to accurately convey the actions taking place in certain panels.
At the same time, Kishimoto's own shortcomings as an author also shined through. He recycled many themes, like the underdog protagonist, from "Naruto," and after the initial arc the story lost its potency. Because Kishimoto ended the manga sooner than expected, he also had to abruptly change story directions to arrive at a proper conclusion on time. Even then, however, the ending failed to meet expectations. Put simply, "Samurai 8" failed because it just wasn't good enough to resonate with manga readers at the time.