Hopper Goes Halloween In New Stranger Things Poster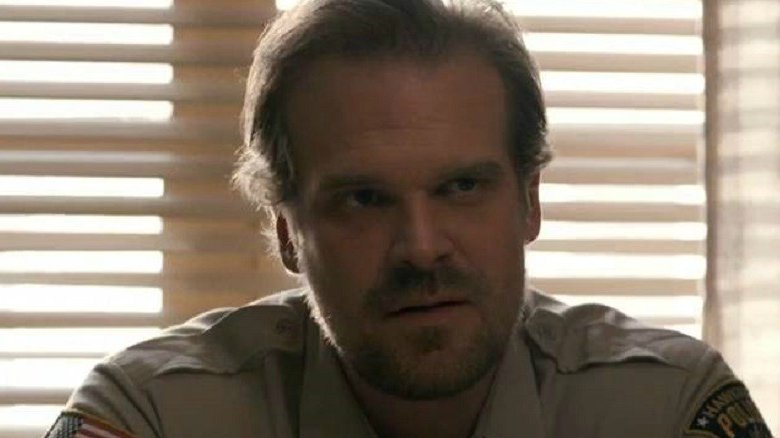 Stranger Things is getting into the Halloween spirit. The show released a new poster for its upcoming second season on their Twitter page Sunday, showing Chief Hopper (David Harbour) standing in a field of decaying pumpkins. The poster could be an homage to Halloween II, fitting with the show's history of paying tribute to '80s movies with their promo art.
Stranger Things season two is set to take place around Halloween of 1984, a year after the events of the first season. The season will feature Will (Noah Schnapp) suffering from PTSD thanks to his time in the Upside Down, while Hopper tries to cover up the events of the first season to help protect Will and Joyce (Winona Ryder). All the while, the group will be dealing with a new monster threatening Hawkins.
Season two is set to play a big part in the remainder of the show's run, with showrunners Ross and Matt Duffer previously revealing that the season will introduce the show's big bad. "I don't know if I want to give away more, but I will say that the threat that is introduced this season is something that will carry over for more than just this season," said Ross Duffer. "So it will become sort of our main villain, shall we say, for the show."
Season two will bring in several new cast members, including Lord of the Rings' Sean Astin as a former high school nerd and the new boyfriend of Joyce, Aliens' Paul Reiser as a high-ranking member of the Department of Energy who now runs the lab, The Desert's Linnea Berthelsen as an emotionally damaged woman with a connection to the supernatural events at the lab, Nashville's Will Chase as a new parent in town, Annie on Broadway's Sadie Sink as the tough and confident Max, and Power Rangers' Darce Montgomery as her edgy and violent older step-brother Billy. The rest of the show's cast includes Finn Wolfhard, Millie Bobby Brown, Gaten Matarazzo, Caleb McLaughlin, Natalia Dyer, Charlie Heaton, Cara Buono, and Joe Keery. 
Stranger Things returns for season two on Oct. 27.