Kyle Mooney's Goodbye Message Has SNL Fans In Tears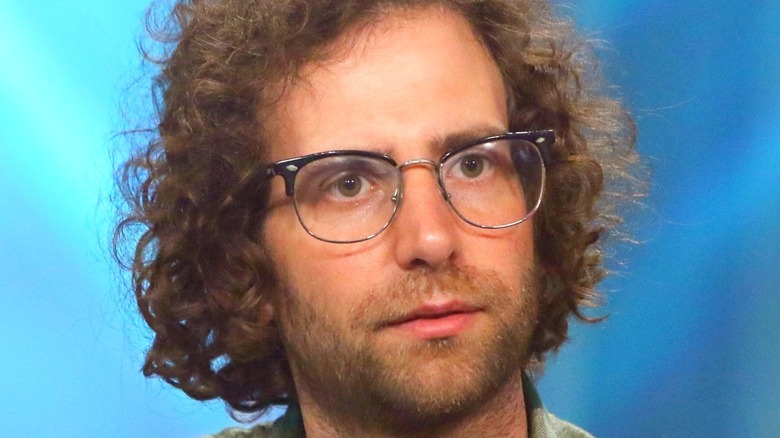 Jim Spellman/Getty
NBC's long-running variety show "Saturday Night Live" just wrapped up its 47th season on May 21. The episode also acted as a farewell for a few of the cast members who have been formidable fixtures on the sketch comedy series in recent years. As reported by Variety just one day before the season finale, Kate McKinnon, Aidy Bryant, Pete Davidson, and Kyle Mooney decided to exit the show as series regulars.
Mooney, who has been a cast member since 2013 (and was upgraded to a repertory member in 2015) was the only one of the departing four cast members who didn't get some sort of sendoff in the season finale (via NPR). While he appeared in several sketches, none of them referenced the fact that the comedian is leaving the show. However, a lack of formal goodbye will not get in the way of fans' celebrating Mooney's time on the show. Over the years, he has portrayed notable characters such as Brad Dates and MC Strategy, while also doing impressions of a slew of well-known figures such as Jeff Bezos, Jared Leto, Martin Scorsese, and Woody Allen, to name just a few (via SNL Archives). On June 3, Mooney took to Instagram to address his departure, and his goodbye message has SNL fans in tears.
Mooney thanks SNL in goodbye message
Taking to Instagram in early June, Kyle Mooney posted a photo of himself on the "Saturday Night Live" stage, alongside a caption that reads, "Thank you [NBC's 'SNL']!!! See you soon, NYC. Swipe for a great memory with some of the best friends a guy could ask for." The photo is paired with a video of the Teenage Mutant Ninja Turtles, likely as a reference to the "Saturday Night Live" sketch "Middle-Aged Mutant Ninja Turtles," of which Mooney was one of the writers (via CinemaBlend).
Immediately, fans flooded the comments, expressing their thoughts on Mooney's departure. One fan, @alanstudios1, expressed their sadness over Mooney's exit, writing, "I'll miss you on 'SNL' ... I now quit watching SNL for life." Another fan, @alyciayervescreative, referenced a notable sketch of the comedian's (via YouTube), writing, "Chris Fitzpatrick for class president!" Meanwhile, several fans noted that they want to see more of Mooney in other projects. Instagram user @333faithie asked him to come back to making YouTube content, and @sassymalasse requested he makes more movies, like 2017's "Brigsby Bear, which Mooney co-wrote and starred in, per his IMDb profile.
Another fan, @kenziearden, declared their sadness over the departure, writing, "I am devastated. My favorite 'SNL' cast member in history, bar none." Finally, @vivatramp wrote a simple post that highlights what many fans were thinking: "An icon."
The comedian said he loved the challenge of SNL
Based on what Kyle Mooney has said about his time on "Saturday Night Live" in previous interviews, it sure seems like the comedian feels some degree of fulfillment from his tenure on the long-running series. While speaking with Collider in September 2020, Mooney was asked what he loves the most about "SNL," as well as what he hates the most about the sketch show.
In terms of what he loves, Mooney responded, "I love what I was getting at earlier — being around people that I think are really awesome and really funny, and I also love the challenge of, week after week, trying to come up with something, and if you failed last week, you have another week to bounce back." Further, he noted that he wouldn't use the term "hate," but that he finds it frustrated when a sketch that he has a really good feeling about falls flat in front of the studio audience. In other words, the challenging aspect that he loves can go both ways.
About a year later, in December 2021, the topic of enjoying the challenge of "SNL" came up again in an interview with Consequence. Elaborating on why he likes the challenge, the sketch actor said, "I love the work at 'SNL' because it's challenging. It's like, week in and week out, you have to reprove that, 'Oh, I can come up with something, and I can put it on its feet.'"