Monty Hall, Legendary Host Of Let's Make A Deal, Dies At 96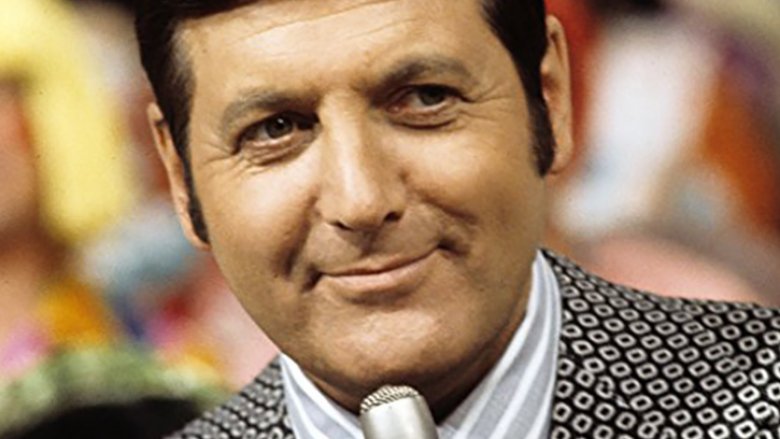 IMDB
Monty Hall, the perky and playful host of Let's Make a Deal, has passed away, The Hollywood Reporter announces. A representative of his confirmed the sad news to the outlet, stating that Hall died on Saturday, September 30 due to heart failure. He was 96 years old. 
Born Monty Halperin on August 25, 1921, Hall gained fame as for his charismatic and unforgettable hosting skills. He started off on television in 1953, following his graduation from the University of Manitoba, on the CBC summer program Floor Show. Hall thought up an idea for a quiz show, which he titled Who Am I?, that ran for 10 years in syndication in Canada. 
Two years after his first on-screen appearance, Hall headed to New York from Canada to emcee the NBC programs Cowboy Theatre and The Sky's the Limit. His big break, however, came when he was selected to replace Jack Barry on the NBC game show Twenty One. Unfortunately, just four weeks into the job, Twenty One was slammed with accusations that the contests were rigged (though Hall was never directly implicated in the controversy). Barry was subsequently brought back, and Hall kicked to the curb. "My dreams of making it to the top were sinking faster than the Titanic," Hall said at the time. 
Hall then dabbled in sportscasting, serving as a Rangers color man for WINS radio in the 1958-59 and 1959-60 seasons. 
From there, he went on to host CBS' comedy came show Keep Talking. Later, he succeeded Jack Narz as the "mayor" of Video Village, in which contestants were featured as small tokens on a Monopoly-type game board. Hall then sold another game show to NBC, called Your First Impression. 
But Hall's biggest gig of his career came after Video Village was canceled in 1962. Hall and Stefan Hatos co-created Let's Make a Deal, which aired its first episode on December 30, 1963. 
On Let's Make a Deal, contestants could either gamble and choose what was behind a curtain or one of three doors, or play it safe and pick the wad of cash sitting in Hall's jacket pocket. Hall often went off-script, engaging in hilarious conversations with the game-players. Prizes ranged from the outlandish (like a cow) to the wonderful (like a brand-new car). Those who ended up with the former were regarded as "zonked."
"When we did our first show, people showed up in business suits and dresses, nice-looking people in the studio audience," Hall said in a 2002 interview with the Archive of American Television. "By about the second week or so, a woman showed up with a sign. One sign said, 'Roses are red, violets are blue, I came here to deal with you.' I stopped, read the poem and picked her. The next week, everybody had a sign. Then somebody else had a funny hat, then came costumes."
In 2009, Hall recalled his experience ad-libbing with contestants (via The Toronto Star): "You're in the pit with the people. You know what the prizes are, but you have to make up the dialogue. The star is not you, it's the contestant, and the drama is what they decide. So you have to be able to ad lib based on their choices."
Mathematicians even named a puzzle after Hall and his work on Let's Make a Deal. The problem has been explained as such (via Gizmodo): "You're on a game show, and you're given the choice of three doors: behind one door is a car; behind the others, goats. You choose one door—say, number 1—and the host (who knows what's behind the doors) opens another door—say number 3—which has a goat behind it. You're then allowed to stick with the door you picked, or choose the other one—number 2 in the example. The question is: should you switch your choice?"
The show pulled in popularity at an alarming speed, growing into fierce competition for other shows, the most notable of which was CBS' soap opera As the World Turns. NBC then shifted Let's Make a Deal to Sunday evenings in 1967, pitting it against CBS' The Ed Sullivan Show and ABC's The FBI. 
Let's Make a Deal eventually moved to ABC Network, running in daytime and sometimes in primetime from December 1968 to July 1976. It later ran in syndication. Actor and comedian Wayne Brady (Whose Line Is It Anyway?) hosts the current edition of Deal. 
When Hall was at the prime of his career, he was "roasted" by Dean Martin and had guest roles on series like That Girl, The Flip Wilson Show, and The Odd Couple. He even hosted a slew of so-called "All-Star Parties" to raise money for various charities. Lucille Ball, Clint Eastwood, Ronald Reagan, and Frank Sinatra made regular appearances. 
Hall was an active philanthropist, serving as president of the Variety Clubs International. Numerous hospitals, including Johns Hopkins in Baltimore, Hahnemann University Hospital in Philadelphia, Mount Sinai Hospital in Toronto, and the UCLA Medical Center, have children's wings in Hall's name. 
Hall is survived by his grandchildren Aaron, Jack, Levi, Maggie, and Mikka. His wife Marilyn, an Emmy-winning producer, TV writer and author, sadly passed in June.