Tour The Hotel Obsidian In New Clip From The Umbrella Academy Season 3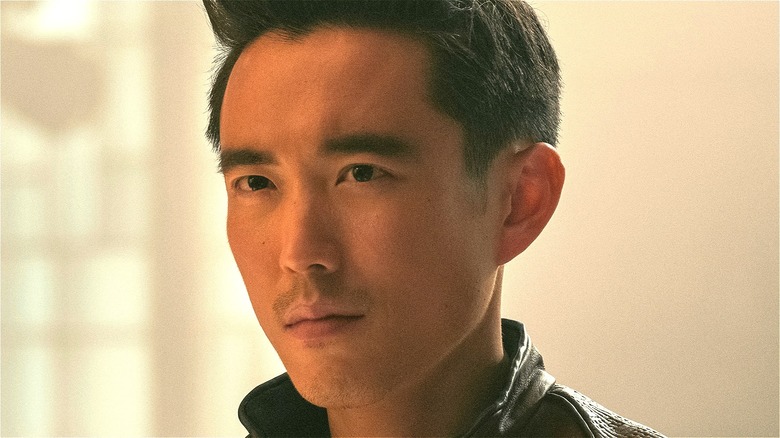 Christos Kalohoridis/Netflix
Fans of "The Umbrella Academy" have received a tantalizing new glimpse at the series' long-awaited third season. The Netflix original show, which is based on Gerard Way and Gabriel Bá's comic book series of the same name, premiered its first season on the streaming service back in February of 2019 and received largely positive reviews (via Rotten Tomatoes) when it debuted. Its second season, however, received greater acclaim than its first when it premiered on Netflix in July of 2020.
Now, it's been just a little less than two years since Netflix released a new episode of "The Umbrella Academy," but the good news is that fans of the series don't have to wait much longer to return to the show's unique fictional world. Indeed, Season 3 of "The Umbrella Academy" is set to premiere on June 22, and in anticipation of the series' return, Netflix has begun to ramp up its promotional campaign for the show.
In fact, Netflix has officially released a brand new clip from "The Umbrella Academy" Season 3, which introduces fans of the show to one of the important new locations that they can look forward to visiting in the series' upcoming episodes.
The Hotel Obsidian is a legendary establishment
The new clip from "The Umbrella Academy" Season 3 follows the show's central family, the Hargreeves, as they step inside a shady establishment known as the Hotel Obsidian. As Klaus (Robert Sheehan) excitedly tells his family members, the Hotel Obsidian used to play "host to world leaders" when it was in its prime. In the clip, Klaus goes on to list a number of guests that the hotel has allegedly hosted over the years, including Gandhi, Joseph Stalin, Fidel Castro, Mikhail Gorbachev, Elvis, the Dalai Lama, and "not one but two Kardashians," among others.
Unfortunately for the Hargreeves, the Hotel Obsidian is no longer the grand establishment it used to be. Instead, the hotel is, according to Klaus, a "party house for those of us not looking to be judged by society's rules and norms." In other words, the Hotel Obsidian is going to be the perfect place for the Hargreeves to hide, which means it'll likely serve as the group's new base of operations in "The Umbrella Academy" Season 3.
While the hotel's guests do appear to be a bit nosier than Klaus suggests, the hotel should be mysterious and unique enough to be a fun new location for the Hargreeves to hang out in throughout "The Umbrella Academy" Season 3. At least, it may give them a safe place to repeatedly return to as they attempt to fix the problems with the alternate timeline they found themselves in at the end of the show's second season.