The It's Always Sunny In Philadelphia Character You Likely Forgot Dax Shepard Played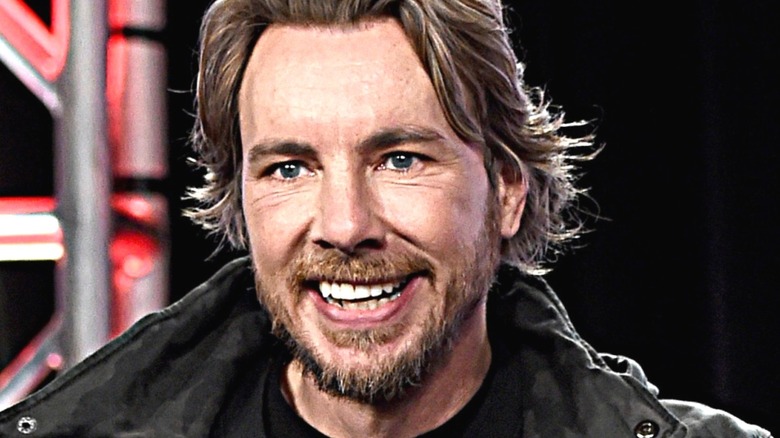 Amanda Edwards/Getty
Few shows have managed to utilize guest appearances as well as "It's Always Sunny in Philadelphia." In many TV shows, celebrities tend to play versions of themselves that are familiar to audiences. It's why so many actors and musicians simply play themselves on "The Simpsons" and the like. However, "It's Always Sunny" tends to go in a different direction and make celebrity cameos that are completely unhinged. 
The best example of this is when Sinbad and Rob Thomas play patients in a rehab facility where Dennis (Glenn Howerton) is at, who turn out to be hallucinations at the end. Then, of course, there's Jason Sudeikis as killjoy Schmitty, a far cry from his Ted Lasso persona. Very quickly, it becomes apparent that when a star signs up for "It's Always Sunny," they better be ready to get on the same level of deranged as the main cast. 
That's the case with another actor many viewers may have forgotten appeared on the long-running sitcom — Dax Shepard. He's no stranger to comedic properties, but he took things to the next level during the Season 10 episode, "A** Kickers United: Mac and Charlie Join a Cult."
Dax Shepard plays Jojo, a cult member, on It's Always Sunny
Dax Shepard plays Jojo in the Season 10 finale. He's part of the group A** Kickers United alongside Mac (Rob McElhenney) and Charlie (Charlie Day), who have been taken in by the words of a mysterious leader who turns out to be Dennis wanting Mac to stop eating his cookies. In true "Always Sunny" fashion, the episode ends with a fire breaking out in Dennis and Mac's apartment, which Jojo promptly throws himself onto so that he may board the mothership. Considering the last we see of Jojo is him riding a turtle through space, it's safe to assume he died in the blaze, so don't expect this character to make a return to Philadelphia any time soon. 
Shepard's time on "Always Sunny" may be over, but it wouldn't be the last time he and the cast would work together. Dax Shepard hosts his own podcast called "Armchair Expert," where he frequently has guests discuss a myriad of topics. In 2019, Shepard had Charlie Day on the show to talk about everything from parenting to working with Ice Cube. Meanwhile, Rob McElhenney appeared on "Armchair Expert" in 2020 to discuss the male body.
It's clear Shepard's friends with much of the "Always Sunny" cast, and he put his comedic sensibilities to good use for his brief but hilarious time on the sitcom.