The R-Rated James Gunn Movie You Forgot Starred Jenna Fischer From The Office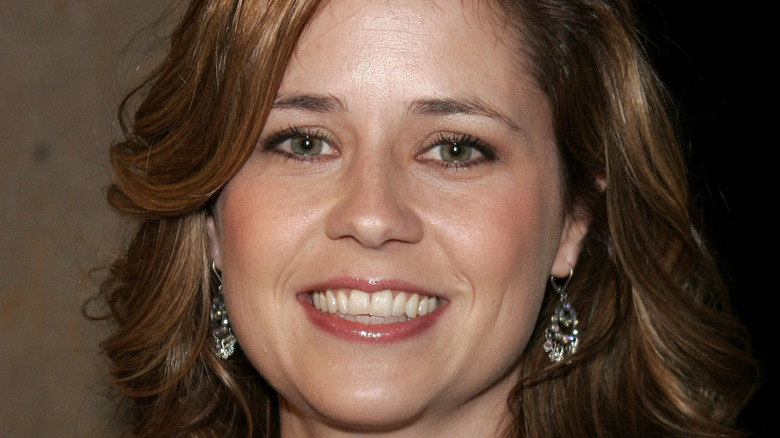 Tinseltown/Shutterstock
At this point, it's fair to say that Jenna Fischer is primarily recognized for her work as a comedic actor. Of course, Fischer is most well-known for her performance as Pam Beesly in NBC's popular mockumentary sitcom "The Office" –- a character which she portrayed throughout all nine seasons that the show was on air — but outside of her time at Dunder Mifflin, Fischer has also appeared in comedic films like "The 40-Year-Old Virgin," "Walk Hard: The Dewey Cox Story," and "Blades of Glory," the latter of which saw her starring alongside legendary comedians like Will Ferrell and Amy Poehler.
On television, she has made appearances in shows like "Drunk History," "Comedy Bang! Bang!" and "That 70's Show," further cementing her legacy as an actor who primarily works within one genre. However, even though Fischer is primarily known for her work in comedy — and specifically, for working in early 2000s comedies alongside large ensemble casts — that's not to say that all of her performances are similar. Indeed, there is one specific film on Fischer's resume which is radically different from everything else she's done — and it's one of James Gunn's darkest movies to date.
Fischer starred in the 2006 horror-comedy Slither
The film in question is 2006's "Slither," directed by James Gunn, who was — at the time — Fischer's husband (the two are now divorced, per Newsweek).
"Slither" is a black comedy film which incorporates aspects of traditional science fiction and horror films into one slimy concoction. The narrative focuses on a community in South Carolina that is invaded by an evil alien parasite. In the film, Fischer plays the character of Shelby Cunningham — a secretary who works for the police department of the fictional Wheelsy, South Carolina. Though her role in the film is extremely minor, it is worth mentioning that she, like the majority of Wheelsy, ends up as a victim of the alien creature, becoming a zombie due to the infectious extraterrestrial parasite.
James Gunn's distinctive style of blending comedy and action (which would be praised in later films such as "Guardians of the Galaxy" and "The Suicide Squad") is on full display in "Slither," which manages to blur the lines between being absolutely hysterical one moment, and downright disturbing the next. Indeed, the film is unquestionably disgusting at times, featuring a few incredibly gory death scenes, and displaying body horror on the level of John Carpenter's "The Thing" as the townsfolk mutate into alien monstrosities. In any case, "Slither" is certainly unlike any other film that Fischer has appeared in — though it is somewhat ironic that in a movie which manages to blend the genres of comedy, horror, and sci-fi, Fischer is still playing a receptionist.