Bowen Yang Opens Up About SNL's Emotional Season 47 Finale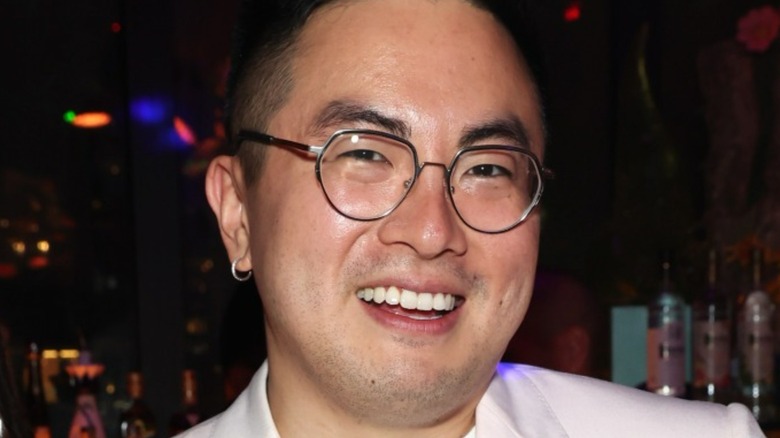 Monica Schipper/Getty Images
For the most part, "Saturday Night Live" is all about one thing: making audiences laugh. Week in and week out since 1975, the sketch comedy program has featured some of the best up-and-coming comedians in the world, giving them a platform to test out their material in hopes of entertaining viewers. Ironically, however, the better these players are at getting a positive reaction out of those watching, often the quicker they'll disappear from the "SNL" spotlight — turning in Studio 8H for feature films, television shows, and more high-profile career opportunities.
At the end of the day, "Saturday Night Live" acts as a springboard for those looking to become entertainment icons. Bill Murray, Eddie Murphy, Kristen Wiig, and more all got their start on the show, and when it came time to seek out greener pastures, they did so and took their careers to the next level. Every few seasons or so, audiences see a mass exodus of talent from the series, and Season 47 proved no different. By the time the credits rolled on the finale, fan-favorites and seasoned "SNL" veterans Pete Davidson, Kate McKinnon, Aidy Bryant, and Kyle Mooney took their final bows.
In the wake of this group's departure, current "Saturday Night Live" star Bowen Yang offered up his thoughts on their historic goodbye.
Yang recalls the day was full of emotion
In a June 1, 2022, interview with Entertainment Tonight to promote "Fire Island," Bowen Yang touched on how it felt on the set of "Saturday Night Live" the day Kate McKinnon, Aidy Bryant, Kyle Mooney, and Pete Davidson left the show. "The last day was so emotional," Yang said, noting how all four comedians helped define the show throughout their time on the cast list. He adds, "I haven't worked there when they haven't. So, it's going to be an interesting sort of envisioning of the show and recalibration." Nevertheless, he touted his excitement for the future of "SNL."
The Season 47 finale will go down as one of the most tear-jerking installments in recent memory, but at the end of the day, it's important to remember that this is all a part of the "SNL" process — unless you're Kenan Thompson, of course. After all, McKinnon and Bryant spent 10 years on the show, with Mooney and Davidson sticking around for nine and eight years, respectively, so now it's time for them to spread their creative wings. For instance, McKinnon will feature in the likes of "Barbie" and "DC's League of Super-Pets," and Davidson has such films as "Meet Cute" and "The Home" on his schedule.
The final episode of "Saturday Night Live" Season 47 truly marks the end of an era, and while we'll all miss these cast mainstays, their farewells provide the perfect opportunity for relative newcomers like Bowen Yang to really show the world what they can do.