Here Are Some Intriguing Details About Spyscape's Interactive Batman Experience
Spyscape is a New York City-based interactive museum experience that opened in 2019. While their timing couldn't have been worse for a company whose entire functionality depends on a population feeling safe in public spaces, fortunately, they're still around in 2022 to provide a little spy intrigue for the citizens of NYC. Now, however, they're expanding beyond the realm of James Bond fanaticism and into the world of DC's famous Dark Knight. That's right — in collaboration with Warner Bros. Themed Entertainment, Spyscape has created a Batman-oriented interactive espionage experience.
The exhibit, which was announced in April 2022, is set to open to the public in Midtown Manhattan on June 8. They've already opened the attraction to certain members of the press, including Todd Spangler from Variety, who had the chance to dive into the finer points with Spyscape founder John Hunt to better understand what the public should expect. Here are the highlights of what that meeting revealed.
The Spyscape X Batman experience allows fans to become the hero of their own story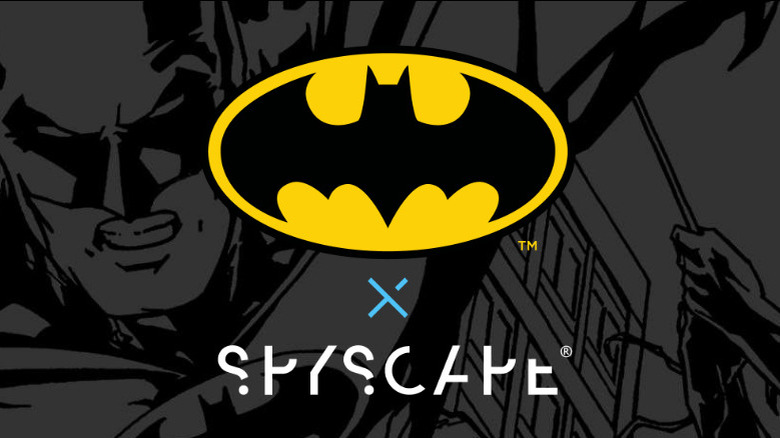 Spyscape
According to Variety, the Batman X Spyscape experience centers around Leviathan, a criminal organization introduced in DC Comics. For background, in the comics, Leviathan is a schism of the League of Assassins led by Talia al Ghul, the daughter of the quasi-immortal Ras al Ghul, one of Batman's greatest foes.
Players — for there's no better word to describe anyone who visits the attraction — must use a downloadable smartphone app in conjunction with the physical exhibit to infiltrate, investigate, and hopefully stop a plot to take down Superman, Wonder Woman, and the caped crusader himself. Players' progress will be determined by what clues they can find and decipher.
But no one has to go it alone. Along the way, players will work with Oracle, aka Barbara Gordon, who will "text" via the smartphone app. Players will also receive messages from Batman and the Riddler, among other notable DC characters. Hunt specifically stated that no live iteration of DC's greatest detective will appear, to "honor his enigmatic ethos."
To better ensure that the experience feels like a genuine DC adventure, the story was written by prolific comic writer Gail Simone. Like most live attractions, the experience ends with a souvenir shop where players will have the opportunity to purchase Batman-themed goodies to commemorate their journey. According to Hunt, tickets will start at the introductory price of $29, but will eventually move towards "$49-ish."