Tom Hanks To Star In David S. Pumpkins Animated SNL Special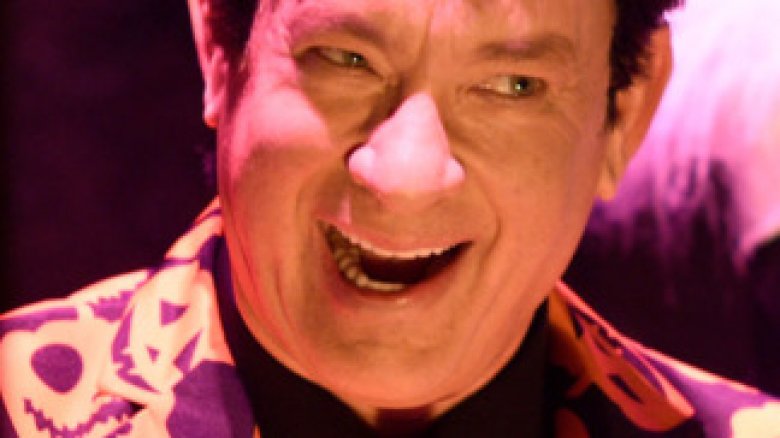 NBC
Tom Hanks is going to get spooky and screwball-y this October, as he's set to reprise his bizarre Saturday Night Live character David S. Pumpkins for a Halloween-themed animated special (via Variety). 
The Davis S. Pumpkins character first appeared in a sketch from the October 22, 2016 episode of Saturday Night Live, entitled "Haunted Elevator." Hanks appeared in the elevator shaft during the sketch, which centers around Kate McKinnon and Beck Bennett as amusement park-goers riding what's intended to be a frightening Tower of Terror-like attraction. Wearing a black suit dotted with bright orange pumpkins, Hanks' character was backed up by Mikey Day and former series player Bobby Moynihan as skeleton-dressed dancers.
Rather than taking place in a theme park ride, the animated special is set in a small suburban town on Halloween night and centers around David S. Pumpkins and his moving-and-grooving skeleton sidekicks. The trio show a boy and his sister the true meaning of the haunting holiday, but answer none of the youngsters' actual questions along the way. 
 Get a sneak peek of the upcoming David S. Pumpkins special below.
George Cheeks, president of business operations and late night programming for NBC Entertainment and Universal Television, is as baffled as anyone else is about how popular the original David S. Pumpkins bit was. "It's scary how quickly the original SNL sketch caught on, and we're thrilled that Tom Hanks is back to keep the fun going," he said. 
Set to air on Saturday, October 28 at 11:30 p.m. ET, "The David S. Pumpkins Halloween Special" will also feature another big-name star: Game of Thrones actor Peter Dinklage, who will lend his voice to the animated special. Original sketch creators Day, Moynihan, and Streeter Seidell have have voiceover roles as well. Bento Box Entertainment will provide animation for the special, with Day, Moynihan, and Seidell writing and producing. Saturday Night Live creator Lorne Michaels is attached to executive produce. 
With Hanks back in the strange character saddle, it looks like this Halloween will be more funny than frightening.