The Character Only Hardcore Bones Fans Know Emily Deschanel Played In This Nic Cage Rom-Com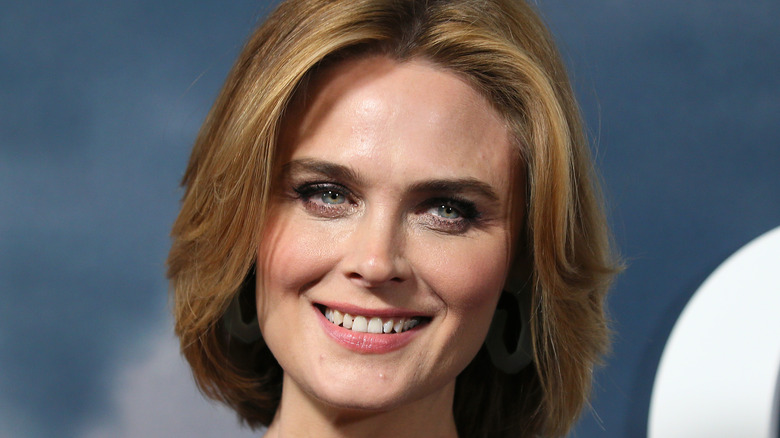 David Livingston/Getty Images
Emily Deschanel starred as Dr. Temperance "Bones" Brennan for 12 seasons of the popular Fox crime procedural series "Bones" from 2005 to 2017. Created by Hart Hanson, the series follows Brennan, a forensic anthropologist, as she and FBI Special Agent Seeley Booth (David Boreanaz) solve various cases through the method of examining human remains. As the central character of the show, Deschanel's portrayal of Dr. Brennan has easily become her most iconic role and what she is inarguably known the most for.
Prior to "Bones," however, Deschanel had already racked up a slew of acting credits to her name, such as films like "Cold Mountain" and "Easy," both of which were released in 2003, and the miniseries "Rose Red" (via IMDb). Before any of this, however, Deschanel's first-ever role was a small part in a romantic comedy starring Nicolas Cage and Bridget Fonda — here's which film it was and who Deschanel played.
Deschanel played an enthusiastic activist in It Could Happen to You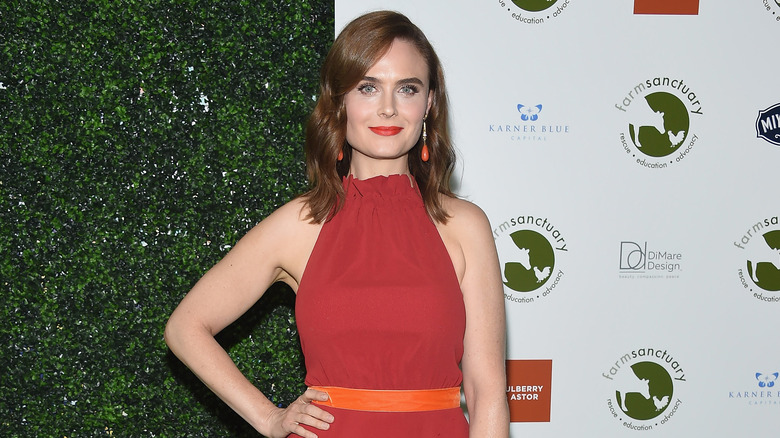 Gary Gershoff/Getty Images
As u/heidismiles, pointed out on the r/Bones subreddit, Emily Deschanel's first-ever role was playing an activist in 1994's "It Could Happen to You." The film, which was directed by Andrew Bergman, follows Charlie Lang (Nicolas Cage), a man who offers to share his lottery winnings with his waitress, Yvonne Biasi (Bridget Fonda), after not being able to tip her; the experience eventually leads to them falling in love. 
The character, who, per Deschanel's IMDb, is credited as "Paint Throwing Fur-Activist," throws paint on the fur coat of Muriel (Rosie Perez), the materialistic wife of Charlie who becomes greedy with his lottery earnings. In the scene, as Muriel and Charlie are walking out of a clothing store, with Charlie carrying all of Muriel's new things, a crowd of activists protesting the use of animal fur for clothing marches toward them while chanting and holding signs. Deschanel's character walks directly up to Muriel and throws a can of red paint onto her.
In the comments of the Reddit post, one user, u/SheDaisy11151979, reacted by writing, "Whoa! Spectacular catch!" Elsewhere, u/lover_of_mysteries wrote, "Omg, she's so young in this! Dunno why but it makes me wanna hug her!"
A few of the other comments pointed out some of Deschanel's other early roles, such as 2005's "Boogeyman" and 2004's "Spider-Man 2." Like many other actors in Hollywood, Deschanel's formative years in the business were characterized by these types of smaller roles.
Deschanel didn't think she'd act in major films or television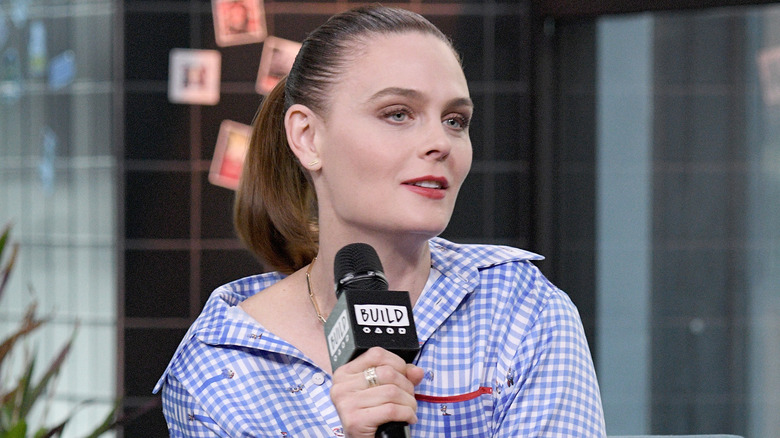 Gary Gershoff/Getty Images
In an interview with The Hollywood Reporter, Deschanel described her journey to becoming an actor, revealing that she wanted to be an architect growing up until she discovered acting in high school. Her later decision to attend the conservatory of Boston University then truly sealed her decision to pursue acting as a profession. However, when she first made this decision, she wasn't even thinking about pursuing television or big-budget films.
"I just loved theater, I loved to study, I loved Shakespeare," Deschanel said. "I'm the kid that went to Shakespeare camp three years in a row. Of course, when I left school I was like, 'I'm going to do off-Broadway theater only and maybe independent film. And that's all.' I remember somebody laughing at me, like, 'OK, if you never want to make any money, then great.'"
The actor explained that once she got an agent, she started auditioning for film or television roles, with her first major get being "Rose Red," a 2002 miniseries written by Stephen King. Deschanel continued, "It was so much fun and I quickly loved being a complete sellout ... Then I did a pilot after that, and I did a 'Law & Order: SVU,' so my first several jobs were all in television, and then I did some independent films and small parts in other films."