The It's Always Sunny In Philadelphia Landmark That Appeared On Buffy The Vampire Slayer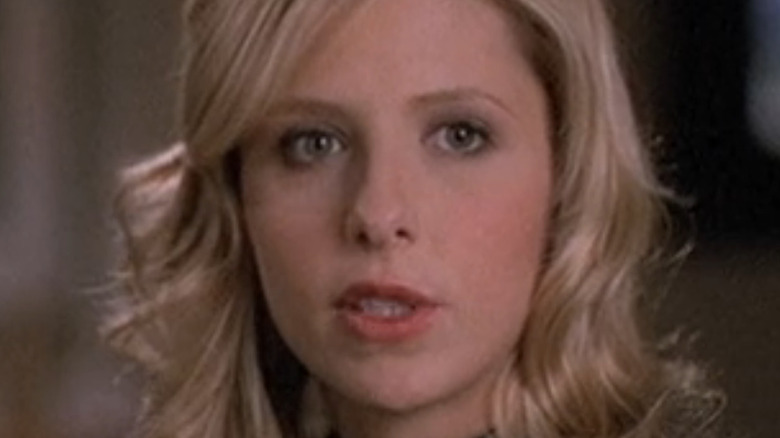 20th Television/Hulu
Have you ever wondered why Buffy Summers (Sarah Michelle Gellar) never offered the multitude of vampires and other supernatural creatures an egg in these trying times, or attempted to teach them the D.E.N.N.I.S. System? No? Well, of course you haven't. She didn't do those things because her name is Buffy, not Frank Reynolds or Dennis Reynolds (Danny DeVito and Glenn Howerton). You already know this. Joking aside, "Buffy the Vampire Slayer" is a very popular television series that ran for seven seasons and over 140 episodes between 1997 and 2003. Loosely based on the 1992 movie of the same name, "Buffy" proved to be a huge success which spawned a spinoff series, "Angel," and even managed to pick up a few Emmy Awards.
According to IMDb, "Buffy the Vampire Slayer" was filmed in and around California. Its sets included Torrance High School, which served as the stand-in for Sunnydale High School, as well as the Angelus-Rosedale Cemetery, Castle Green Apartments, and California State University, Northridge, just to name a few of the real-life locations utilized by the show. However, could a location in "Buffy" go on to become an iconic landmark in the modern comedy classic "It's Always Sunny in Philadelphia?" Was Philadelphia, like the town of Sunnydale where much of "Buffy" takes place, also built on a hellmouth? That would certainly explain some of the characters' actions on "Always Sunny."
Paddy's Pub from Always Sunny is also on Buffy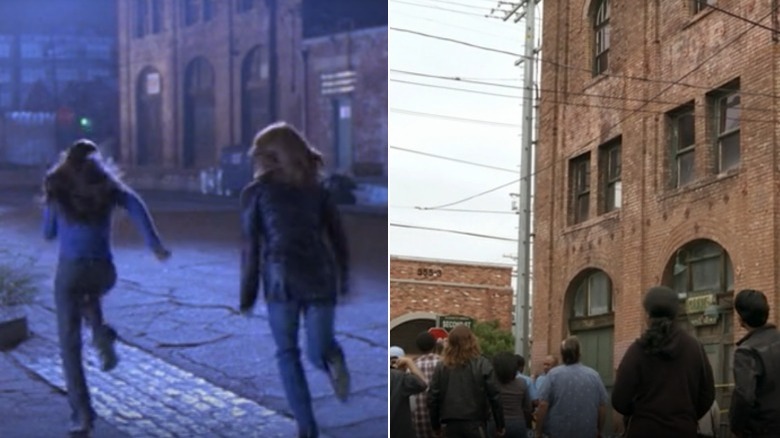 20th Television/Hulu
Originally pointed out on the subreddit r/ISAIP, u/flyerLT highlighted a scene from the sixth season of "Buffy" that includes characters running in the moonlight. This corner block should immediately look familiar to "Always Sunny" fans, because it is none other than the future location of Paddy's Pub. 
According to The Dirt, Paddy's Pub is actually located at 544 Mateo Street in downtown Los Angeles — a far cry from Philadelphia — and that the building was originally a factory for Brinstool Paint Company in 1908. IMDb lists several other productions that used the location, such as "Wrath of Man," "Date Night," "Lovelace," "Candyman: Day of the Dead," and "Wishmaster 2: Evil Never Dies." Currently known as the Nate Starkman & Son Building, the venue has also been seen in "Colombo" episodes and a Fleetwood Mac music video. As it is currently considered a historical site, fans of "Always Sunny" can continue to see the famous spot front and center on the show indefinitely. Now that "Always Sunny" is officially the longest running live-action comedy series in history, 544 Mateo Street may become even more famous.