The Real Reason Adam Sandler's Hustle Is Set In Spain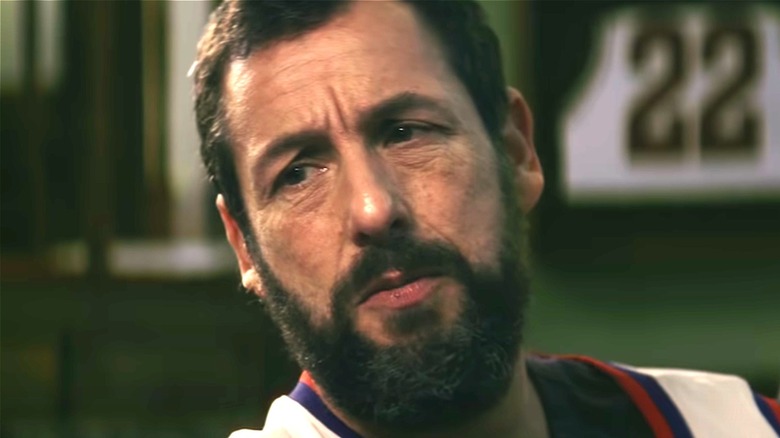 Netflix
Throughout his three decade career, Adam Sandler has never shied away from his love of sports. One of his earliest and most popular roles saw him playing the titular character in "Happy Gilmore," an unhinged and angry hockey player who falls in love with the posh game of golf. He later became a waterboy-turned-football superstar in the sports comedy "The Waterboy," which opened to just shy of $40 million during its opening weekend in 1998 (via Box Office Mojo). As the new decade dawned, he starred as a down-on-his-luck quarterback in the remake of "The Longest Yard." He recently played basketball-obsessed gambling addict in "Uncut Gems," which The Guardian described as a career-best performance.
Now, the star is set to play a basketball scout who hopes to revitalize his career by backing unconventional talent in Netflix's "Hustle." The film marks Sandler's seventh collaboration with the streaming service, the first of which was the western comedy "The Ridiculous Six." Though most of Sandler and Netflix's collaborations have been wholly comedic in nature, "Hustle" appears to be a dramatic effort, in line with "Spanglish" and "Punch-Drunk Love."
In "Hustle," Sandler's character heads to Spain to find rising talent in the European continent. The foreign setting serves as a way to discuss the NBA's relationship with talent abroad and appears to be a strategic choice. However, audiences will be surprised to know that Netflix made Sandler and his creative team change the film's original setting.
Hustle was originally set in China before Netflix asked for changes
While appearing on "The Dan Patrick Show," Adam Sandler revealed that "Hustle" was set in China before Netflix intervened. "It was written originally that I find a player in China and somehow, Netflix is not in China," Sandler revealed. "So they were like, 'Would you guys please make it so we find someone in Latin America or Europe?'"
Sandler's decision to have his character scout a player from China isn't surprising considering the NBA's strong and often controversial relationship with the country (via The New York Times). However, Netflix doesn't have a platform in China, despite their best efforts. Netflix CEO Reed Hastings confirmed to CNBC in 2020 that the Chinese government denied them the opportunity to operate in the country. Netflix's decision to ask Sandler and his creative team to change the setting of "Hustle" might confuse some, considering the company's stance on not "[censoring] specific artists or voices" (via Variety) after recent controversies.
While certain fans might disagree with Netflix's choice to change the film's setting, Sandler isn't phased by it. "Hustle" being set in Spain = allowed the streamer to cast Utah Jazz player Juancho Hernangómez as the rising star who Sandler's character recruits. Sandler gushed about Hernangómez while speaking with Dan Patrick, saying "He acts better than me in every scene ... Every joke he says, I'm like, 'He said it smoother than I would have.'"
Sandler and Hernangómez's "Hustle" will hit Netflix on June 8.