The Will Arnett Movie You Didn't Realize Was Directed By Bob Odenkirk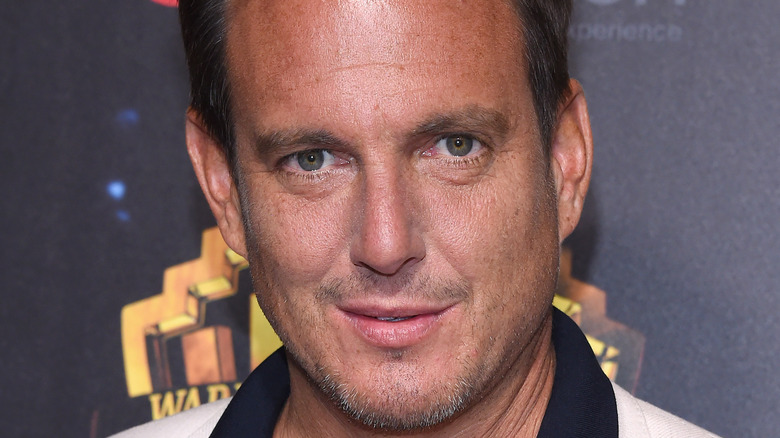 DFree/Shutterstock
Comic actor Will Arnett has gone from his break-out role as the desperate-to-please main character Gob Bluth on "Arrested Development" to a regular role in Netflix's "Murderville." Along the way, he's managed to gain quite a reputation as a voiceover artist, contributing his growls to Batman in "The Lego Movie" series of films and voicing the titular character in Netflix's "BoJack Horseman." In between, he appeared as Vern Fenwick in the Michael Bay-produced "Teenage Mutant Ninja Turtles" films, as well as holding down central roles in sitcoms like "The Millers" and "Up All Night."
Considering Arnett's deeply-ingrained comedy roots, it's probably not surprising to learn that he's worked with "Mr. Show" veteran Bob Odenkirk before  — but did you know that Odenkirk has directed Arnett? While this comedy wasn't a big hit when it dropped, it's since become something of a cult classic. Here's the film that features both of these legendary comedians.
Let's Go to Prison was Odenkirk's first big screen effort
"Let's go to Prison" marks a few striking firsts for the crew involved in its production. Per IMDb, it was not only Bob Odenkirk's first big-screen directorial effort, it was Arnett's first time performing in a film in a leading role instead of a supporting one. It was also among the first big-screen efforts written by "Reno 911" and "The State" comics Robert Ben Garant and Thomas Lennon, whose storied film scriptwriting career had only just begun with the 2004 Queen Latifah vehicle "Taxi."
In the film, Arnett plays Nelson Biederman IV, who becomes the unfortunate target of the rage of John Lyshitski (Dax Shepard). Biederman's father has sentenced Lyshitski to three separate terms in prison for three different crimes. When he emerges from the clink, John decides to frame Nelson as a form of revenge upon the elder Biederman. Outside forces land Biederman IV in prison, where he's stuck doing a three to five-year term. John wants so badly to watch Nelson suffer that he commits a crime in the hope of landing back in prison, then butters up Biederman in the hope of becoming his friend. However, revenge for John will not be that easy.
"Let's go to Prison" was not a huge box office success. It grossed $4 million and change at the worldwide box office, per Box Office Mojo. It wasn't a critical success, either, holding just a 13% critical approval score at Rotten Tomatoes.
Arnett also appeared in another Odenkirk-directed movie
"Let's Go to Prison" wouldn't be the only time Odenkirk would direct Arnett. The twosome teamed once more for "The Brothers Solomon," a 2007 comedy about a pair of brothers who learn that their father Ed (Lee Majors) has fallen into a coma. 
Dean (Will Forte) and John (Arnett) decide to give the old man a reason to live by giving him some positive news. Their idea? Sire a couple of grandchildren. The tough part is that they're both socially inept eggheads with no idea how to behave around women. Thus, they purchase the services of a surrogate mother off Craigslist, but Janie (Kristen Wiig) comes with her own boyfriend (Chi McBride) and plenty of baggage beyond that. The brothers set about learning how to parent while trying to find true love and deal with Janie's drama.
While the film did slightly better critically (the film holds a 16% approval score on Rotten Tomatoes), it didn't do much better at the box office, earning just over $1 million worldwide on a $10 million budget, per Box Office Mojo.