The Parks And Recreation Character You Likely Forgot Andy Samberg Played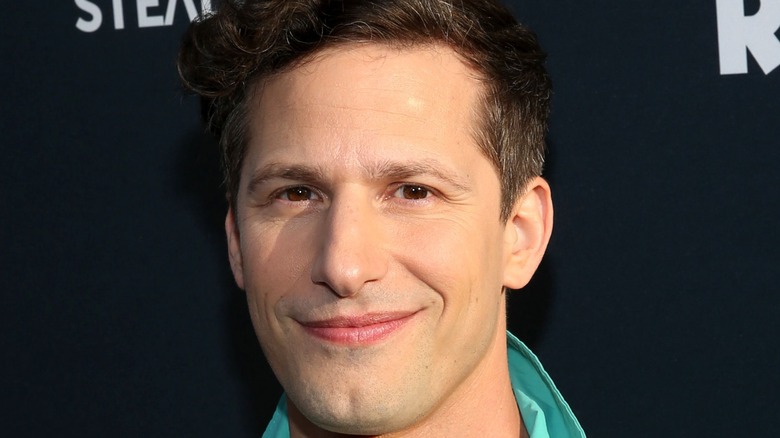 Jesse Grant/Getty Images
Similar to shows like "30 Rock" and "The Office," "Parks and Recreation" is one of those hilarious sitcoms with endless rewatch potential. Created by Greg Daniels and Michael Schur, the NBC series aired more than 120 episodes while on-air from 2009 to 2015. "Parks and Recreation" centers around Leslie Knope (Amy Poehler), the head of the parks and recreation department in fictional Pawnee, Indiana. Leslie works with quite a wacky cast of characters, such as Donna Meagle (Retta) and Tom Haverford (Aziz Ansari), two sarcastic friends who couldn't care less about their jobs and would rather focus on treating themselves. There was also the deadpan boss/ultimate man's man Ron Swanson (Nick Offerman) and the unlikely romantic duo of the straight-faced April Ludgate (Aubrey Plaza) and the always goofy Andy Dwyer (Chris Pratt). 
"Parks and Recreation" features an astounding cast of Hollywood talent, many of who appeared on the show before their careers really took off. The show has featured plenty of guest stars throughout its multiple seasons, from Jon Hamm to Heidi Klum to even former first lady Michelle Obama (via IMDb). Considering it's a show with Poehler at its helm, "Parks and Recreation" also featured plenty of crossover with "Saturday Night Live" stars over the years. That includes one brief cameo from Andy Samberg, who, like Poehler, was an "SNL" mainstay before moving on to bigger things on scripted TV.
Andy Samberg portrayed an annoying park ranger
Andy Samberg reunited with his one-time "SNL" co-star Amy Poehler in one 2010 episode of "Parks and Recreation" called "Park Safety". Samberg, known best for his starring role on "Brooklyn Nine-Nine," portrayed Carl Lorthner, a park ranger who loves the film "Avatar," in the Season 2 episode (via IMDb). He's also characterized by a loud voice and a goofy personality that teeters on annoying. In fact, Tom claims in the episode that the reason Carl became a park ranger was that he was too obnoxious to handle his desk job. 
Even though Poehler and Samberg have "SNL" history, their characters were not quick friends in the episode. The whole issue about Jerry's (Jim O'Heir) fake mugging leads to Leslie having to begrudgingly fork over the cash to get Carl a new golf cart so he doesn't reveal the truth. Carl's character isn't exactly remembered as one of the best of the best, mostly because his appearance was short and mostly irritating. It's not surprising that Samberg didn't become a series regular on the show, especially since it was only a few years before he first stepped into the shoes of Detective Jake Peralta for quite an extensive run on "Brooklyn Nine-Nine" — which was also co-created by Michael Schur.