The Leading Lady Running Gag You Likely Never Noticed In Adam Sandler's Movies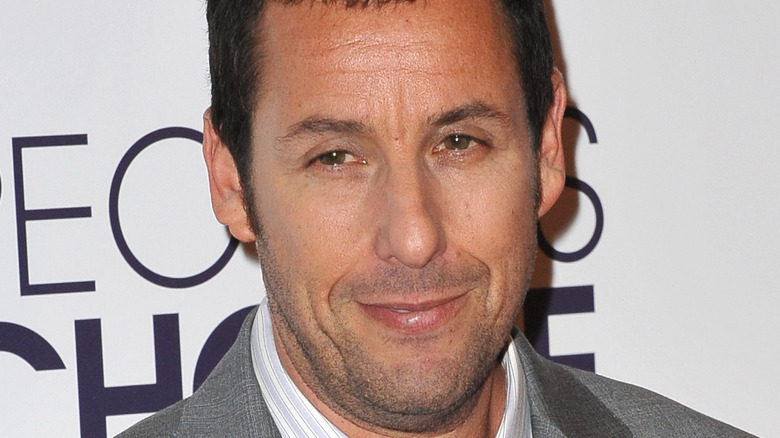 Jaguar PS/Shutterstock
Adam Sandler joined the cast of "Saturday Night Live" back in 1990, and for the next five years, he'd make himself a household name. Naturally, his comedic proficiency and worldwide popularity meant that he wasn't going to limit himself to the sketch comedy program forever. Instead, he'd make the bold jump to the big screen, with his first hit arriving in the form of 1995's "Billy Madison." In the years that followed, Sandler's stock in Hollywood would only continue to rise, amounting to him becoming the cinematic icon fans recognize him as today.
Now decades into his acting tenure, Sandler has a wealth of beloved titles to his credit. From "Big Daddy" to "Uncut Gems," he has managed to get some real classics under his belt from a wide range of genres. However, Sandler is arguably at his best when he's working his comedic muscles, as evidenced by the numerous hilarious movies and moments that live on years after their creation, thanks to his delivery and writing prowess. At the same time, not all of his big-screen jokes are so iconic or obvious, such as one that has squeezed its way into several projects over the years.
This is the running gag connected to the leading ladies in multiple Adam Sandler films that you likely never noticed.
Many of the female characters in Sandler's movies have the same initials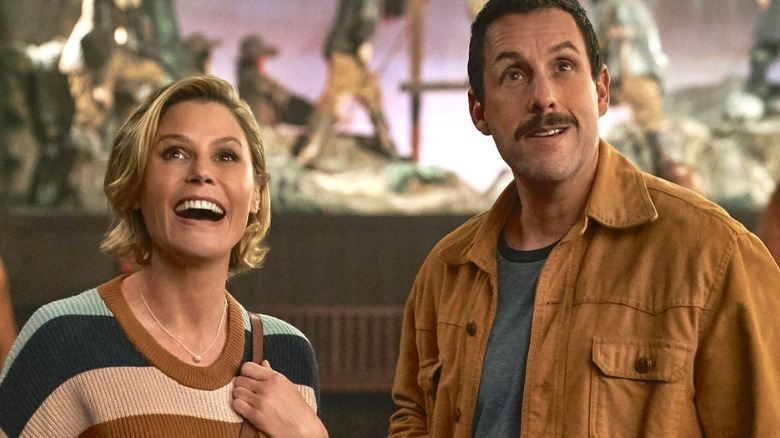 Netflix
As pointed out by Reddit user Heisenbro3556, numerous female love interests from past Adam Sandler films all share the same initials, V.V. Veronica Vaughn (Bridgette Wilson) from "Billy Madison" kicked off the trend, followed by Virginia Venit (Julie Bowen) from "Happy Gilmore," Vicki Vallencourt (Fairuza Balk) from "The Waterboy," Valerie Veran (Patricia Arquette) from "Little Nicky," Violet Van Patten (Michelle Monaghan) from "Pixels," and Violet Valentine (Bowen) from "Hubie Halloween." Redditor BangerBeanzandMash also noted that most of Sandler's characters' first names end with "y" or "ie."
One could chalk this up to pure coincidence, but in reality, there's more to Adam Sandler's films and characters than meets the eye. According to Shawn Kohne on YouTube in 2016, all of his films take place in one shared universe, with numerous links connecting them all in a sprawling web of continuity. Taking this a step further, even Sandler's albums, "Saturday Night Live" sketches, and various projects from his production company, Happy Madison, are connected, too. Years after Kohne's theory came to light, Sandler himself revealed to Yahoo! that the so-called "Sandlerverse" is real and he wants to do more with it in the coming years.
Though they may seem like fun comedies that don't require much thought, Adam Sandler meticulously crafts his movies. Whether it's the name of the leading lady or references to past titles, there's always something interesting waiting for you on a rewatch.