The Simpsons' Raunchy Bridgerton Parody Has Fans All Saying The Same Thing
"The Simpsons" has never been one to steer clear of poking fun at pop culture. The very premise of the show began as a send-up of typical family dynamics on sitcoms. Over the years, the series has gone on to parody anything that made an impact on the zeitgeist, from "Dallas" to "24." And even though the show has made it past Season 33, it shows no signs of letting that tendency dip in the slightest. 
As evidence, just take a look at the Season 33 finale, "Poorhouse Rock." The episode mainly deals with class warfare and the shrinking middle class, but before all that political satire, it follows Marge and some of her friends as they tune into the latest Netflix binge-watch of "Tunnelton," a parody of "Bridgerton." "Tunnelton" mostly exists as an excuse for attractive people to show off their tight, toned bodies, and really, what more could you need out of a show? 
Marge and her friends weren't the only ones enraptured with the fictional series, as Redditors have come out of the woodwork to sing the parody's praises.
Fans loved the Bridgerton parody on The Simpsons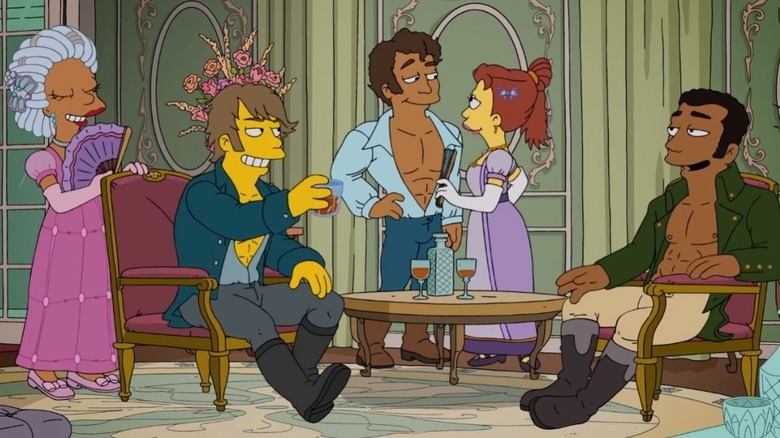 Fox
It appears there's a cross-section of viewers who love "Bridgerton" knock-offs and pointed commentary. One Reddit thread pointing out the "Tunnelton" scene in "The Simpsons" had loads of comments from people who adored the send-up. From "terrific" to "amazing," plenty of people thought "The Simpsons" nailed the Netflix series on the head. 
It's not the first time the show has given a Netflix show the Springfield treatment. Season 31's "Treehouse of Horror XXX" has a segment titled "Danger Things," where the Simpson crew reenacts much of the first season of "Stranger Things," with Lisa taking on the role of Eleven. 
However, the "Tunnelton" sequence wasn't just funny; it may have actually convinced some people to give the rest of "The Simpsons" Season 33 a fair shake. Many have been unkind to "The Simpsons" in recent years, saying it's not as good as it once was, but those who continue to watch new episodes know that a gem pops up every now and then. Redditor u/vienibenmio commented, "This is actually gonna get me to watch new Simpsons, well done writers." Now, it's only a matter of time until we get "The Simpsons" version of "Squid Game," which would make a pretty good "Treehouse of Horror" installment now that we think about it.