Hugh Hefner Dies At 91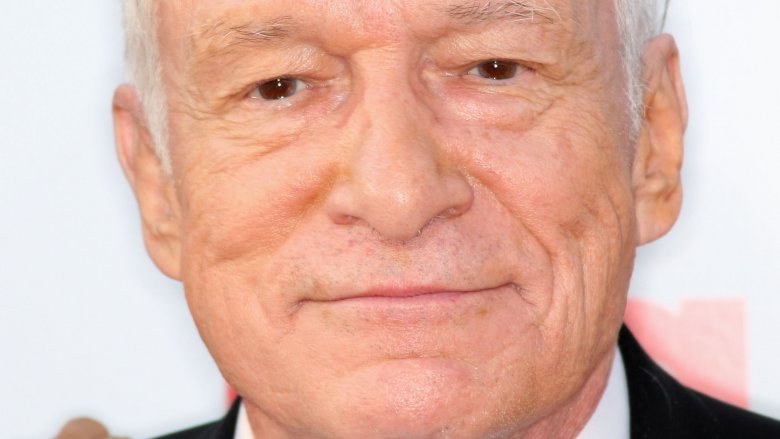 Getty Images
Hugh Hefner, the founder of Playboy magazine and the star of E! reality show The Girls Next Door, has died. The official Playboy Twitter account confirmed that Hefner passed away in his California home on Wednesday, September 27. He was 91 years old. 
A representative for the Playboy Enterprises founder said in a statement given to People, "Hugh M. Hefner, the American icon who in 1953 introduced the world to Playboy magazine and built the company into one of the most recognizable American global brands in history, peacefully passed away today from natural causes at his home, The Playboy Mansion, surrounded by loved ones."
Hefner's son Cooper, whom Hefner had with American model Kimberly Conrad in 1991, also expressed his grief: "My father lived an exceptional and impactful life as a media and cultural pioneer and a leading voice behind some of the most significant social and cultural movements of our time in advocating free speech, civil rights, and sexual freedom. He defined a lifestyle and ethos that lie at the heart of the Playboy brand, one of the most recognizable and enduring in history. He will be greatly missed by many, including his wife Crystal, my sister Christie, and my brothers David and Marston, and all of us at Playboy Enterprises."
Beyond establishing Playboy magazine, which ran its first issue in December 1953 and featured a nude photo of legendary actress Marilyn Monroe, and hosting numerous women and countless lavish parties at his Los Angeles-based Playboy Mansion, Hefner appeared in dozens of movies and television shows, regularly popping up in the six-season reality series Girls Next Door. The E! show documented the lives of Hefner and his Playmate girlfriends Holly Madison, Bridget Marquardt, and Kendra Wilkinson.
Hefner's film and television credits, which were mostly as himself, include The Odd Couple (1974), Laverne & Shirley (1982), Beverly Hills Hop II (1987), The Simpsons (1993), True Romance (1993), Blossom (1993), Sex and the City (2000), The Bernie Mac Show (2004), Entourage (2005), Curb Your Enthusiasm (2005), and Family Guy (2005). More recently, Hefner popped up in the 2008 Anna Faris-led comedy House Bunny and lent his voice to the 2011 Easter-themed live-action/computer-animated movie Hop (credited as "Voice at the Playboy Mansion"). 
In an interview in August 2007, Cooper Hefner, who took over as Chief Creative Officer at Playboy Enterprises, admitted that it was difficult to watch his father get older. "It's tough to watch him struggle," he told The Hollywood Reporter. "But I'm just happy it's physical and not mental."
Hefner is survived by his wife, Crystal, and four children: Cooper, Marston (with Kimberly Conrad), Christie (with Millie Williams), and David (with Williams).