Stephen King Has The Same Stranger Things 4 Complaint As The Rest Of Us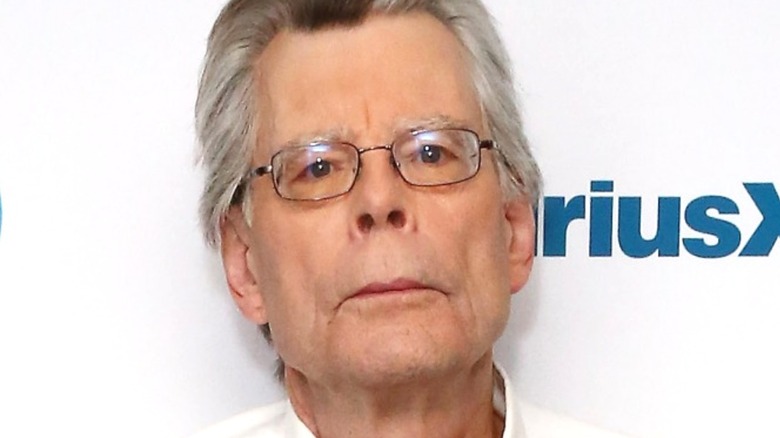 Astrid Stawiarz/Getty
It's been three long years since fans last saw some "Stranger Things," but the show's highly anticipated fourth season is finally here for all to enjoy. The show hasn't skipped a beat since viewers had last seen it, picking up with the same level of horror and intrigue that's gone on to define the series. As such, it perhaps should come as no surprise to hear that one of the series' most ardent fans is the king of horror himself — Stephen King.
Indeed, the show owes a debt to King and his impressive bibliography of work, especially when it comes to Season 4. The series has always maintained strong roots to King's work, especially seeing how the series is set in a sleepy, small town, which has often been the setting of King's stories. And in the most recent season, there's a clear homage to King's "Carrie" when Eleven (Millie Bobby Brown) has chocolate milkshake thrown all over her, with parallels to the pig blood scene in "Carrie."
While King seems to love the series, he does have one complaint that appears to be shared by other fans.
Stephen King doesn't like how Season 4's divided into two volumes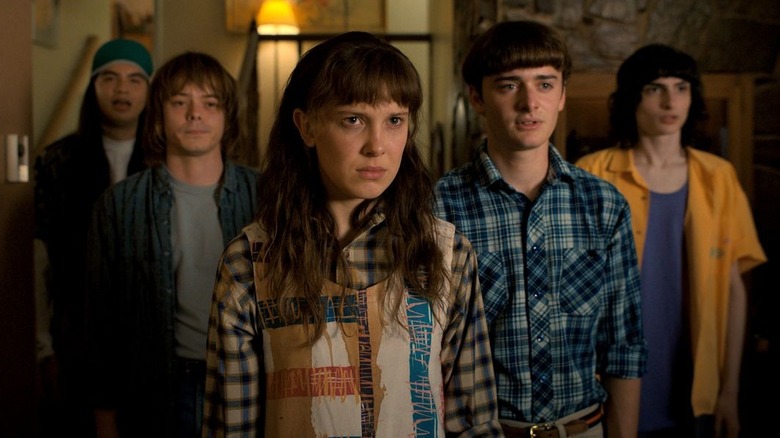 Netflix
Like so many other fans have done, Stephen King has taken to social media to voice his opinion on the most recent "Stranger Things" season. While he seems primarily smitten with the latest batch of episodes, he does have one point he'd like to make: "The new season of STRANGER THINGS is really cool–as good or better than the previous three. There's even a CARRIE riff. Is it the whole season or is it another one of those that's broken into 2 parts? IMHO that's kind of lame."
"Stranger Things" Season 4 has indeed been split into two volumes. The first collection came out on May 27, while the second part is slated to release on July 1. The second volume will only consist of the final two episodes, the last of which will clock in roughly at a staggering 2 hours and 30 minutes.
On Twitter, plenty of other people have voiced their frustration with having to wait for more "Stranger Things," such as @breonahumphrey writing, "Whoever decided to split season 4 of Stranger Things into 2 parts needs to be put in jail immediately...IMMEDIATELY!" There's also @Quea_Ali, who wrote, "Ugh why [didn't] I know that stranger things last season was being broken into 2 parts? I would have waited before I binged it." Patience is a virtue, and all of us, including masters of horror, will just have to wait another month until we know what happens between the kids from Hawkins and Vecna.
Executive producer Shawn Levy explained why Stranger Things Season 4 was split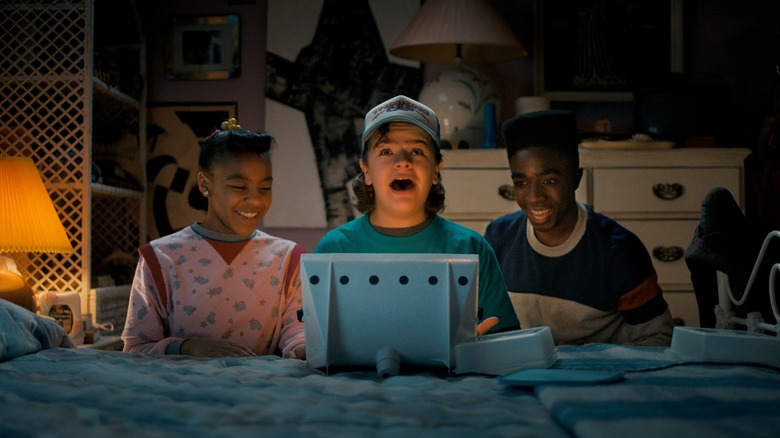 Netflix
Netflix has truly changed the game when it comes to release strategies. For the most part, entire seasons of shows are dropped on the platform all at once for people to binge-watch. Lately, the streamer's begun experimenting with dual volumes, which was the case with the final season of "Ozark," and now, it's doing the same thing with "Stranger Things" Season 4, where the first seven episodes came out initially, followed by the final two on July 1. 
Even the length of the episodes, each one basically being a feature-length movie, is unique in the current television landscape. Season 4 of "Stranger Things" is ambitious in scope in more ways than one, and according to executive producer Shawn Levy, there's a very good reason why this dual-release strategy was implemented, even if it was to the chagrin of Stephen King. 
As Levy explained to The Hollywood Reporter, "We didn't think nine episodes were going to be ready in time, and we have made the world wait long enough. We always knew that if we could deliver the first seven, it's such a satisfying breaking point and pay-off moment, that it'll keep people fed for enough weeks so we can finish up volume two."
It sounds like the desire to divide Season 4 was born from necessity and allowed the team behind the scenes to get more time to ensure those final two episodes were as good as possible. Levy went on to discuss how streaming allowed the team to play around with their release model: "Every streamer is playing around with different models. We've seen full-season, binge-worthy streaming, aka 'Stranger Things' 1, 2, and 3. We've seen Disney+ and Hulu try a weekly model, which didn't feel quite right for this. So, we're happy that we were able to give our audience a huge meal of story." Anyone who's finished Episode 7 of "Stranger Things" Season 4 is undoubtedly waiting on pins and needles to see how everything wraps up, and hopefully, the team manages to, indeed, stick that landing.