Little Shop Of Horrors Returning To Theaters With Long-Lost Original Ending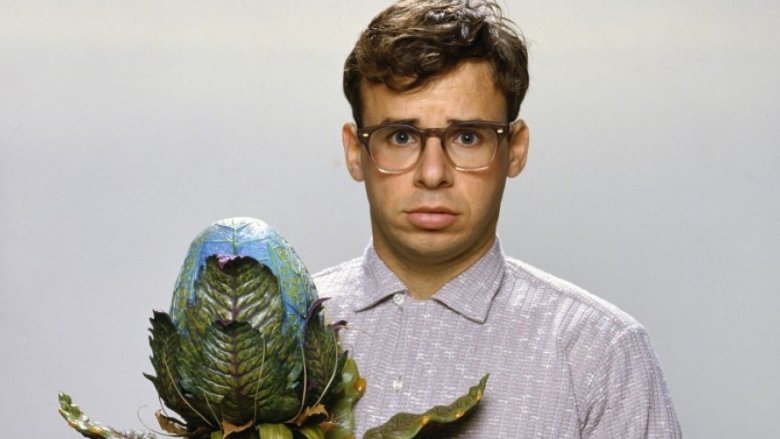 This Halloween, why not catch a movie somewhere that's green?
Partnered with Fathom Events, Warner Brothers is bringing cult-hit musical Little Shop of Horrors back to the big screen this October, with the 23-minute original ending to the movie to be shown intact in cinemas for the first time ever.
The musical, which was directed by acclaimed puppeteer Frank Oz with music and lyrics by the Academy Award-winning duo of Howard Ashman and Alan Menken, was originally released in 1986.
Starring Rick Moranis as florist Seymour Krelborn and Ellen Greene as his romantic interest Audrey, the movie follows Seymour's accidental creation of a carnivorous venus fly trap named Audrey II that has a killer voice and a taste for human blood. The unusual creature feature is based on an off-Broadway adaptation of a low-budget 1960 horror comedy of the same name.
The movie was released theatrically with a dramatically different ending than the director intended, and over the years, the unused ending gained a kind of legendary status as cult appeal of the offbeat and dark musical spread. 
Unlike many alternate endings for movies that involve only minor scenes being changed, the lost ending for Little Shop was a fully-produced, world-destroying extravaganza which cost a reported $5 million to produce. 
After a black-and-white work-print version of the ending was released as a special feature on a DVD release of the movie in 1998, the ending was fully restored in color on Blu-Ray in 2012, 26 years after the release of the original movie, in a director's cut edition.
In addition to featuring the film's original ending in its full glory, the new presentation of the movie will be accompanied by an exclusive interview with director Frank Oz.
Little Shop of Horrors will be screened in participating theaters on Sunday, October 29 and Tuesday, October 31, with two showings each day at 2 pm and 7 pm local time. To see if you're near to one of the nearly 500 theaters involved, check out the event page on Fathom Events' website.
Watch a new trailer for the special two-day event below. To see what other movies went to the trouble of producing gigantic and costly scenes only to see them end up unused, check out our feature on the most expensive deleted scenes ever.