Stranger Things' Vecna Has Yet Another Pop Culture Inspiration Apparently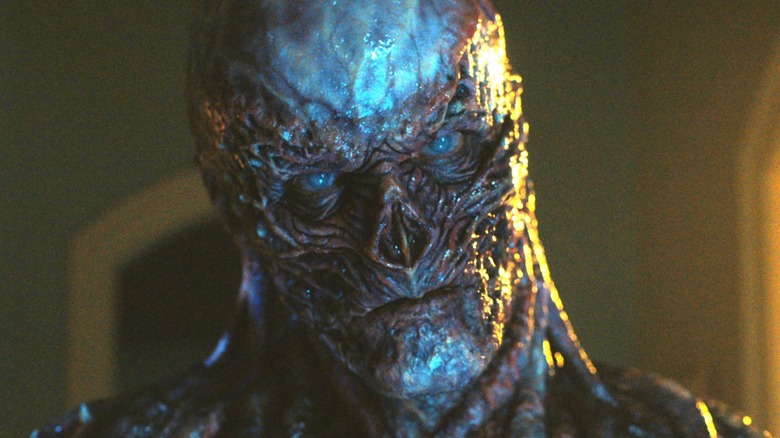 Netflix
"Stranger Things 4 Vol. 1" introduces a number of interesting and important new players, but none of the season's rookie characters make quite as much of an impact as Vecna does. The villainous figure makes his startling debut at the end of the season premiere of "Stranger Things 4" when he brutally kills Chrissy Cunningham (Grace Van Dien) after spending the entire episode tormenting her with various traumatic and disturbing visions. Vecna goes on to repeat that cycle several times throughout "Stranger Things 4 Vol. 1," and as a result, kills a number of innocent Hawkins civilians.
But even if Vecna weren't responsible for a number of heinous acts throughout the season's first few episodes, the character would still be a frightening figure. That's because Vecna is, like many of the other inhabitants of the Upside Down, a visually grotesque entity, one that calls to mind iconic horror movie figures like Freddy Krueger and Pinhead. It's not until the final episode of "Stranger Things 4 Vol. 1" that the series reveals the true identity of Vecna, but even when equipped with the knowledge of his human origins, it's Vecna's terrifying design that is likely to be what sticks in the minds of viewers whenever they think about the character.
Those same viewers may also be surprised to learn that "Stranger Things" creators Matt and Ross Duffer were partially inspired by one other iconic TV villain when they were creating Vecna. At least, that's according to the man responsible for Vecna's terrifying design.
Vecna was inspired by Game of Thrones' Night King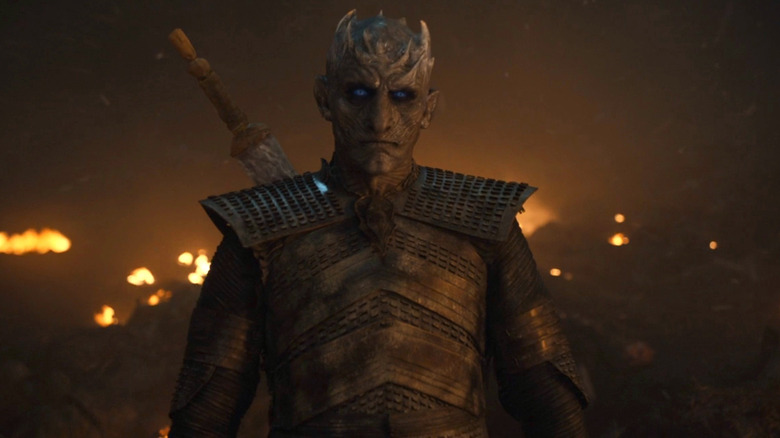 HBO
The Duffer Brothers have been open about the movies and characters that inspired them when they were making "Stranger Things 4." In a trailer breakdown for IGN, for instance, the "Stranger Things" creators revealed that they were inspired by Freddy Krueger, Pinhead, and Pennywise from "It" when they were thinking about the role Vecna would serve in the show's fourth season. Vecna's name is also, notably, a reference to an iconic "Dungeons & Dragons" villain.
However, it turns out that the character was also inspired by the Night King from HBO's "Game of Thrones." In fact, that's why the Duffer Brothers decided to hire renowned Hollywood make-up artist Barrie Gower and his prosthetics company, BGFX, to create Vecna for "Stranger Things 4." Gower famously won three Primetime Emmy awards for his make-up work on "Game of Thrones" (via IMDb) and was the man responsible for the design of the Night King's prosthetics on that show.
While speaking recently with Variety, Gower revealed that the Night King was a key point of inspiration for Vecna. "With Season 4, they were after a new, big iconic villain," Gower said. "They decided that they wanted their own version of the Night King, an iconic figure, and they thought, 'Well, why don't we just contact the guys who made the Night King?'" In the same interview, Gower revealed that the design process for Vecna actually turned out to be far more extensive than what he had to do to create the Night King.
Ultimately though, it seems safe to say that the Duffer Brothers achieved exactly what they wanted to with Vecna. From a purely visual perspective, the character's design in "Stranger Things 4" is just as striking and grotesquely memorable as the Night King's in "Game of Thrones."