The Hilarious Way Wil Wheaton Got His Role On Big Bang Theory
Kathy Hutchins/Shutterstock
Wil Wheaton became a household name thanks to his turn as Wesley Crusher on "Star Trek: The Next Generation." The character was a boy-genius who joined the Starfleet at the age of 15, becoming an ensign who featured prominently for three seasons. Wheaton left the sci-fi series for greener pastures, but he arguably remained synonymous with the "Star Trek" franchise for years. However, that all changed when he joined the cast of "The Big Bang Theory" and showcased the evil side of his persona. 
Wheaton's first appeared on the CBS sitcom in Season 3's "The Creepy Candy Coating Corollary" episode. Playing a fictionalized version of himself, the actor initially seemed like a nice fella who appreciated his fans, the biggest one being none other than Sheldon Cooper (Jim Parsons). However, the pair's relationship turned sour after the "Star Trek" star manipulated Sheldon so that he could win a Mystic Warlords of Ka'a tournament. From that moment on, Wheaton became the embodiment of pure evil in the eyes of the petty physicist. 
The "Star Trek" actor went on to appear in 17 episodes of the sitcom (per IMDb), becoming a fan favorite as well as an enemy to Sheldon (until they finally made amends). That said, while Wheaton gave fans many laughs throughout the years, how he got his part on "The Big Bang Theory" is arguably even funnier than his most laugh-worthy moments from the show. 
Social media led to Wil Wheaton joiningThe Big Bang Theory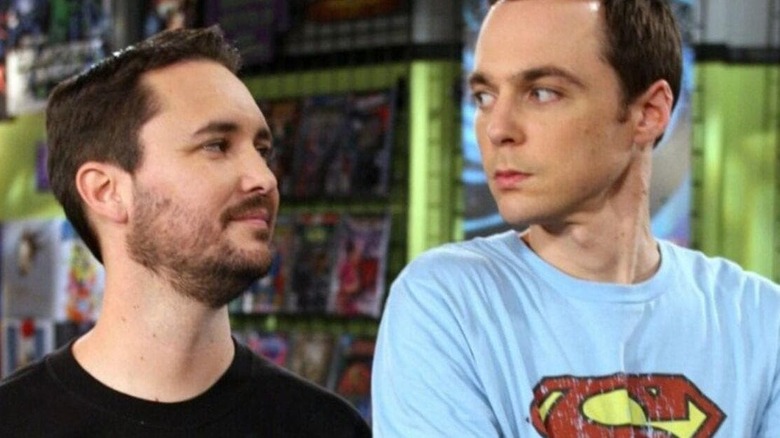 CBS
Before Wil Wheaton joined "The Big Bang Theory" as an official cast member, he was one of the millions of fans who helped turn the show into a bonafide hit. One day, he decided to share his fondness for the nerdy sitcom on social media, which put the wheels in motion for him to join the fold as an evil version of himself. 
"I was talking on Twitter about how much I loved the show and how I thought it was really funny," he told Larry King back in 2014. Executive producer Steven Molaro stumbled upon that tweet, and Wheaton eventually received an email from series co-creator Bill Prady's assistant about appearing on the CBS sitcom.
Wheaton originally thought the email was a joke, but when he realized it was legitimate, he got in touch with Prady's camp and the rest is history. Prady explained that they wanted to bring in a character to serve as Sheldon's nemesis, and Wheaton was more than happy to play the villain. "It's always more fun to be the villain," he added.