Tim Allen Talks The Downfall Of Last Man Standing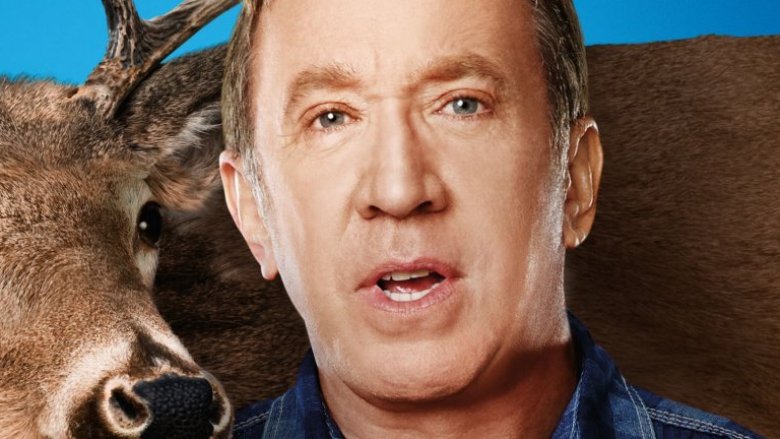 When the ABC series Last Man Standing was abruptly canceled earlier this year, no one was more surprised than the series' lead actor, Tim Allen, who played the traditionalist father of three named Mike Baxter. Four months after the network pulled the plug, Allen is still baffled by the decision, and recently vented his frustrations during a guest appearance on Norm Macdonald Live. 
Rewinding a bit for context, ABC network president Channing Dungey explained in May that the ownership structure of Last Man Standing was a considerable factor the network swinging the axe on the show. Many believed that Allen's conservative political and social views played a role in the decision, but Dungey assured audiences that the actor's beliefs had nothing to do with it. 
"We have actors on our shows who have all sorts of different political views," Dungey said during a Television Critics Association press tour appearance (via People). "Tim Allen is a valuable part of the Disney/ABC family. He has been for a very, very long time. And Last Man Standing was a show that, several years running, kind of came up to the very end in terms of the renewal, which was the same case this year. Unfortunately, we weren't able to create room for it on the schedule, which was a disappointment to me because the show was a high quality show that was very well done... Tim Allen's personal politics had nothing whatsoever to do with it."
But Allen admitted to Macdonald that he doesn't buy it. 
"I always wanted Last Man Standing to be like [All in the Family's] Archie Bunker," explained Allen. "Archie Bunker pushed boundaries, but Carroll O'Connor was not that guy at all. I am a version of that guy. But there is nothing more dangerous, especially in this climate, than a funny, likable conservative character. He is mitigated on the show by a family of women who had a difference of opinions, but [Mike Baxter] was a likable guy and a principled guy about work and ethics and all this stuff, I think."
Last Man Standing, which hailed from the outside studio 20th Century Fox Television, was an expensive endeavor for ABC, particularly when it came to licensing. But even with the cash poured into the series, Allen insisted that it was a success and could have been used as a example for other shows (like the impending Roseanne reboot) to gain more traction. 
"I have no idea why they did what they did," Allen said ABC. "You couldn't have handled this worse... [ABC] hadn't won a Friday night in 15 years. They put us out to pasture on Friday and we won Friday. Big night for us. Big night for them. I would have put Roseanne after us. Use us just to launch shows, if nothing else."
There was a bit of chatter about the network Country Music Television (CMT) swooping in to save the series, but it, too, found the project simply too costly to produce. Not long after, talks broke down. 
Fox presidents Jonnie Davis and Howard Kurtzman previously indicated that the show might find another home. "If it's not going to go forward at ABC, of course Jonnie and I are hopeful that we can find another home for it," Kurtzman said. However, this was back in May, so the optimism may have fallen apart in the months since. 
While we wait to see if Last Man Standing will be resurrected or remain buried for good, discover the untold truth of the series.