How Jaleel White Really Feels About Steve Urkel's Alter-Ego Stefan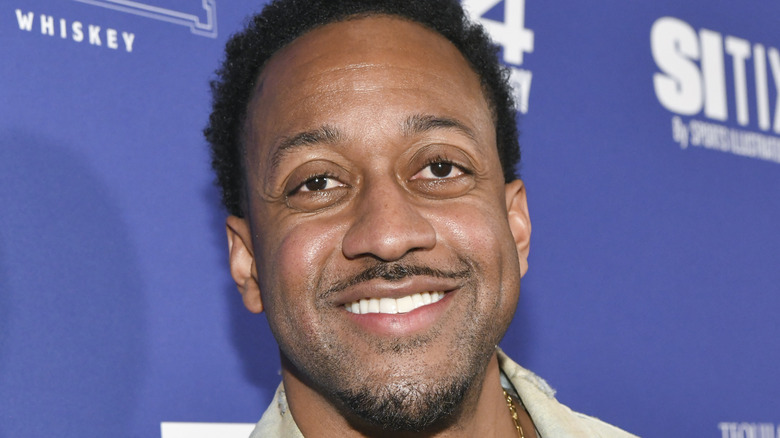 Rodin Eckenroth/Getty Images
For nine years, Jaleel White inhabited the fictional world of "Family Matters" as endearingly pesky neighbor Steve Urkel. Commonly dressed in thick glasses, colorful sweaters, and high-water pants with suspenders, he was the quintessential nerd of the day. His interests: polka dancing, accordion playing, and inventing things. His love interest: Laura Winslow (Kellie Shanygne Williams), who takes her sweet time learning to love him back.
That journey includes getting to know Stefan Urquelle, a guy Steve creates using far-fetched technology to transform himself from geek to chic, as they say. Stefan is Steve's complete opposite: elegantly attired, suave in his approach with the ladies, and at least initially, a bit of a narcissist. As Laura gets to know him and he fine-tunes the less likable aspects of his personality, she falls hard. And audiences enjoy this new version of Steve, too, which prompted his reappearances throughout the final seasons of the show.
As much as viewers may love Stefan, however, no one knows the character better than White. So the question is: How does he really feel about this alter-ego he created for Steve?
White thought Stefan was a dull idea
At first, White wasn't in love with the idea of the Stefan character. "I never even wanted to play Stefan," he said (via The Talk). "I thought Stefan was boring." Urkel, on the other hand, was captivating and fun to play. He spoke to inanimate objects. He premiered original dances like the Urkel in Season 2, Episode 18, "Life of the Party." He launched catchphrases that live on today, like "Did I do that?" "Whoa, Mama!" and "Look what you did," all delivered in that famous nasal, high-pitched voice.
When he first appeared on "Family Matters," in Season 1, Episode 4, "Rachel's First Date," the Steve Urkel role wasn't meant to be a recurring character. But producers liked what they saw and quickly cast White to keep him coming back. As for White, he was a talented child actor — with prior credits including appearances on "The Jeffersons" and "Mr. Belvedere" — and happy to do the job.
"I'm very versatile, but somehow I didn't earn the tag of being called a versatile actor," he told People. "I'm still chasing that one Vanity Fair tag that says, 'This guy's a versatile actor.' I accept it. It's fine. But for me, it's like what do I have to do to get that?"
Stefan's greatest weakness turned out to be his greatest strength
Stefan may have been less remarkable than Urkel, but in the role of the cool guy, White had the opportunity to stretch his acting muscles in new ways. In the end, the character was noteworthy in his own right. He gave White yet another chance to prove himself as worthy of that "versatile actor" label. And the actor grew to love Stefan for a more personal reason, too. The guy was a babe magnet, both on-screen and off. "Thank God I played Stefan because it allowed Black women to see me the way I actually am," he said (via The Talk). "I'm very happy I played that character."
According to White, people these days recognize him as often for his work as Stefan as they do for his Steve Urkel role. While he's carving his own path now, hosting the podcast "Ever After with Jaleel White" and launching the cannabis line ItsPurpl, he continues building on the career he created playing both characters.
"I feel like it's just my destiny that I'm in this business," he said (via Yahoo! Entertainment). "I feel like I'm in this business for a higher purpose – to connect with people on some level, to spread joy, to spread inspiration, to pave the way for my daughter. Those are, I feel like, my purposes."