New Fall TV Shows That'll Blow You Away In 2017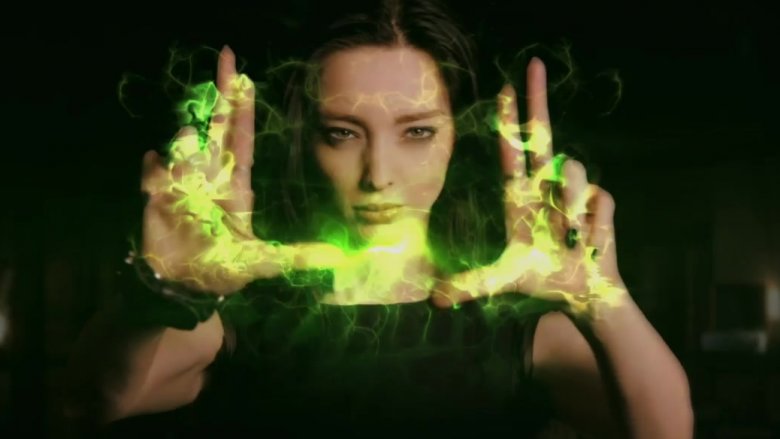 There's no shortage of strong new shows that will blow you right through your living room walls and out into the cold autumn air this fall. Don't believe us? Here's the full rundown of the new network and on-demand shows you really won't want to miss while the leaves turn brown and the nights get longer.
However, you should note that, since this list only focuses on brand-spanking new shows, we're leaving out exceptional returning series like This Is Us, The Good Place, Better Things, BoJack Horseman, and even the Will & Grace reboot. Those shows are great and highly recommended, too... but let's see what's new.
Big Mouth (Netflix)
If adult-oriented animated comedies are your thing, look no further than Netflix's definitely-not-family-friendly original series Big Mouth, which follows two teenagers in the throes of puberty as they battle hormone monsters and newfound sexual interests—illustrating both the funny and not-so-funny sides of every growing boy's "awkward phase." 
If the show's original premise doesn't pique your interest, the star-studded cast featuring Nick Kroll, John Mulaney, Maya Rudolph, Jason Mantzoukas, Jordan Peele, Fred Armisen, Jenny Slate, and Jessi Klein certainly will. Add in the fact that Netflix has already proven itself with a fine and growing pedigree of adult-oriented animated shows, and Big Mouth is sure to be a home run—or at the very least, it should steal second base. Premiere date: Sept. 29
The Mayor (ABC)
Let's just call the time we're currently living in "politically tumultuous." With the undisputed queen of political comedy Veep nearing the end of its term and the always-dark House of Cards far from funny, the time is right for a new political comedy to step up and help us escape from the real-life political drama bombarding our televisions and Facebook feeds on a daily basis. Enter The Mayor.
Centering around Brandon Micheal Hall's character Courtney Rose—an aspiring rapper who gets elected after running for office as a publicity stunt—The Mayor has all the makings of being crowned this season's best new comedy. It's funny, refreshingly light-hearted, overflowing with charisma, and optimistic in a time of pervasive negativity. Hall radiates energy and talent, and it's a safe bet to assume his role as Courtney Rose will help launch his career. The Mayor certainly has our vote of confidence. Premiere date: Oct. 3
Future Man (Hulu)
If Seth Rogen is releasing a project, it should probably be on your radar. The well-established funny guy is once again teaming up with Evan Goldberg to take on the end of the world—a favorite topic of both creators. "I think it's just something that we think about a lot, and we try to put things that are genuinely interesting to us in our work, and we think the world is gonna end," Rogen told SYFY WIRE .
As is usually the case, Rogen and Goldberg are also looking to stand out from the comedy crowd with their own patented brand of humor. "Most comedies are like: does the girl like the boy or the boy like the girl? Or uh-oh, parents came home from out of town and we didn't expect them. It's just really fun to put characters into situations where they might actually die or the fate of the world is at stake," Goldberg said. Rogen seconded that sentiment: "We like really high-stakes comedy ... Comedy where people could literally die any second is hilarious to us, probably because we're really sick."
Or just stoned. Premiere date: Nov. 14
Star Trek: Discovery (CBS All Access)
As the first new Star Trek show in more than a decade, Star Trek: Discovery is under some serious pressure to perform. Setting expectations even higher is the fact that the show falls within the original Star Trek timeline—not J.J. Abrams' "Kelvin Timeline" from his blockbuster film series. Instead, Discovery will take place after Star Trek: Enterprise but before the original series of the 1960s, meaning the show must successfully maintain continuity if it wants to please the legendary sci-fi franchise's hardcore fanbase.
Given the show's multiple delays, behind the scenes issues, and CBS choosing to only air the first half of the season this fall via its All Access on-demand service, some are worried that Discovery is set to crash and burn. And with a review embargo in place, it would seem CBS is a bit worried themselves. However, Netflix will also stream the series, and fans who attended the Hollywood premiere tweeted out their positive reactions, making it seem like all systems are indeed a go. With Sonequa Martin-Green headlining a cast of (almost) all new characters, Discovery looks set to please longtime Trekkies and newcomers alike. Premiere date: Sept. 24
S.W.A.T. (CBS)
Featuring Better Off Ted's Jay Harrington, The Shield's Kenny Johnson, The Bridge's Stephanie Sigman, Kingdom's Lina Esco, and Murder in the First's Peter Onorati in supporting roles, S.W.A.T. revives the mid-1970s crime drama of the same name with an outstanding cast firmly headlined by Criminal Minds' Shemar Moore. Behind the scenes, the show also features some big names, with The Shield's Shawn Ryan taking on the role of executive producer and Southland / CSI: NY writer Aaron Rahsaan Thomas crafting the story. Premiere date: Nov. 2
The Vietnam War (PBS)
Ken Burns' documentaries are often long, and The Vietnam War is no different. Clocking in at 18 hours, The Civil War and Baseball director's latest project is his most ambitious yet—and you'd be doing yourself a disservice not to make sure you've added it to your queue.
Creating The Vietnam War was truly an immense undertaking. Combining the time-consuming tasks of piecing through stacks of history books, interviewing American, North Vietnamese and South Vietnamese families affected by the war, and reopening controversial and still-unresolved debates, it took Burns and crew 10 years to complete what is sure to be one of the most comprehensive documentaries ever made about the conflict.
The Vietnam War might not be for everybody, as it contains a lot of sensitive and unsettling material, and is far from feel-good TV. Nevertheless, it offers an extremely important reminder of what went wrong in the not-so-distant past, and you owe it to yourself not to pass up this incredibly well-made history lesson. Premiere date: Sept. 17
SMILF (Showtime)
Showtime's hottest new series this fall is undoubtedly SMILF—a show about a basketball-playing, dude-chasing South Boston woman who also happens to be a single mother raising a toddler.
SMILF thrives in its authentic feel, thanks to writer, producer, director and star Frankie Shaw. The semi-autobiographical nature of the story gives the show a very realistic vibe, which helps it stand out from the crowd; adding the icing to the homemade comedy cake are Rosie O'Donnell, who plays Shaw's mother, and Nashville's Connie Britton. SMILF looks set to beat the spread—it appears Showtime has a bona fide swish on its hands. Premiere date: Nov. 5
The Deuce (HBO)
Can't get enough of James Franco? Well then, HBO's new series The Deuce is for you—featuring the jack-of-all-trades in not one but two leading roles, while also working behind the scenes as an executive producer and director on a drama following twin brothers Vincent and Frankie Martino (both played by Franco) during the early days of New York City's sex industry.
The brains behind the promising series have already laid out a concise plan, from start to finish, of how exactly they want it to go. "There are only eight episodes a season," Franco explained to Collider, "and if we go, which it looks like we will, there will only be three seasons. It gives it this perfectly encapsulated, very concise, economical power punch feeling to it. ... The first season is '71-'72, and the dawn of pornography. The second season is '77, '78 and '79, or somewhere in there. And then, the third season will be '84-'85 when everything imploded and the old 42nd Street was shut down by Mayor Koch. I think if we pull it off, it will be a really nice encapsulation of a time and a place." Premiere date: Sept. 10
Liar (SundanceTV)
Starring the multiple Emmy-nominated and Golden Globe-winning Joanne Froggatt of Downtown Abbey fame, SundanceTV's new feminist drama Liar looks set to make an impression...and stir up a little controversy.
Revolving around a mysterious case of alleged sexual assault which neither party claims to fully remember, Liar finds Froggatt's character unafraid to take charge. "[Liar's] Laura is a character who felt very different for me," the actress told Vanity Fair. "I don't think I've ever played a character before who is so determined, and so confident in their own decisions. And actually, she makes some bad decisions. But she won't be told. I was getting cross with her, reading [the script] ... It's a bitterness inside her, to a certain extent. I've never played anybody who's stuck in that place." Premiere date: Sept. 27
Ten Days in the Valley (ABC)
There's no shortage of new dramas this year, but Ten Days in the Valley stands out as one of the best, thanks to its tense story centered around a missing child and the interesting depths it illustrates in its characters—particularly Kyra Sedgwick's Jane Sadler.
A documentary filmmaker whose child disappears, Sadler has more than her fair share of secrets, including a drug addiction. "I thought she was a fascinating, very flawed and complicated person — mother, writer, artist, seeker, a passionate person who is very tricky with her truth-telling," Sedgwick explained to The Hollywood Reporter. "So many aspects of this show intrigue me, especially how we tell stories about ourselves."
It's those deeper layers which make Ten Days in the Valley look like one of this fall's most promising—and thrilling—new shows. Premiere date: Oct. 1
Young Sheldon (CBS)
Surprising nobody, CBS's ultra-popular sitcom The Big Bang Theory is getting the spinoff show it was destined to spawn.
Young Sheldon, as the name implies, centers around child genius Sheldon Cooper, but the similarities stop there. Unlike its parent sitcom, Young Sheldon has no studio audience, and it has a much more serious, sentimental, and family-oriented tone. This stylistic change in format works in the spinoff's favor, as—believe it or not—not everybody got a kick out of The Big Bang Theory's studio laughter and gratuitous overuse of the word "Bazinga." Also helping Young Sheldon stand out is Iain Armitage's standout work as the title character.
Whether you're a longtime fan of The Big Bang Theory or were instantly put off by Jim Parsons' adult Sheldon, you'll definitely want to give the more mature Young Sheldon a chance. Premiere date: Sept. 25
Lore (Amazon)
Based on Aaron Mahnke's popular podcast of the same name, Amazon's Lore is set to dominate the horror genre this October. The series' first season will run for six episodes, with each episode acting as a standalone horror story, running the gamut from demons to medical experiments gone wrong. If frights are your thing, look no further.
Well... you actually could look further. What really makes Lore interesting is the fact that Amazon is taking a Westworld: The Experience approach to their new series with Lore: A Haunting Experience — taking groups of eight on a horrific journey they'll never forget. (As if L.A. wasn't scary enough!) But even if interactive haunted houses aren't really your thing, you still won't want to pass up Lore's first six episodes...or else. Premiere date: Oct. 13
American Vandal (Netflix)
Whether you love or hate longform true crime dramas, you'll certainly get a kick out of Netflix's self-satirizing spoof on the highly popular genre.
American Vandal positively lampoons the all-too-familiar true crime documentary by focusing on the crime and punishment of Dylan Maxwell, a high schooler expelled for drawing male genitalia across 27 automobiles and buildings. Sophomore Peter Maldonado, however, isn't buying it, launching his own investigation which aims to get to the bottom of this conspiracy. What ensues is an utterly brilliant destruction of everyone's favorite (or least favorite) binge-worthy guilty pleasure... and one you definitely won't want to miss. Premiere date: Sept. 15
The Gifted (Fox)
Marvel series are always met with anticipation, and The Gifted is no different. Luckily, it looks set to deliver... and in a big way.
The Gifted excels in both its premise—a mutant family on the run from the Sentinel Services requiring help from an underground mutant network—and the special effects it uses for its mutants' powers. The plot also appears rife with engaging plot twists, but what's most impressive is the fact that it manages to fill quite a large cast of characters with undeniable talent, which should help keep the network's hottest new show in the spotlight.
Whether you're an X-men fan or not, The Gifted's cast will—quite literally—blow you away. Premiere date: Oct. 2