Big Changes Coming To Once Upon A Time In Season 7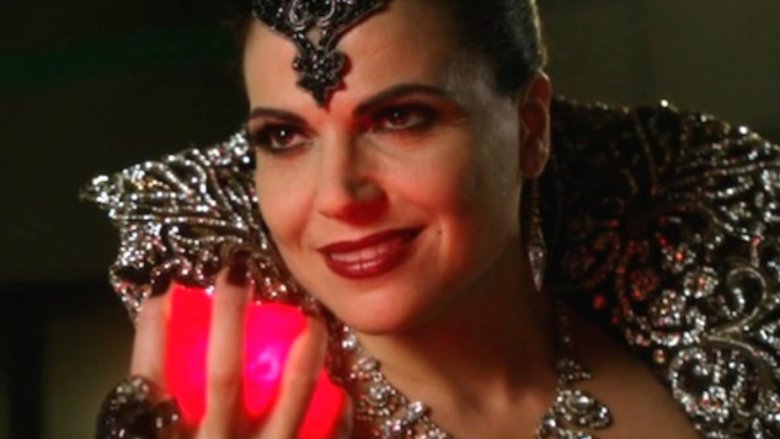 Once Upon a Time is flipping to a new chapter.
After the exit of six cast members, the ABC fairy tale drama will reboot in season 7 with new characters, new settings, and a new curse. Executive producer Edward Kitsis told Entertainment Weekly that the season is a "requel," which is half reboot, half sequel. "In a world where superheroes can reboot, we thought, 'Why not fairy tales?'"
The story will now shift focus to an adult Henry Mills (now played by Andrew J. West), who leaves Storybrooke and finds romance with a different version of Cinderella (Dania Ramirez), and they have a precocious daughter named Lucy (Alison Fernandez). But the family faces trouble when a new (but familiar) curse traps them along with several characters in the Seattle neighborhood of Hyperion Heights. The trapped characters include former Evil Queen Regina (Lana Parrilla), Hook (Colin O'Donoghue), and Rumplestiltskin (Robert Carlyle) along with five new cast additions.
The show will use familiar elements from the first season, but with a twist. The format will still be split between flashbacks to the Enchanted Forest and the present-day Hyperion Heights. However, the returning characters will be drastically reimagined thanks to a new curse.
Henry is a former author-turned-Uber driver, Regina is now a bar owner named Roni, and Hook is a cop named Rogers. "It really is like we're starting a whole new show," O'Donoghue said. "[We] essentially are creating new characters, and that's always exciting and terrifying at the same time." But these are still the same characters who appeared during the first six seasons; just their cursed alter egos.
A few more familiar faces will also return, including Jared Gilmore as young Henry, Jennifer Morrison as Emma Swan for an emotional farewell in the second episode, Emilie de Ravin and Giles Matthey as Belle and Gideon, and Rebecca Mader as Zelena for multiple episodes.
Lana Parrilla, who plays Roni/Regina, said she's excited about the changes. "It's new energy," she said. "I loved working with the old cast, but I think change is really healthy; it challenges us, it makes us uncomfortable, but it actually forces us to step out of the norm, and remain open-minded."
The idea is to lure new viewers to the show while keeping original fans invested in the story. "Part of the fun with this was being able to start over," Kitsis said. "If you've never seen Once Upon a Time, you can absolutely watch episode 1 [of season 7] and not miss a beat."
Once Upon a Time returns to ABC on Oct. 6. Meanwhile, check out some popular TV shows that came really close to being canceled.