Apple TV+'s Speed Racer - What We Know So Far
"Speed Racer" is an incredibly popular piece of Japanese anime, and it has even proven to have a fairly big fanbase in the United States as well. Naturally, Hollywood wanted to get in on the action, and those ambitions came to fruition in 2008, when Lana and Lily Wachowski brought the world to life in all of its colorful glory. Unfortunately, like many anime live-action adaptations, "Speed Racer" wasn't exactly the most warmly received film ever. The film bombed at the box office, grossing $93 million against a production budget of $120 million (per Box Office Mojo). "Speed Racer" didn't impress critics either, garnering a 41% on Rotten Tomatoes.
Hollywood is the land of second (and oftentimes, third) chances, though, and it was only a matter of time before someone else tried to bring the Racer family's high octane adventures to modern audiences. So, it's without much surprise that it appears that Apple TV+ is looking to be the next home for another adaptation of "Speed Racer," this time as a live-action television show. Here's exactly what we know so far about the forthcoming series.
Speed Racer will be produced by J.J. Abrams' Bad Robot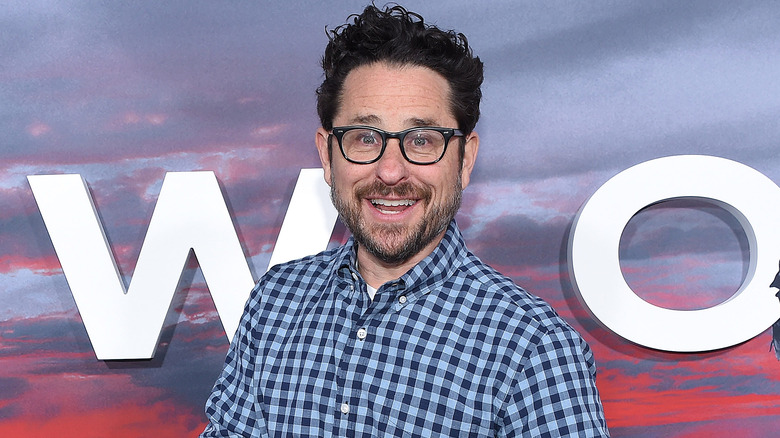 DFree/Shutterstock
Per Deadline, Apple TV+ is looking to bring "Speed Racer" zooming back to life in the form of a live-action television show. This iteration of the property will be produced by J.J. Abrams and his Bad Robot production company. Warner Bros. Television is also involved with the series. There aren't many details concerning plot or casting at the moment, but according to Deadline's reporting, Hiram Martinez and Ron Fitzgerald are currently in charge of writing and showrunning, and the duo will be looking at the manga more for their inspiration, rather than the anime or previous live-action movie adaptations.
According to The Hollywood Reporter, this "Speed Racer" adaptation has been in early development for years and is currently in the process of finding more writers. Obviously, this is all exciting news, but it wouldn't be surprising if fans of "Speed Racer" are approaching this latest adaptation with cautious optimism considering Hollywood's track record with live-action anime/manga adaptations. A more recent example of this is Netflix's "Cowboy Bebop" show, which received middling reviews and was canceled shortly after its first season aired (per The Hollywood Reporter). 
It'll be interesting to see how Apple tackles "Speed Racer," and if they'll manage to produce a show that pleases not only fans of the original product, but general audiences as well.