How Jason Bateman Once Skewered Tom Pelphrey On The Set Of Ozark - Exclusive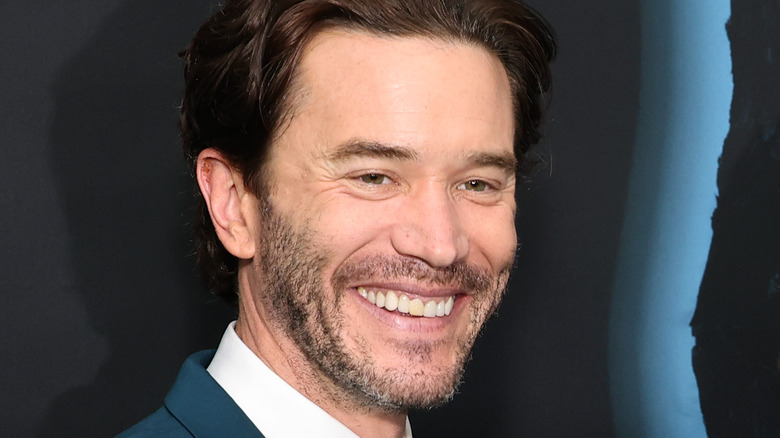 Mike Coppola/Getty Images
As Laura Linney's on-screen brother Ben, Tom Pelphrey made quite an impression on "Ozark" despite only appearing for one season. As one of the main antagonists of Season 3, Ben inserts himself into the money-laundering Byrde household after going off his medication for bipolar disorder, which causes him to have violent outbursts and mood swings that eventually lead to him being the target of a drug cartel hitman.
"Ozark" was arguably the breakout role for Pelphrey, who got his start on the soap operas "As the World Turns" and "Guiding Light," for which he won two Daytime Emmy Awards. He went on to star in Marvel's "Iron Fist" series, and most recently, the sci-fi neo-Western "Outer Range," which is available on Prime Video.
In the fourth and final season of "Ozark," Pelphrey briefly returned via flashback, which he exclusively told Looper was "like getting to go home after you've been away for a while ... I was smiling and laughing like a goofball."
One reason for that elated feeling was because he had become so close to the cast, which includes Linney as Wendy Byrde and Jason Bateman as main protagonist Marty Byrde. When Looper asked Pelphrey to recall his favorite behind-the-scenes memory, the rising star recalled a hilarious moment when Bateman cheekily made fun of him.
If you or someone you know is struggling with mental health, please contact the Crisis Text Line by texting HOME to 741741, call the National Alliance on Mental Illness helpline at 1-800-950-NAMI (6264), or visit the National Institute of Mental Health website.
Pelphrey was both 'mortified and thrilled' to be 'speared' by Bateman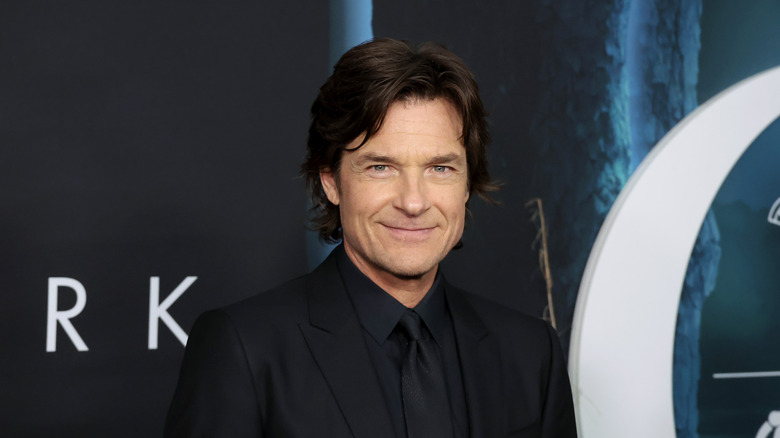 Mike Coppola/Getty Images
Jason Bateman, who made a name for himself on "The Hogan Family" in the late 1980s and became a beloved pop-culture icon in the early 2000s while starring on "Arrested Development," is widely known for his quick wit and dry humor, which Tom Pelphrey got to experience first-hand on the set of "Ozark."
"Jason was also so lovely and so cool and so chill, but the moment that I knew that Jason was exactly what I wanted him to be was when we were about to film some scene on a dock with Jason and Julia [Garner] and me and Skylar [Gaertner]," said Pelphrey. "We're all coming in from different directions, so we're all spread out and I'm off to the side, and it's a really hot day in Atlanta. It's like 105 degrees and the sun is so strong and I'm so pale, and the makeup people didn't want me to burn so they put on some sunscreen. [I was] going to be out there for a few hours, so they were like, 'Can you please hold an umbrella over yourself and stay in the shade?'"
It was a nuanced moment not lost on Bateman, who immediately pounced on the situation.
"I'm standing there waiting to start the scene, holding my umbrella over myself, standing in the shade, and up on the dock, probably 50 feet away or so, is Jason," continued Pelphrey. "He's looking around and then he turns and sees me with the umbrella over my head, and that smirk comes across his face, where his eyes start to twinkle, and he cocks his head at me. He's like, 'How do you feel about yourself?' You know, taking in the umbrella, and I was like, 'Not great.' He smirks and goes, 'Yeah. Yeah, you shouldn't.' I was so mortified and so thrilled simultaneously. I was like, 'Jason Bateman is exactly what I would want Jason Bateman to be.' I've never been so happy to get speared by someone."
You can watch all eight episodes of Pelphrey's latest series, "Outer Range," on Prime Video.