Han Solo Director Teases Scene About 'Desperate And Dangerous Times'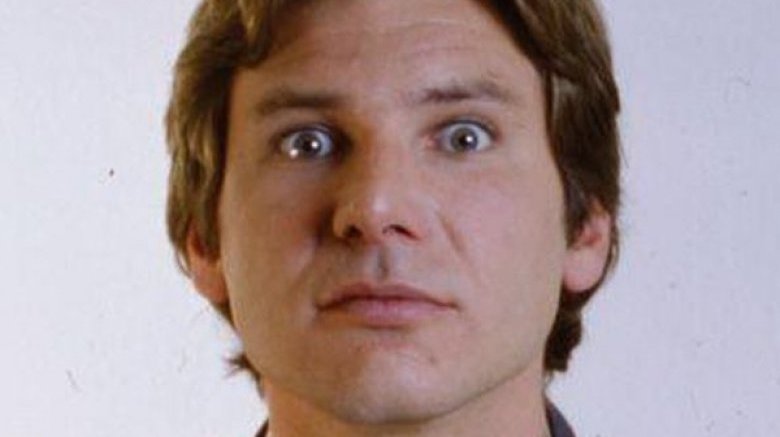 Han Solo might find himself between a literal rock and a hard place in the upcoming Star Wars anthology film. 
Director Ron Howard, whose proclivity for teasing movie details on his social media accounts has become increasingly more frequent in the last few weeks, took to both his Twitter and Instagram to share two new images from behind the scenes of the untitled Han Solo flick. The set photos depict a scene detailing "desperate and dangerous times in the Galaxy," as Howard puts it, offering a bit of insight into the potential themes that the movie will tackle. 
As they stand, the photos are quite vague. Both are foggy, making it difficult to make out details of the shapes and figures in the background. The snap posted on Howard's Twitter shows a few people standing within a location that appears to be completely in ruins but not yet in chaos. On the other hand, the one shared on his Instagram features a big explosion in the distance, suggesting that things are definitely not peaceful in the Galaxy. 
Take a look at both images below. 
As many Star Wars fans know, Han was a smuggler before he joined the Rebellion, and kept some rather unsavory companions by his side during his adventures. And since the Han Solo movie is set during the height of the Empire, which had no tolerance for lawbreakers like Han, it seems that the collective's presence and influence over the Galaxy will be felt throughout. However, it's unlikely that the Empire will be the main antagonist of the spinoff. 
The director's mentioning of "desperate and dangerous times" could also be in reference to citizens trying to adapt to new life under an Imperial regime. 
Beyond what these hints could mean, the snaps give fans a sneak peek into the striking imagery of the forthcoming movie. Oscar-nominated director of photography Bradford Young, who worked on the Amy Adams-led Arrival, is attached as the cinematographer for Han Solo. His keen sense of visuals and how they translate onto the silver screen will undoubtedly serve well for the standalone. 
The yet-unnamed Han Solo movie stars Alden Ehrenreich as Han Solo, Joonas Suotamo as Chewbacca, and Donald Glover as a young Lando Calrissian. Woody Harrelson, Emilia Clarke, Thandie Newton, Warwick Davis, and Phoebe Waller-Bridge round out the cast. 
While we wait until May 25, 2018 to see the movie ourselves, take a look at everything we hope to see in the prequel flick.
Shooting a scene about desperate and dangerous times in the Galaxy pic.twitter.com/AtNZPOkzFO

— Ron Howard (@RealRonHoward) September 23, 2017