What The Cast Of The Wedding Singer Looks Like Today
New Line Cinema
It was the best of times, it was the worst of times — depending on which Gen X-er you talk to, that is. For some, the 1980s was the pinnacle of creative music, imaginative films and innovative technology. For others, it was a whirlwind of bad hairstyles and embarrassing fashion faux pas. 
For comedian/actor Adam Sandler, the '80s were a blend of both. Along with director Frank Coraci and screenwriter Tim Herlihy, Sandler paid homage to the era of his youth with a hit 1998 musical rom-com that paired him with Drew Barrymore, "The Wedding Singer." 
Since his early days as a "Saturday Night Live" cast member, Sandler demonstrated not only an ability to make people laugh, but also for being a clever musician. He built the chance to showcase those abilities into Robbie Hart, a professional wedding singer who has his heart crushed when he is left at the altar, only to potentially mend it when he meets the woman of his dreams, Julia Sullivan (Barrymore). Though it received only middling reviews when first released, "The Wedding Singer" has since been hailed as one of Sandler's better movies.
Believe it or not, it's been about a quarter century since "Singer" rocked movie theaters. Many of the film's actors have since moved on to other projects, or even other careers — some more successful than others. Anyone who loves the '80s clearly embraces the supple glow of nostalgia, so let's take a look back at "The Wedding Singer" cast, and what they're up to today.        
Jon Lovitz (as Jimmie Moore)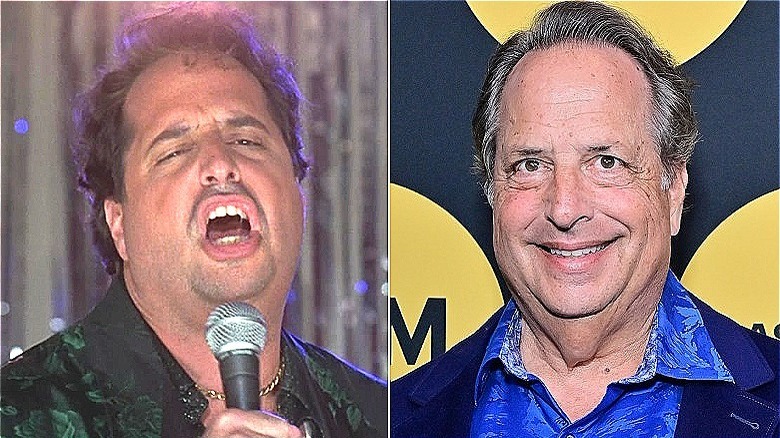 New Line Cinema/Stefanie Keenan/Getty
After being left at the altar, Robbie decides to hold off working weddings for awhile. Instead, he helps his friend Julia scout out a wedding singer for her own upcoming nuptials. They set up an audition for Jimmie Moore, a vivacious singer who performs a very energetic rendition of "Ladies' Night." Not only is Jimmie's stage presence over the top, but he blows the audition when he thanks Robbie for having a nervous breakdown, thus drumming up more business for himself. Classy move.
Jon Lovitz plays Moore in a memorable cameo performance between old "Saturday Night Live" pals. A celebrated "SNL" alum, Lovitz has been featured in many of Sandler's Happy Madison productions over the years, including such films as "Little Nicky," "The Benchwarmers" and "Grown Ups 2." He also provided the voice of Quasimodo in the "Hotel Transylvania" films, which Sandler starred in and produced. Lovitz is still going strong in film and television, as his IMDb page attests. Aside from a few gray hairs, Lovitz looks remarkably similar to how he did in 1998, so whatever he's doing to stay young, that's the ticket. 
Steve Buscemi (as David, the groom's brother)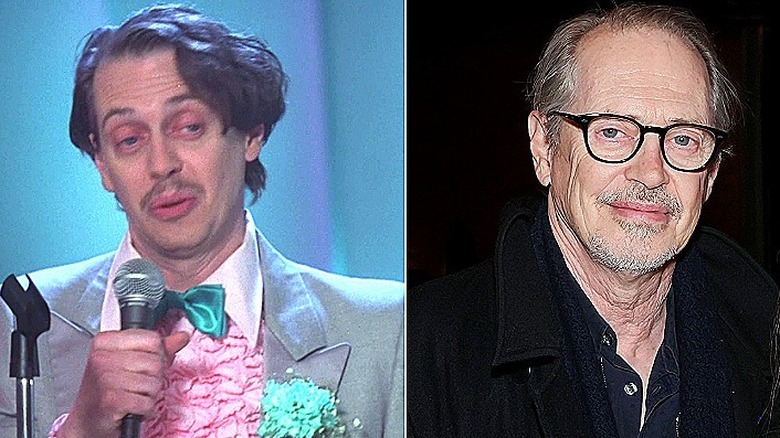 New Line Cinema/Monica Schipper/Getty
Yet another of Sandler's longtime pals, Buscemi separates himself from much of the Happy Madison crew (like David Spade, Kevin James and Chris Rock) by wielding the talents of a heavyweight dramatic actor ("Reservoir Dogs," "Boardwalk Empire") — but like fellow Sandler supporting star John Turturro ("Miller's Crossing," "The Batman"), he clearly enjoys letting his hair down and getting goofy between gigs. 
Buscemi can be seen in "The Wedding Singer," both at the start and the end of the film as Dave, a groom's brother, who fails miserably to hide his bitterness at his brother's happiness and father's negligence during his wedding toast. After making his point to a horrified crowd, Dave picks up a guitar and begins to awkwardly strum on the instrument in a drunken haze before Robbie gingerly has him escorted off the stage. By the end of the movie, however, it seems that Dave has finally found his calling, and he sings and plays the guitar at Julia and Robbie's wedding.
The chameleonic acting skills of Buscemi have allowed him to seamlessly transition between drama and comedy. He and Sandler met while co-starring in the 1994 movie "Airheads." Since then, Buscemi has been featured heavily in Sandler's projects, including "Big Daddy," "Mr. Deeds," "Grown Ups," "Hubie Halloween," and all of the "Hotel Transylvania" films. Since his time on "The Wedding Singer," Like Lovitz, Buscemi's hair is a bit grayer, but for the most part he looks the same and arguably has never been in higher demand.
Kevin Nealon (as Mr. Simms, the bank manager)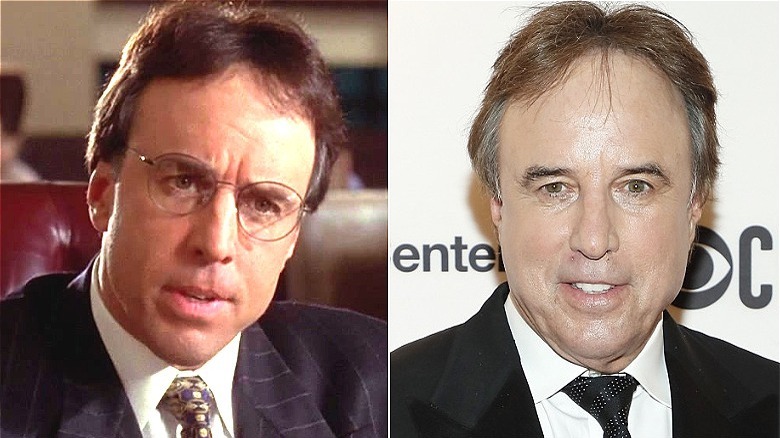 New Line Cinema/Paul Morigi/Getty
By the end of the second act in "The Wedding Singer," Robbie has finally acknowledged his feelings for Julia, putting him in a complicated position. After a conversation with Holly, Robbie is led to believe that Julia is marrying Glenn for his money. His current financial position in dire straits, Robbie bites the bullet and seeks conventional employment, leading him to the local bank.
Trading in his flamboyant wedding singer attire for a standard suit and tie, Robbie engages in an interview with the bank manager, Mr. Simms. Even as Simms points out to Robbie that he is in no way qualified for the job, Robbie begs out of desperation. When it's apparent that he will in no way be offered the position, Robbie beseeches the manager for fake business cards to impress the woman of his dreams. Mr. Simms cannot be swayed, however, and Robbie sees himself out.
Though the scene is brief, it's easy to recognize comedic actor Kevin Nealon as Mr. Simms. Both Sandler and Nealon were "Saturday Night Live" cast members during the same era, and performed multiple sketches together — often with "Weekend Update" anchor Nealon introducing Opera Man, a Sandler comedic riff, or the memorable Valentine's Day segment in which Sandler sang of an affinity for his favorite sweatshirt. The two also appeared in "Take Your Shirt Off," one of the more notorious sketches from that era.
Nealon has appeared in other Sandler films as well, including "Happy Gilmore" and "Little Nicky." He has continued to act in both film and television roles over the years, and though he may be a little bit grayer than he was in "The Wedding Singer," Nealon seems to have found the secret to immortality.
Billy Idol (as Himself)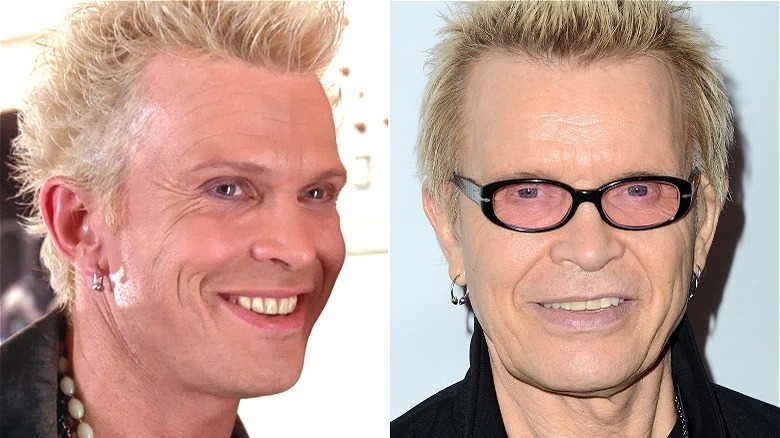 New Line Cinema/Kathy Hutchins/Shutterstock
If you're going to make a film that takes place in the 1980s, it helps to have an icon of '80s culture on hand for a cameo. Where "The Wedding Singer" is concerned, that icon is Billy Idol, the English rocker with a punk attitude and leather ensemble to match. Along with one of his biggest hits ("White Wedding") being featured in the movie, Idol plays himself in the third act.
Idol is first seen kicking back a bottle of wine while seated in first class on the same flight as Robbie, Julia, and Glenn. After listening intently to Robbie's story, Idol lends a hand in aiding the wedding singer to win his lady love. He also manages to knock Glenn down a peg with the help of a die-hard fan, barring the way of the sleazy adulterer so that a flight attendant can shove Glenn into the lavatory.
Though he did not continue acting after his role in "The Wedding Singer," Idol has kept busy with his musical career. He was featured on the Miley Cyrus 2020 album "Plastic Hearts," lending his gravelly vocals to the track "Night Crawling." He then released an EP in 2021 entitled "The Roadside." The rocker still maintains his spiked blond hair and piercings, and is touring frequently. 
Frank Sivero (as Andy)
Robbie's sister Kate (Jodi Thelen) is married to the sympathetic Andy, there to lend an ear to Robbie in his time of need, and to give him a bit of advice on the affairs of the heart. The role was played by Frank Sivero, although if any '90s film lover encountered Sivero on the streets they might call him "Frankie" and tell him he needs to take back the mink.
In "Singer," Andy offers a little too much information about his personal love life in regards to Robbie's sister than Robbie would like. Though he isn't terribly happy about his wife's brother shacking up in their already hectic household, Andy is understanding of Robbie's situation and willing to help out a family member in a time of crisis.
An Italian-American actor best known for his roles in "The Godfather Part II" as well as Scorsese's "Goodfellas," Sivero performed multiple roles in the decade following "The Wedding Singer," but retired from acting after his final appearance in the 2008 film "Hotel California." Sivero was thrust back into the spotlight momentarily in 2014 when he sued the Fox network, claiming that the character of Louie from "The Simpsons" infringed upon his likeness (he lost). 
Nowadays, Sivero is spending his golden years with family and reflecting fondly on his career (via his personal Instagram). His black hair has grayed somewhat, but Sivero still maintains that trademark crooked smile.
Jodi Thelen (as Kate)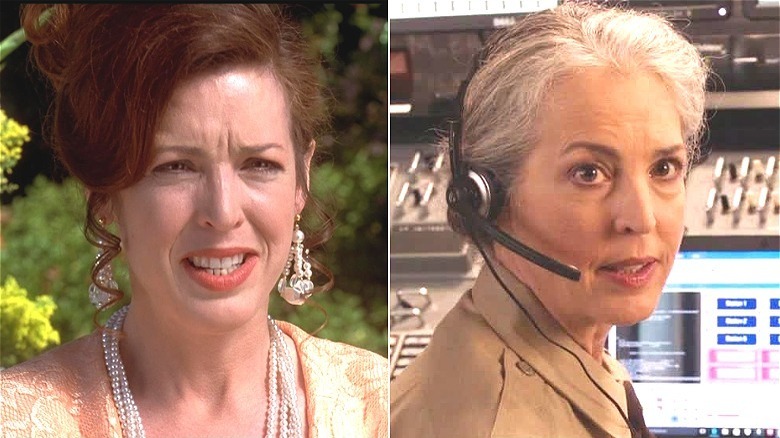 New Line Cinema/Showtime
Besides his buddy Sammy (Allen Covert), Robbie's other biggest supporter throughout this tough time in his life is his sister Kate. He and Kate lost their parents at a young age, and have relied on each other for comfort through the years. Robbie lives with Kate and her family and is seemingly comfortable, despite the mania of a household with two rambunctious young boys. On the day of Robbie's wedding, Kate is the one to reveal the sad news to him about Linda's change of heart.
Jodi Thelen played Kate in "The Wedding Singer." Thelen began her career as a child actor in the 1980s, and her earliest credits include the films "Four Friends," "Twilight Time," and "The Black Stallion Returns." After "The Wedding Singer," Thelen went on to make guest appearances in TV shows such as "The Closer," "Dawson's Creek," "Touched by an Angel," and "Joan of Arcadia." Her most recent role was in the 2017 third season revival of "Twin Peaks," playing Maggie Brown, dispatcher for the Twin Peaks sheriff's department. Thelen had long reddish-brown hair while filming "The Wedding Singer," and it is now varied shades of gray and white.
Angela Featherstone (as Linda)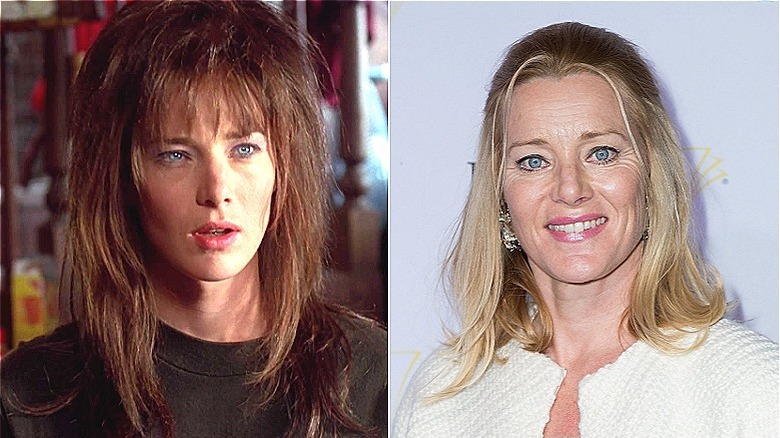 New Line Cinema/Jennifer Lourie/Getty
Angela Featherstone plays Linda, Robbie's fiancée and the woman who broke his heart. The reason she gives for abandoning him at the altar is that he is no longer the man he once was, a spandex-clad rocker that hoped to make it big one day. Linda claims that when she woke up the morning of the wedding, she couldn't bear the thought of being married to a wedding singer. However, she later returns to Robbie and begs him to take her back, insisting she can "learn to live" with his low-status occupation. This doesn't sit well with Robbie, however, who proceeds to kick Linda to the curb.
Linda's sudden re-appearance causes a misunderstanding when Julia shows up at Robbie's home to find Linda wearing nothing but Robbie's Van Halen t-shirt and claiming to be his fiancée. Heartbroken, Julia decides to elope with Glenn to Las Vegas, inciting a manic trip to the airport for Robbie and his friends in order to stop the wedding.
Featherstone's career since "The Wedding Singer" has quieted a bit over the years, as she has taken on fewer mainstream projects and gone for more independent work. She co-starred in the Logo channel's "Exes and Ohs" from 2007 to 2011, and appeared in an episode of the HBO dramedy, "Girls" in 2016. She also had a part in the indie film "My Dead Boyfriend," starring Heather Graham and directed by "Top Gun" and "ER" actor Anthony Edwards. Featherton retired the teased brunette '80s hair and now wears it long, straight, and blonde.
Christina Pickles (as Angie Sullivan)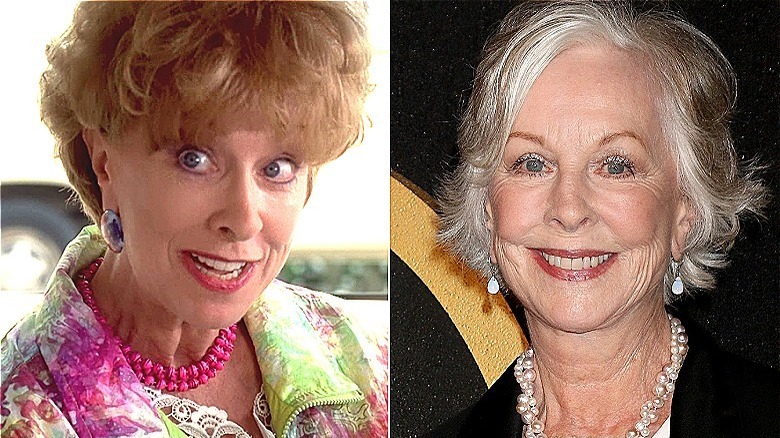 New Line Cinema/Kathy Hutchins/Shutterstock
Julia's mother Angie, though well-meaning, doesn't always have the answers that she is looking for. Mom is thrilled with Julia's choice of Glenn, happy that her daughter will have a life of financial security. However, Angie is less inclined toward Julia's new interest in Robbie, the impoverished, mentally unstable wedding singer. What Angie doesn't realize is that Julia is miserable, and misreads the situation as her child having cold feet, rather than a change of heart.
Acting veteran Christina Pickles plays Angie Sullivan in "The Wedding Singer," though most may recognize her as Judy Gellar, the mother of Ross (David Schwimmer) and Monica (Courtney Cox) on "Friends." It's been over two decades since her role as Angie, and Pickles' once curly blond locks are now white. Pickles recently had a guest appearance in the Hulu original sitcom "Dollface," and has been a voice actor for animated series including "Family Guy" and "Tuca and Birdie." 
Matthew Glave (as Glenn Guglia)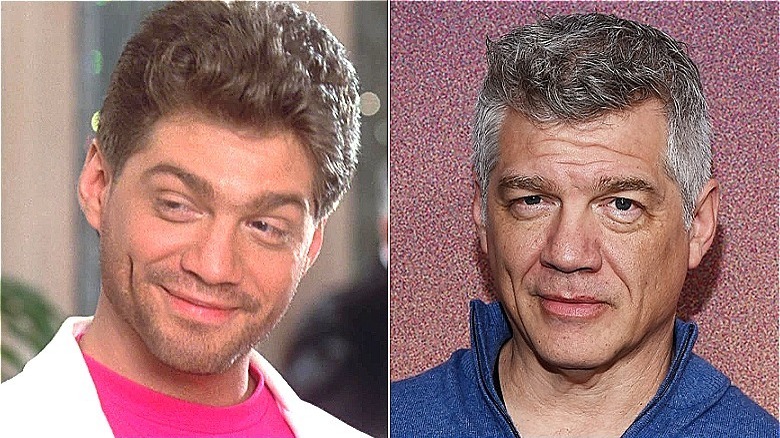 New Line Cinema/Amanda Edwards/Getty
Playing Glenn Guglia, Julia's yuppie fiancé and die-hard "Miami Vice" fan, was Matthew Glave. 
Glenn is a bonds salesman, more than willing to show off the material goods he's gained through his success — including a fancy DeLorean and a brand new, high-tech device called a CD player. He tells Robbie that he doesn't really want to get married, but he doesn't want to break up with Julia, either. That's okay, though, because he's had plenty of opportunities to play the hound dog and hook up with other women behind Julia's back. What a catch.
Glave has continued to work steadily since his role in "The Wedding Singer," appearing in both film and television. Some of his most standout credits include the TV series "ER" and "Stargate: SG1," and the Academy Award-winning movie, "Argo." Nowadays, Glave has reached silver fox status, as his hair has changed color from a sandy brown to salt and pepper gray. In his most recent role, he played Xander in the FX original series, "Better Things." 
Allen Covert (as Sammy)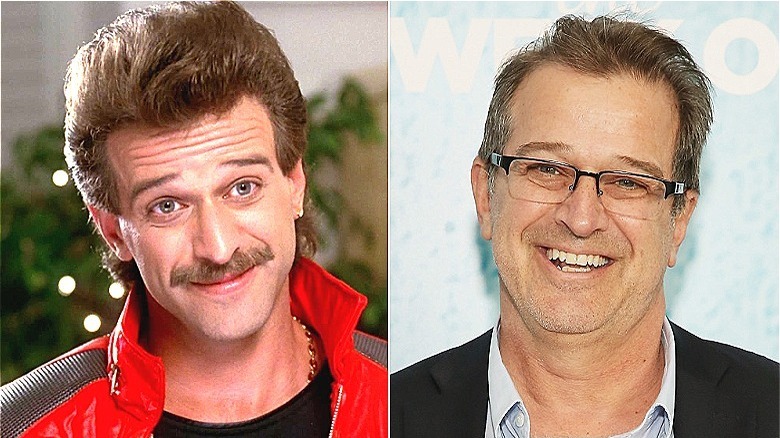 New Line Cinema/Monica Schipper/Getty
In "The Wedding Singer," Robbie's best friend Sammy, played by Allen Covert, is the best limo driver in town. Well, to be fair, he's also the only limo driver in town. 
Sammy is the epitome of the cool '80s guy (even if it's only in his mind), with a rad mullet, a stellar 'stache, and his red pleather Michael Jackson-inspired jacket. Though he is Robbie's closest friend, Sammy and Robbie couldn't be any more different. Sammy likes to think of himself as a real ladies' man, but deep down all he wants is to be loved. 
Sammy might seem like a bit of a pill at first, but deep down he's a good friend who just wants to see Robbie happy. He tags along to all of Robbie's wedding gigs, and he does his best to cheer Robbie up when he's hit rock bottom.
Covert is a friend of Sandler's from way back, as they were classmates together at NYU. He has been featured in many films alongside the comedic actor, including "Happy Gilmore," "Waterboy," "Anger Management," "Hubie Halloween," and "Murder Mystery," among many others. Covert is also an executive producer for Happy Madison.
Christine Taylor (as Holly Sullivan)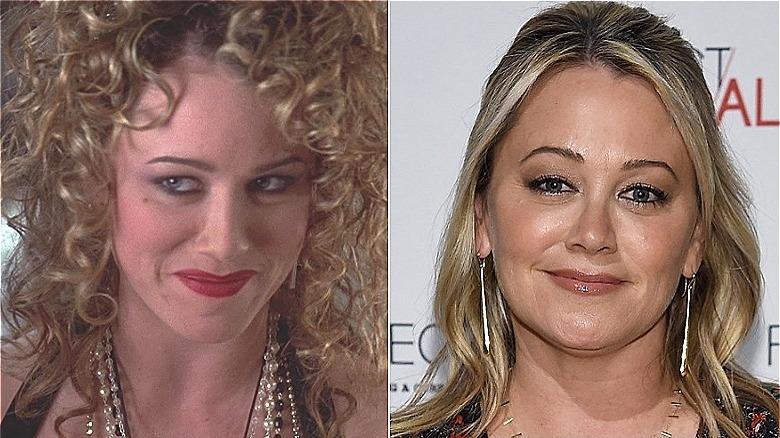 New Line Cinema/Dimitrios Kambouris/Getty
Holly Sullivan, played by Christine Taylor, is Julia's cousin and closest confidante. Her keen fashion sense is inspired by the hottest '80s trends, with pop star Madonna as a main influence. She is a faithful friend to Julia, helping her with wedding arrangements and discussing whether or not "church tongue" is appropriate for the ceremony. Though at first Holly has her mindset on seducing Robbie, she quickly discerns that he and Julia are completely smitten with one other. Once she makes this discovery, she aids the couple in finding their happily ever after.
Taylor has made numerous appearances in movies over the years, including roles in "Zoolander," "Zoolander 2," "Dodgeball," and "Tropic Thunder" (all starring her actor hubby, Ben Stiller). Her '80s-inspired perm for "The Wedding Singer" has been tamed to long, straight golden locks. From 2016 to 2022, she played Gail in the HBO Max original dark comedy, "Search Party," and she co-stars alongside Patricia Arquette in Apple TV+'s "High Desert."
Adam Sandler (as Robbie Hart)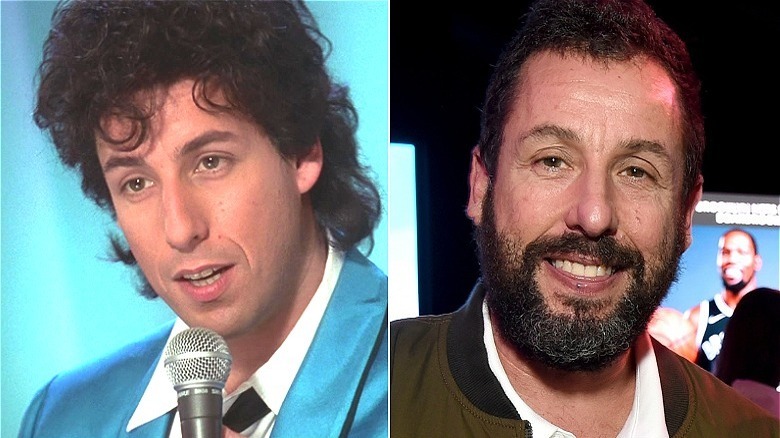 New Line Cinema/Michael Kovac/Getty
Adam Sandler starred as the titular character of "The Wedding Singer," Robbie Hart. Robbie is a hopeless romantic with a golden heart (and voice), who makes his living crooning '80s hits at wedding receptions. Living with his sister and her family, Robbie is nowhere near the fast track to his dream of being a successful singer and songwriter. Yet Robbie's kind-hearted nature — including a willingness to be paid for his services in meatballs — makes him all the more endearing. It even helps us forgive that god-awful hairstyle.
After his fiancé leaves him broken-hearted at the altar, Robbie's faith in love is shattered as he is thrown into a spiral of doubt and self-destruction. His sanity is saved when he befriends Julia Sullivan (Barrymore), a woman who is equally good-natured and romantically optimistic. Their chemistry is immediately apparent, but unfortunately, Julia's engagement to the world's biggest jerk makes their potential relationship a bust.
More than two decades after "The Wedding Singer," Sandler is still a superstar. He ditched the curly wig and is back to his close-cropped hair, and now brandishes a full beard with flecks of gray. Sandler received critical acclaim for his role in the 2019 crime drama "Uncut Gems," and signed on with Netflix in 2020 for a lucrative four-movie deal (via World of Reel) that has reportedly done quite well for all parties involved. Though he has played a wide variety of roles over the last two decades, Sandler's portrayal of Robbie Hart remains a fan favorite.
Drew Barrymore (as Julia Sullivan)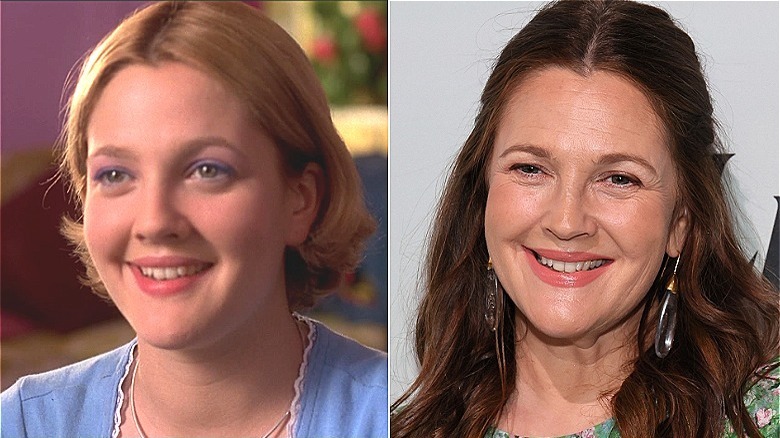 New Line Cinema/Dia Dipasupil/Getty
Like her actor counterpart, Julia Sullivan is as sweet as they come. A server for a catering company, Julia is ever hopeful about the concept of true love and lifelong happiness. After witnessing Robbie's emotional breakdown, she aids him in pulling himself out of his slump and learning to believe in love once again.
Julia sees only the best in people, which unfortunately makes her blind to the flaws of her materialistic groom-to-be. It is only through Robbie's selflessness that Julia starts to notice Glenn's egocentric tendencies, and comes to the realization that it takes more than good looks and financial security to hold a relationship together. Luckily, Robbie's romantic gesture on a plane saves her from making the biggest mistake of her life, leads her instead down the aisle toward true marital bliss.
Actor Drew Barrymore was a ray of sunshine as Julia in "The Wedding Singer," and has continued to charm the hearts of fans for decades with her TV and film appearances. Her once short blond hair is now long and brown, yet she's kept her infectious smile and glowing positivity. She now hosts and produces her own talk show, "The Drew Barrymore Show," highlighting human interest stories and lifestyle segments as well as chatting with celebrity guests.